Asia markets mixed, haunted by uncertainty on trade, Brexit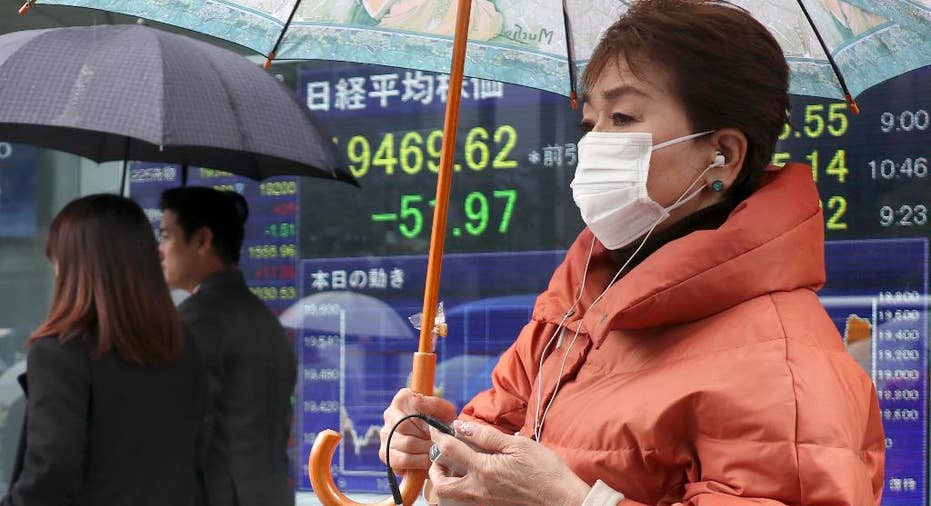 Asian shares were mixed in lackluster trading on Tuesday, as markets searched for a dominant theme, weighing currency fluctuations, signs of growing protectionism and other uncertainties.
KEEPING SCORE: Japan's benchmark Nikkei 225 slipped nearly 0.4 percent to 19,450.09 and Australia's S&P/ASX 200 inched down 0.1 percent to 5,773.40. South Korea's Kospi added 0.9 percent to 2,177.33. Hong Kong's Hang Seng rose 0.2 percent to 24,558.82, while the Shanghai Composite added nearly 0.3 percent to 3,259.09.
WHAT'S AHEAD: European markets mostly fell overnight after the British government said it will formally begin the process of leaving the European Union next week. Investors also are watching for elections in France and a European Central Bank meeting, both next month, while legislators in the U.S. debate the proposed Republican-backed health care law.
WALL STREET: The Standard & Poor's 500 index lost 0.2 percent to 2,373.47. The Dow Jones industrial average was almost unchanged at 20,905.86. The Nasdaq composite was also flat, at 5,901.53.
THE QUOTE: "Markets are hard pressed to look for new and enduring themes. And none emerge; at least not compellingly so," said Vishnu Varathan, of the Singapore Treasury Division of Mizuho Bank.
TRADE WORRIES: Finance ministers and central bankers from the Group of 20 major economies dropped a pledge to eschew protectionism in a statement Saturday. The move came after pressure from the U.S. During his campaign President Donald Trump promised to rewrite trade deals, and he ditched the Trans-Pacific Partnership after taking office.
ENERGY: Benchmark U.S. crude added 17 cents to $49.08 a barrel in New York. Brent crude, used to price international oils, rose 23 cents to $51.85 a barrel in London.
CURRENCIES: The dollar rose to 112.73 yen from 112.53 yen. The euro slipped to $1.0756 from $1.0760.
___
AP Markets Writer Marley Jay contributed to this report. He can be reached at http://twitter.com/MarleyJayAP
His work can be found at http://bigstory.ap.org/journalist/marley-jay
Follow Yuri Kageyama on Twitter at https://twitter.com/yurikageyama
Her work can be found at http://bigstory.ap.org/content/yuri-kageyama