Asia down as China woes unnerve markets, safe-haven yen rallies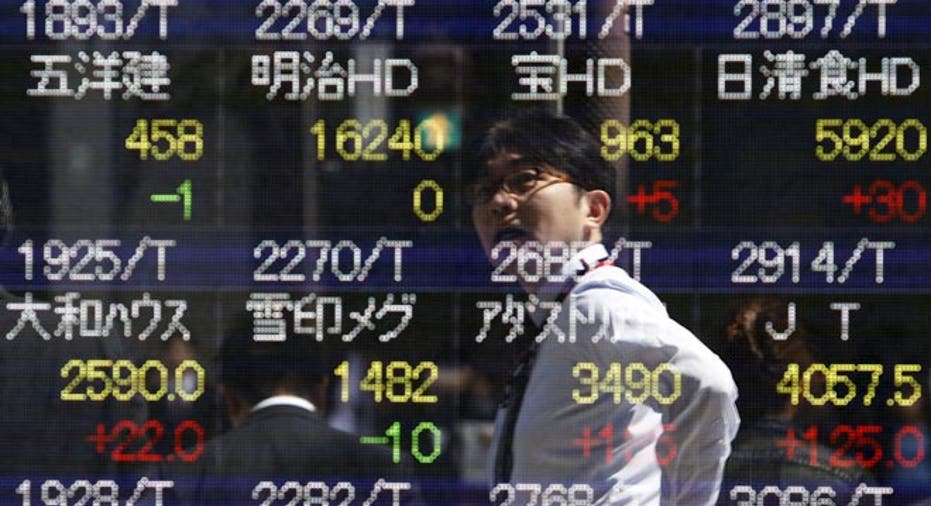 TOKYO (Reuters) - Asian stocks and oil fell on Monday after Wall Street suffered another bruising blow as deepening concerns over the slowing Chinese economy continued to unnerve global equity markets.
The safe-haven yen rallied and key government bonds were bought from the widespread unrest in the financial markets, set in motion nearly two weeks ago when China devalued its currency and generated fears about the state of its economy.
Fears of a China-led global economic slowdown drove Wall Street to its steepest one-day drop in nearly four years on Friday and left the Dow industrials more than 10 percent below a May record. A 0.6 percent fall in S&P 500 mini futures suggested sentiment remained weak.
MSCI's broadest index of Asia-Pacific shares outside Japan duly lost 0.8 percent. Tokyo's Nikkei  was down 1.8 percent and South Korea's Kospi dropped 0.5 percent in early trade.
"China could be forced to devalue the yuan even more should its economy falter, and the equity markets are dealing with the prospect of a weaker yuan amplifying the negative impact from a sluggish Chinese economy," said Eiji Kinouchi, chief technical analyst at Daiwa Securities in Tokyo.
Focus once again fell on how Chinese share markets hold up later in the session. Deepening the gloom over global equity markets, Shanghai stocks tumbled 11 percent last week - their decline accelerated after a Caixin/Markit PMI survey showed Chinese manufacturing activity shrank at the fastest pace since 2009.
The FTSEuroFirst index of 300 leading European shares fell 3.4 percent on Friday. MSCI's emerging market index plumbed a six-year low.
While China gathered the spotlight, analysts pointed to other bearish fundamental factors at play.
"On the surface it would be easy to point the finger at slowing China growth, falling oil prices and emerging market currency wars as the reason why global equity markets have fallen sharply through the summer," wrote Sean Darby, chief global equity strategist at Jeffries.
"However, a mix of disinflation and deflation forces, a tightening in global monetary conditions and deteriorating profits in emerging markets are much greater factors." Emerging market economies, many reliant on exporting raw materials, have been hit particularly hard by the spectre of slower Chinese growth and sliding commodities.
South Africa's rand struggled at 14-year lows. The Turkish lira, its plight exacerbated by domestic political developments and a central bank suggesting it would take rate hike cues from the U.S. Federal Reserve, languished near a record low.
Although its decline was not as grave, the dollar also suffered against key peers like the euro and yen as global growth worries undermined wagers that the Fed will raise rates in September.
The dollar was down 0.2 percent at 121.66 yen, adding to Friday's 1.2 percent plunge. The euro was steady at $1.1379 after touching a two-month high of $1.1395.
The U.S. currency came under additional pressure as Treasury yields extended their decline on safety buying amid the slide in equities. The benchmark 10-year Treasury note yield was near a four-month low of 2.03 percent.
U.S. crude oil  was down 1 percent at $40.06 a barrel after trading below $40 a barrel overnight for the first time since the 2009 financial crisis as signs of oversupply in the United Statesadded to China concerns. (Additional reporting by Hideyuki Sano in Tokyo; Editing by Eric Meijer)