As Wearables Soar, Fitbit Is Undergoing an Identity Crisis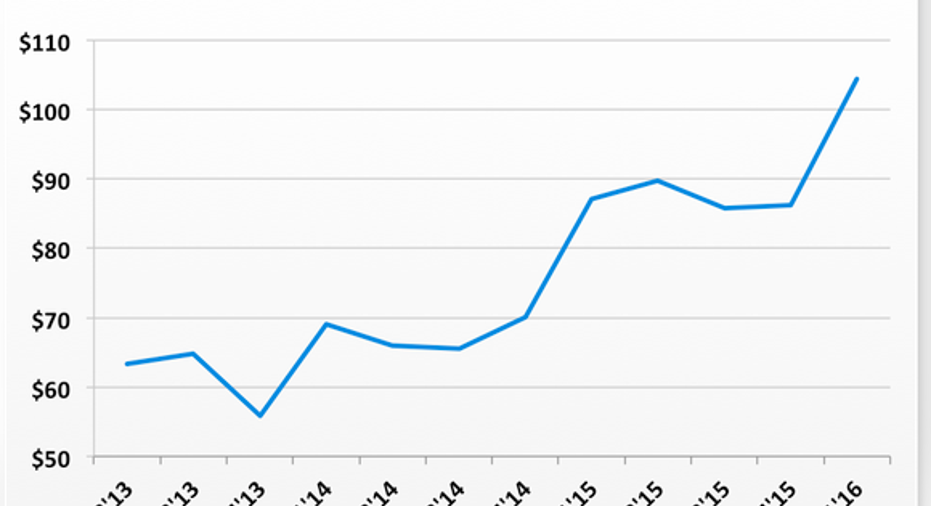 Fitbit Blaze. Image source: Fitbit.
If you were to simply look at how the wearables market is playing out, and seeing which players are at the top, you'd think that Fitbit was sitting pretty right about now.
Market researcher IDC just released its estimates for the first quarter, and unsurprisingly Fitbit continues to hang on to its top dog spot. The market soared 67% in the first quarter to an estimated 19.7 million units. That includes 4.8 million Fitbit devices, enough to grab 24.5% market share. No. 2 was China's Xiaomi, which offers a wide range of low-cost fitness trackers, with 3.7 million units and 19% share. Apple came in third with an estimated 1.5 million Apple Watches for a 7.5% share.
Yet, Fitbit is in the midst of a sort of identity crisis, as newer entrants chip away at its first-mover advantage.
Smart vs. basic
Broadly speaking, there's a line of demarcation in the wearables market: is the device smart or not? As far as IDC is concerned, the distinction lies in whether or not the device supports third-party apps. This isn't about whether or not the device is connected to the Internet, another common use of "smart" as a product descriptor.
Fitbit got its start in the basic wearables space with its easily recognizable flagship fitness bands that started off tracking basic steps. But over time, the company began to move upmarket with pricier devices that carried an increasing number of new features like heart rate monitoring or caller ID, among others.
The good news is that these new products translated into a meaningful uplift in average selling prices. Make no mistake, Fitbit ASPs have been crushing it lately, soaring to an all-time high of over $104 last quarter.
Data source: SEC filings.
The company just launched two new devices, the Blaze and Alta, which accounted for 47% of revenue in the first quarter. Each device sold a million units -- out of a total 4.8 million devices sold. That's a good sign for Blaze and Alta, but the two devices also represent the challenge that Fitbit faces ahead.
One of these is not like the other
Investors were not at all impressed with Blaze when the company unveiled it at CES in January. Regarding the cool reception, CEO and founder James Park told The New York Times, "I was definitely pretty surprised when I looked at some of the aftermath of it." On the other hand, Alta looks like a strong redesign of a core product, and the higher $130 price tag is already doing favors for ASPs.
Simply put, Fitbit wants to tackle both basic wearables as well as flirt with the threshold of smart wearables. This is an ambitious goal, since Fitbit has demonstrable strength with basic wearables, but its ability to really compete in the long-term with true smart devices is highly questionable. While other competing smart devices like Apple Watch are bound to become vibrant platforms full of third-party innovation, Fitbit will very likely fall behind.
Investors are already concerned about Fitbit's need to increase spending in order to keep up. Guidance for the second quarter included increased costs that were expected to hurt profitability, and this outlook was largely why shares fell after earnings a couple weeks ago.
At the same time, it's not in Fitbit's DNA to build a platform for third-party apps, which is no daunting task. In no uncertain terms, Park said that turning wearables into computing platforms is "really the wrong way to approach this category from the very beginning." But is it?
The article As Wearables Soar, Fitbit Is Undergoing an Identity Crisis originally appeared on Fool.com.
Evan Niu, CFA owns shares of Apple. The Motley Fool owns shares of and recommends Apple. The Motley Fool has the following options: long January 2018 $90 calls on Apple and short January 2018 $95 calls on Apple. Try any of our Foolish newsletter services free for 30 days. We Fools may not all hold the same opinions, but we all believe that considering a diverse range of insights makes us better investors. The Motley Fool has a disclosure policy.
Copyright 1995 - 2016 The Motley Fool, LLC. All rights reserved. The Motley Fool has a disclosure policy.