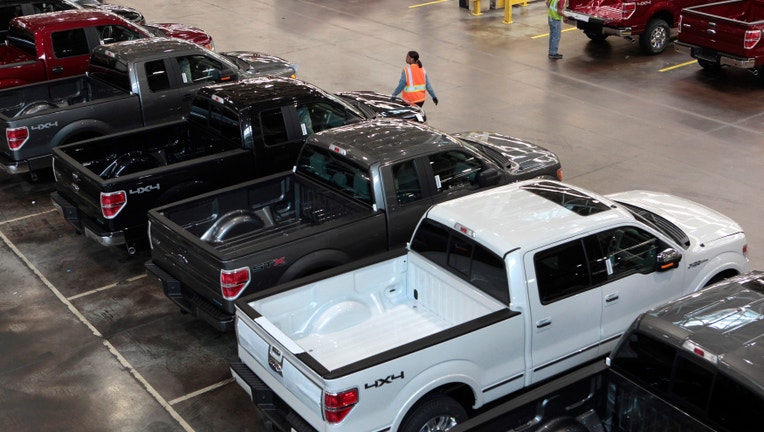 Auto executives say they can adapt to taxes or other curbs on imports, even as industry advocates insist such moves will dent sales and eat into profit.
President Donald Trump, traveling to Detroit Wednesday to say his administration will reopen a review of fuel-economy targets, has threatened to upend the North American Free Trade Agreement. The 23-year-old pact led to tens of billions of dollars in new Mexico investments by car companies and their suppliers.
Analysts, including the prominent Center for Automotive Research, say border taxes or other proposed tariffs could add $2,000 to the average price of a vehicle, or about 5%. A prominent dealer association traveled to Washington last week to warn lawmakers of a 2.5% sales decline predicted if policy makers' proposed changes take hold.
House Republicans have proposed a so-called border adjustment—taxing imports but not exports—as part of a plan to cut the corporate tax rate. Mr. Trump has separately talked about a border tax targeted at companies that move jobs outside the U.S. and then ship products back in.
Auto industry officials say sticker shock is a nonstarter, and insist they can deal with disruption—even if they don't welcome it.
"The last thing you want to do is to adjust your price," Carlos Ghosn, heading the Renault SA/ Nissan Motor Co. alliance,  said in an interview. "You're going to absorb the cost the best way you can."
Mr. Ghosn, speaking after a short trip to Washington, encouraged the Trump administration to move fast on Nafta changes. Nissan is short on capacity, he said, and new rules for lower corporate taxes or higher tariffs at the border could bolster the case for a new U.S. factory.
For every car built in North America there are typically hundreds of companies supplying everything from steel body panels to radio knobs. Many locate near assembly plants in part to minimize shipping costs.
If executives like Mr. Ghosn start shifting more work to the U.S., many components makers say they will go along with them—even if that means physically relocating manufacturing operations from Mexico to the U.S. Ford Motor Co. (NYSE:F) scrapped plans for a new Mexican factory in January, forcing parts makers who had contracts to supply the abandoned plant to reassess their plans.
American Axle & Manufacturing Inc. (NYSE:AXL), a Detroit auto supplier, said tariffs or other changes at the border could reverse the flood of work it has sent to Mexico in recent years. Advances in automation and the ability to transport tooling from one factory to another could aid the shift.
"We've got the flexibility to move our equipment," CEO David Dauch said in a conference call with analysts last month.
A border tax that requires more content to be made in the U.S. could also shift more jobs from Mexico to the U.S., but that wouldn't be painless, Bruce McDonald, the CEO of vehicle seat manufacturer Adient, said in a recent interview. "It is quite easy to move, it's just got to be economic to do so," he said. "If that production moved to the U.S., I would guess the cost equation would have to change."
Matt Simoncini, chief executive of Lear Corp. (NYSE:LEA), an Adient rival, said relocating certain components to the U.S. would take between a year and 18 months, and add as much as 10% to capital expenditures. "Nothing really too incredibly dramatic on the investment side," he said during a conference call to discuss earnings in January.
Even noncomponent suppliers to the auto industry, such as Illinois-based Magid Glove & Safety Manufacturing, are ready if sourcing requirements are pushed deep into the supply chain. Manufacturing a variety of equipment for factory workers, including cut-resistant clothing, Magid is using 80,000 square-feet of production space near Chicago, but has another 300,000 square feet on standby.
"If Donald Trump is going to kick open the door, we're ready to walk through it," Dan Zukowski, Magid's director of automotive sales said. Currently, certain customers pay a little more for American-made equipment for various reasons, but the company offers supplies made in other markets for customers looking to contain costs.
Not everything will be easy to change.
Delphi Automotive PLC (NYSE:DLPH) says the industry won't be able to adapt as quickly on some parts, such as automotive wire harnesses, or bundles of electrical cables, which are labor intensive and considered a cheap commodity.
"Any disruption to that quite frankly is going to add significant cost," Delphi CEO Kevin Clark told analysts on a conference call last month. "I would tell you as I look at products and manufacturing process, that is not a product line that I see actually being able to move to the United States," he said.
Mr. Zukowski's gloves and certain other protective gear play by the same rules.
More labor-intensive materials, such as leather gloves that require intense human focus, likely still need to be produced in lower-cost markets outside the U.S., he said.
"The industry manufacturing process is still in the stone age when it comes to producing certain items such as cut and sew products" and regulations related to shell-coated gloves. He says Magid offers relatively good wages and benefits in the U.S., and the company's customers decide if a Made in the U.S.A. label is worth investing in.