As Trump arrives, China reports narrower surplus with US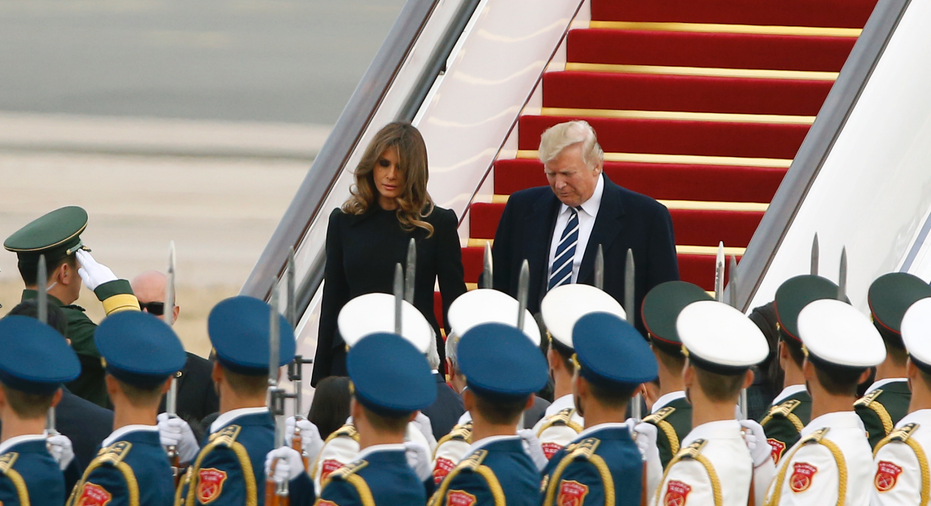 China reported that its politically volatile trade surplus with the United States narrowed in October from the previous month as President Donald Trump arrived Wednesday on an official visit with commercial issues high on his agenda.
China's global exports rose 6.9 percent to $188.9 billion, a decline from September's 8.1 percent growth, customs data showed. Imports rose 17.2 percent to $150.9 billion, down from the previous month's 18.7 percent increase.
Exports to the United States rose 11.2 percent while imports of U.S. goods rose 17.4 percent, the customs agency reported.
The trade surplus with the United States was $26.6 billion, a decline of $1.5 billion from September but a 12.2 percent increase compared with a year earlier. The total surplus with the United States for the first nine months of the year was $223 billion.
Export growth was unexpectedly strong in the first half of the year, a positive sign for Chinese leaders who want to avoid job losses in trade-related industries as they try to nurture consumer-led economic growth.
The outlook for Chinese exports has been clouded by mounting pressure from Washington to narrow the country's trade surplus. The Trump administration has boosted duties Chinese goods such as stainless steel and plywood to offset what it says are improper subsidies.
"Export growth eased somewhat in October to a pace that is still solid, indicating that global demand momentum remains resilient," Louis Kuijs of Oxford Economics said in a report. "However, as trade with the U.S. takes the limelight amid U.S. President Trump's China visit, we estimate that the U.S.'s trade deficit with China will rise to close to $370 billion this year, adding to trade tensions."
Trump has complained about the size of the U.S. trade gap with China but has yet to say what he might propose in Beijing.
His government also is investigating whether Beijing is violating its free-trade commitments by pressuring foreign companies to hand over technology in return for market access.
Some American companies worry Trump's focus on trade in goods might mean he pays too little attention to barriers to market access in services such as finance and health care.
China's trade surplus with the 28-nation European Union, its biggest trading partner, narrowed by 6.6 percent to $11.3 billion.
___
General Administration of Customs of China: www.customs.gov.cn