As Expected, Ford's Profit Fell on Increased Costs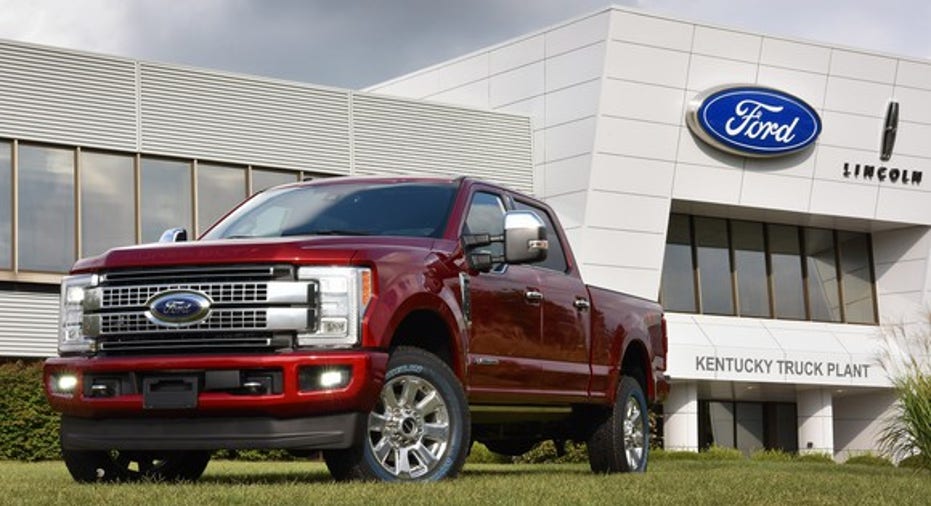 Ford Motor Company (NYSE: F) earned net income of $1.6 billion in the first quarter, down 36% from a record year-ago result as recall costs and investments in future products outweighed a year-over-year increase in revenue. Thedecline in profit was in line with expectations set by Fordexecutives earlier this year.
Excluding one-time items, Ford earned $0.39 per share, ahead of the $0.30 to $0.35 range it had previously forecast. The company maintained its guidance for the full year.
Ford earnings: The raw numbers
Data source: Ford Motor Company. "Adjusted pre-tax profit" is Ford's non-GAAP expression of operating income minus one-time items. Ppts = percentage points.
Ford's all-new Super Duty pickups are generating fat profits, but paying for the work that went into them will also raise Ford's costs for a while. Image source: Ford Motor Company.
The nutshell summary: Why Ford's profit fell
Ford is selling a more profitable mix of products than it did a year ago, but it's selling somewhat fewer of them. That should roughly balance out, and Ford's guidance suggests that it probably will as the year goes on. But Ford's bottom line was hit hard by some costs in the first quarter that (for the most part) won't be repeated through the year.
Recall costs: Ford had said that recalls announced during the quarter would cost about $295 million, and they did.
Commodity prices, particularly of steel, have risen from a year ago.
New-product costs: Ford is now paying the engineering costs related to the products it has launched since the first quarter of last year, including (especially) the all-new Super Duty pickups. (Ford warned us about this last year.) Ford is also investing in a slew of new products, including several all-new SUVs and upcoming additions to its commercial-vehicle lineup.
Aggressive investments in advanced technology and new mobility-related business lines.
There's one other factor to note: It's a tough comp. The first quarter of 2016 was Ford's most profitable quarter ever.
A look at how Ford's business units performed
Here's a quick look at how each of Ford's business units performed. Note that all of the individual business units' profit numbers are on an adjusted pre-tax basis.
Ford North America earned $1.99 billion, down 35% from a year ago mostly thanks to the costs noted above. Revenue was up slightly despite a 5% drop in wholesale shipments. The unit's margin fell to 8.3% from 12.9% a year ago, again on those costs.
Ford South America has been losing money for several quarters, but CFO Bob Shanks said there are signs that things will improve as the year goes on. The unit lost $244 million in the first quarter, up from a $256 million loss a year ago. Wholesales rose 11% on good sales of the tiny Ka sedan and the Ranger pickup. Revenue rose 29% to $1.1 billion on improved sales volumes and stronger pricing.
Ford Europe continues to be a good story, Brexit-related complications notwithstanding. Profit of $176 million was down substantially from $434 million a year ago, despite gains in wholesales (up 13%) and revenue (up 10%). Europe's new-car market is growing, and Ford is gaining market share -- but that's being offset by higher costs (including a portion of that one-time recall expense) and adverse exchange-rate moves in the wake of the U.K.'s decision to leave the European Union.
Ford's tiny Middle East and Africa unit lost $80 million in the quarter, down from a $14 million loss a year ago. The story is simple: New-car sales are down sharply in the region, and Ford's sales are down as well.
Ford Asia Pacific is really two stories: China, and the rest of the region.
China has been a bit tough for Ford: Pricing is under pressure, and many sales it might have otherwise made in the first quarter were "pulled ahead" to late last year in advance of a reduction in a government tax break for buyers of vehicles with small gasoline engines. Ford's joint ventures with Chinese automakers generated $274 million in equity income in the quarter, down from $443 million a year ago.
The unit earned an overall profit of $124 million, down from $220 million a year ago. The difference is more than explained by China. Shanks said that aside from India, where Ford is restructuring, all of Ford's operations in the region were profitable.
Ford Credit earned $481 million, down 6% from a year ago. Ford had guided to somewhat lower profit for its captive-finance arm in 2017 as falling used-car prices have put pressure on its ability to recover costs on vehicles returned at the ends of their leases. Ford noted that its exposure to both subprime loans and loans with terms longer than 72 months, two commonly cited areas of concern with auto lending, is below the industry average.
Special items, debt, and liquidity
Ford had one significant special item, and it was positive: The company reassessed the charges associated with the cancellation of a planned factory in Mexico. It had originally assumed a charge of $199 million but has now dropped that to $153 million -- a $46 million improvement.
Ford had $16.2 billion in debt attributable to its auto-making business as of March 31, up slightly from $15.9 billion at the end of 2016. Against that, it had $28 billion in cash and another $10.9 billion in available credit lines as of the end of the quarter for total available liquidity of $38.9 billion.
Looking ahead: Ford reaffirmed its full-year guidance
Ford still expects adjusted pre-tax income of about $9 billion for the full year, down from $10.4 billion a year ago. Shanks noted that the $1.6 billion year-over-year drop in Ford's first-quarter result more than accounts for the expected full-year decline. (Put another way, the big cost hit that Ford took in the first quarter will likely end up being the difference between this year and last year.)
Ford still expects its full-year earnings per share to come in below last year's $1.76, its margin to fall below last year's 6.7%, and revenue to be roughly equivalent to the $141.5 billion it generated in 2016 as it invests aggressively in future products and technologies. It expects to recover most of the increased commodity costs through cost savings of about $3 billion in 2017.
10 stocks we like better than FordWhen investing geniuses David and Tom Gardner have a stock tip, it can pay to listen. After all, the newsletter they have run for over a decade, Motley Fool Stock Advisor, has tripled the market.*
David and Tom just revealed what they believe are the 10 best stocks for investors to buy right now...and Ford wasn't one of them! That's right -- they think these 10 stocks are even better buys.
Click here to learn about these picks!
*Stock Advisor returns as of April 3, 2017.
John Rosevear owns shares of Ford. The Motley Fool owns shares of and recommends Ford. The Motley Fool has a disclosure policy.