As coal dwindles, mining states trim safety inspections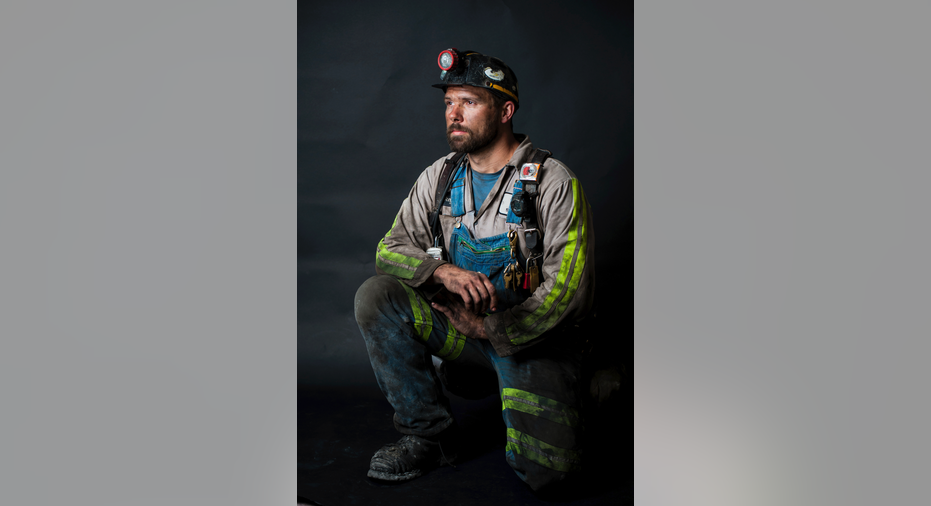 Kathy Bartlett watched helplessly this spring as Kentucky lawmakers cut back on mine safety inspections and replaced them with coaching sessions on miners' safety habits.
She knows more than most what's at stake.
Bartlett's son, Rickey Thorpe, was crushed to death in a western Kentucky underground mine in 2015 when a coal-digging machine's 17-ton cutting head — propped up with wooden boards — gave out as he worked underneath it.
Bartlett, who recently visited her son's grave on what would have been his 31st birthday, says that's why the state shouldn't reduce the number of traditional inspections.
"Them passing this (law), it's totally wrong," she said. "I was totally against it, but that's one person against thousands. Rick lost his life because there was things that wasn't done properly."
State officials say they aren't easing up on enforcement. They say the new law, which takes effect Friday, puts officials in the mines more frequently to work with miners on safe working habits.
Appalachian coal states like Kentucky have seen a slowdown in mining and are looking to trim the required number of annual inspections. West Virginia lawmakers considered scaling back mandatory inspections to one from four this year but backed off amid criticism.
With Kentucky's law, passed by the Republican-controlled legislature, state officials can replace half of the six required inspections with "analyst visits" that focus on coaching. The law still allows for increased inspections if officials identify a problem.
The reductions come as the Trump administration proposes cuts to the Department of Labor, which administers the federal mine safety program, even as Trump seeks to reinvigorate the coal industry. Federal inspectors are required by law to conduct four inspections a year on underground mines.
In West Virginia, a backlash to the proposed state cutbacks may have caught lawmakers by surprise.
"Frankly I think the attempt to received national media attention in West Virginia, and I don't think those who were leading that charge were prepared for that," said Phil Smith, United Mine Workers of America spokesman.
West Virginia recorded its fifth mining death June 13, surpassing last year's total of three. Nine coal miners have been killed this year nationwide. A record low of eight died in 2016.
Smith said western mining states have all but eliminated state inspection programs; Illinois and Alabama have reduced theirs. Virginia requires two annual inspections on underground mines.
State officials and industry advocates praise the new Kentucky law, saying it will put inspectors in the mine more frequently but alter their role. Inspectors on analyst visits can still write citations if they see violations.
"We can still do as many inspections as we want, and if there's a reason to be there more often than three inspections or four inspections, we're going to be there," said Allen Luttrell, Kentucky's Department of Natural Resources commissioner.
"If you've got a normal mining activity and things are going in compliance, then in my opinion, the time is better spent performing observations and coaching and talking to the individual coal miner."
Kentucky has done analyst visits in mines for decades, but they've never taken the place of mandatory inspections. As mining in the state declined in recent years, so has the number of inspectors. There were 282 operating mines in 2015, down from 513 in 2010. Over those five years, the number of available inspectors and analysts dropped from 121 to 64, largely because of decreased funding.
During analyst visits, officials observe work habits, such as how miners operate equipment, lift and perform other tasks, said Jim Vicini, director of Kentucky's Division of Mine Safety.
Kentucky Coal Association President Tyler White said other industries have turned to coaching to improve safety.
"To the people out there that would mischaracterize this (law) and say you're just trying to place the blame on the miners for accidents, well no, we're not," White said.
Mine safety advocates are skeptical of the analyst visits, which the UMWA's Smith called "an easing of enforcement."
Tony Oppegard, a mine safety lawyer in Kentucky, said the program "sounds good on paper, but how much practical effect it really has is very dubious."
Oppegard said the majority of coal mine accidents are due to negligence by company officials, but Vicini said studies show most injuries can be attributed to miners not practicing safe habits.
Shifting emphasis from finding violations to coaching behavior, Oppegard said, is "code for saying miners are too stupid to work safely."
In the case of Thorpe's 2015 death, Oppegard said his supervisors created the unsafe environment by allowing the machine to be propped up with wooden boards — a conclusion supported by federal inspectors.
But that danger could have been spotted on an analyst visit, said John Mura, spokesman for the state cabinet that oversees the Department of Natural Resources.
Bartlett doubts coaching would have been enough. She believes company managers can place workers in dangerous situations even if everyone knows it's dangerous.
"The night that my son got killed, if somebody would have looked and seen how the miner head was cribbed up, the fatality would have never happened," she said. "My son, he was doing as he was told."