Arkansas court hears case over medical marijuana permits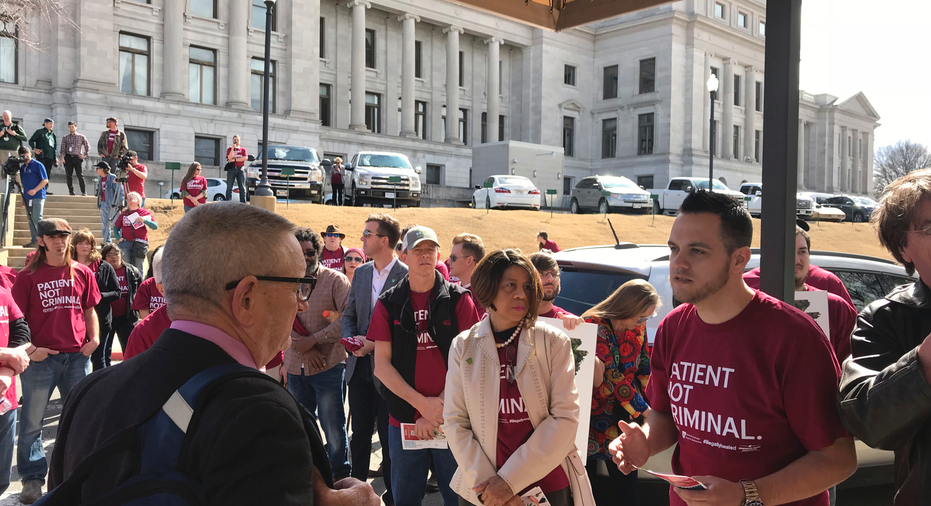 An attorney for a company that unsuccessfully applied for a license to grow medical marijuana in Arkansas called the process for permitting such businesses "flawed and corrupt" on Thursday as state Supreme Court justices questioned whether a judge had the power to prevent those licenses from being issued.
The state attorney general's office, meanwhile, said in a previously sealed court document that a member of the commission accused another unsuccessful applicant of trying to bribe him.
Justices heard arguments in the state's appeal of a decision that prevents the Arkansas Medical Marijuana Commission from awarding its first cultivation licenses. Pulaski County Circuit Judge Wendell Griffen in March ruled that the licensing process violated a state constitutional amendment voters approved in 2016 legalizing marijuana for patients with certain conditions.
Griffen ruled in favor of an unsuccessful applicant who had challenged the commission's decision to issue permits to five businesses. The company, Naturalis Health, cited two potential conflicts of interest by members of the commission. It also claimed officials did not verify applicants' assertions that their facilities would be the required distance from churches, schools and day cares. Naturalis ranked 38th out of the 95 applications submitted, officials have said.
"(The company's) investigation revealed substantial evidence of arbitrary, capricious actions by the commission, evidence that established that the decision was characterized by an abuse of discretion and, in sum, a process that was conducted by the Medical Marijuana Commission that was fundamentally flawed and corrupt," Jay Bequette, an attorney for Naturalis, told justices.
Attorneys for the state and the companies that were set to receive the licenses, however, argued that Griffen's court didn't have jurisdiction to hear Naturalis' complaint.
"Agencies make administrative decisions, not adjudications, every day throughout this state and those are not subject to judicial review, and we would submit to you that that area of the law need not be disturbed in this case," said Casey Castleberry, an attorney for Bold Team LLC, one of the five cultivation facilities.
Griffen's ruling effectively halted the launch of Arkansas' medical marijuana program. State officials in April announced the commission would stop reviewing applications for dispensaries to sell medical marijuana in response to Griffen's ruling. Arkansas has approved more than 5,300 applications for patients to use medical marijuana and will issue registry cards about a month before the drug is expected to be available legally.
Hours after the hearing, the Supreme Court lifted a protective order and unsealed a letter filed this week by Attorney General Leslie Rutledge's office detailing an allegation made by a member of the commission that another unsuccessful applicant, Natural State Agronomics, had offered to bribe him. The commissioner, who isn't named in the letter, said he did not accept the bribe but did not report it. In the letter, Rutledge's office said most of the allegations remain unsubstantiated but are being investigated by law enforcement.
Attorneys for Natural State Agronomics did not respond to messages left Thursday afternoon. The letter said that the commissioner gave the company the second-highest score he awarded and higher than it received from the other four commissioners, but said there was no evidence he based his scoring on the offer. Dr. Carlos Roman, the only member of the panel to award his second-highest score to Natural State Agronomics, did not immediately return a call late Thursday afternoon.
Justices did not indicate when they would rule.
___
Follow Andrew DeMillo on Twitter at www.twitter.com/ademillo