Arianna Huffington to Leave the Huffington Post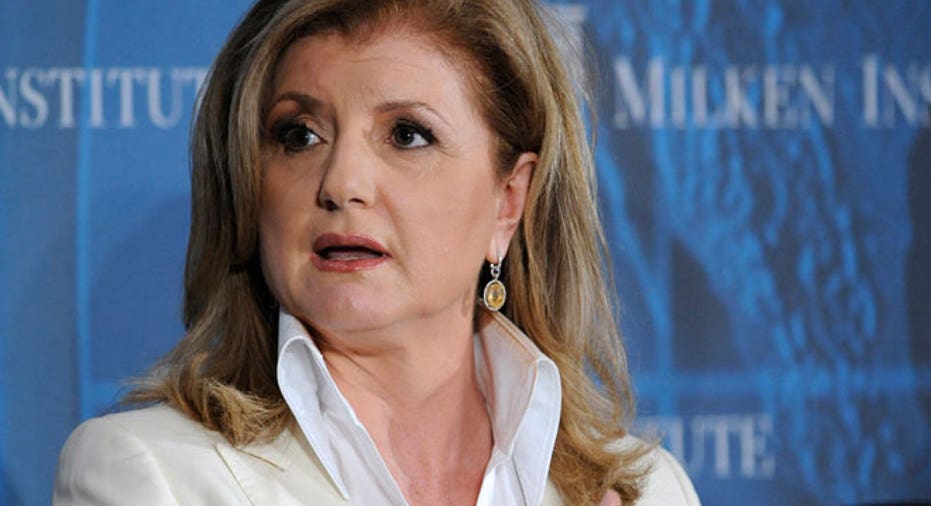 Arianna Huffington, who co-founded the Huffington Post 11 years ago and built it into one of the largest digital media outlets in the U.S., says she will be leaving the company in the coming weeks to focus on a soon-to-launch startup dedicated to issues of health and wellness.
Ms. Huffington, who is 66 years old, had signed a new deal in June of last year to remain at the Huffington Post as president and editor-in-chief through 2019. But she said the contract allowed her to launch the new company, Thrive Global, while continuing in her role at the site.
When she secured Series A funding for the new venture late last week, she said it had become clear she could no longer continue running the Huffington Post.
"I really thought I could do both, but as we started building it up, I realized that it really needed my full attention," she said in an interview. "It is important to know when one door closes and another opens and I felt that moment had arrived."
Her continued role at her namesake site—which was acquired by AOL Inc. in 2011 for $315 million—had become unclear after AOL was bought by Verizon Communications Inc. for $4.4 billion last year. The matter appeared put to rest when she signed the new contract, but her future with the site came into question again when she announced two months ago that she would be launching a new venture.
Ms. Huffington has published a number of books focusing on health and sleep issues, such as "Thrive: The Third Metric to Redefining Success and Creating a Life of Well-Being, Wisdom, and Wonder," and "The Sleep Revolution: Transforming Your Life, One Night at a Time." She had spent an increasing amount of time this year dedicated to giving lectures around the country on the subject and less time running the site.
Ms. Huffington, a Greek native, rose to U.S. prominence in the 1990s as a political commentator. She co-founded the Huffington Post in 2005 along with Kenneth Lerer and Jonah Peretti, all of whom went on to become important figures in the digital media landscape.
Mr. Peretti founded BuzzFeed with the backing of Mr. Lerer who has become a top venture capitalist for many digital media companies and is investing in Ms. Huffington's new venture.
When the Huffington Post was sold to AOL five years ago, Ms. Huffington was named president and editor-in-chief of the Huffington Post Media Group, which took on other AOL media properties like Engadget, TechCrunch, Moviefone and MapQuest.
But the management structure created tension, and by mid-2012, her portfolio was scaled back and all of the AOL sites aside from Huffington Post were removed from her purview.
In recent years, the Huffington Post has undergone an aggressive global expansion, teaming up with foreign media groups to launch localized versions of the site in 14 countries, such as Greece, the U.K., France and Mexico.
With the site, Ms. Huffington helped pioneer digital-only journalism. The Huffington Post was founded as a liberal alternative to the Drudge Report and quickly rose in prominence as a blogging platform and news aggregator. Ms. Huffington often leveraged her personal relationships to get celebrities and political figures to write columns for the site.
"Arianna is a visionary who built The Huffington Post into a truly transformative news platform," Tim Armstrong, chief executive officer of AOL, said in a statement. "AOL and Verizon are committed to continuing its growth and the groundbreaking work Arianna pioneered."
But Ms. Huffington's time running the company wasn't without controversy.
The Huffington Post's practice of not paying many of its contributors—arguing that they were benefiting from exposure to the site's large number of visitors—brought criticism. In 2011, the National Writers Union and the News Guild called for a boycott of the site. Late last year, approximately 350 editorial staffers at the site voted to unionize.
Despite regularly drawing over 100 million unique visitors a month, the site has failed to consistently turn a profit.
In April, Ms. Huffington raised concerns among staff when she joined the board of Uber, with some wondering if it was a conflict of interest that would affect how the company covered the ride-sharing business. Ms. Huffington said she recused herself from coverage of Uber.
Thrive Global, which will work with companies to improve the well-being of their employees, is slated to formally launch in November. The company's Series A funding round was led by Lerer Hippeau Ventures, Mr. Lerer's fund. Other investors include Blue Pool Capital, Greycroft Partners, Advancit Capital and entrepreneur Sean Parker.
Ms. Huffington said there had been discussions for her to continue in some role at the Huffington Post, but she had decided she would leave sometime in the next two or three weeks once a transitional management arrangement had been put in place.
"I have been running Huffington Post for 11 years and I couldn't imagine having another relationship with it," she said.
Corrections & Amplifications: The Huffington Post was co-founded by Arianna Huffington, Kenneth Lerer and Jonah Peretti. An earlier version of this story incorrectly stated that Andrew Breitbart was also a co-founder.
Write to Lukas I. Alpert at lukas.alpert@wsj.com