Argentina seeking credit line from IMF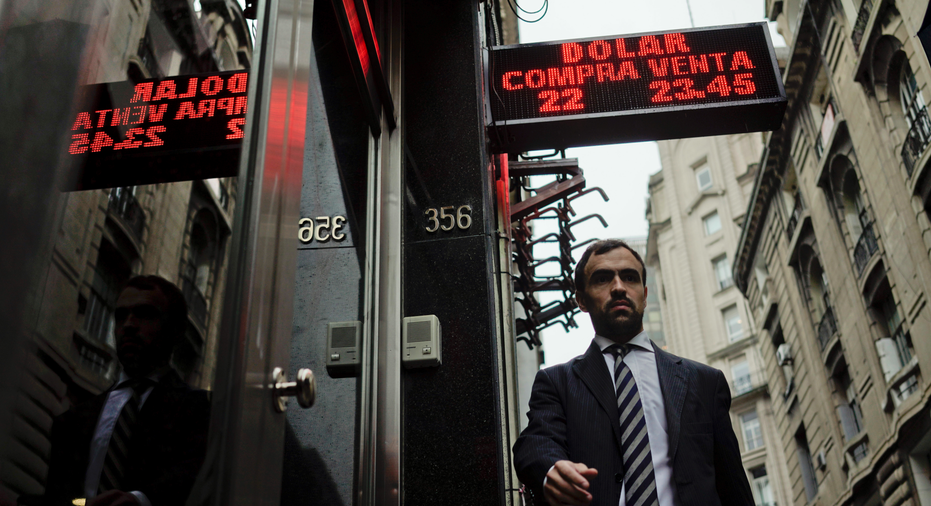 President Mauricio Macri said Tuesday that Argentina has begun talks on a financing deal with the International Monetary Fund following a sharp devaluation of its currency and amid a difficult "global scenario."
Argentina was forced recently to impose three interest rate hikes to halt a sharp devaluation of its peso.
Macri said he's in talks with IMF Director Christine Lagarde to obtain a flexible credit line to combat economic woes at home and a complex situation worldwide that he said includes rising interest rates, higher oil prices and a depreciation of emerging market currencies.
"The problem we have is that we're one of the countries that depends the most on external financing," Macri said in a televised address. "Faced with this situation, and preventively, I've started conversations with the International Monetary Fund ... A few minutes ago I spoke with Christine Lagarde, and she confirmed we would start working on an agreement today."
He did not say how much Argentina is asking.
The peso fell to a historic low versus the U.S. dollar and Argentina's debt sank in price last week after a string of monetary and fiscal policy decisions that have been criticized by investors.
The government's woes began in December when investors began doubting its commitment to curb consumer prices after it announced a rise in its inflation target to 15 percent. Argentina then lifted its benchmark interest rate to 40 percent and tightened the fiscal deficit target.
"Today we're here to complement those announcements," Treasury Minister Nicolas Dujovne said in a press conference, adding that IMF financing was the best option to protect Argentina from global risks.
Many Argentines have bad memories of the IMF, believing its policies contributed to Argentina's worst economic collapse in 2001. The crisis was so bad that one of every five Argentines was out of work. The peso, which had been tied to the dollar, lost nearly 70 percent of its value. Banks froze deposits. More than 20 people died in protests and looting as the economy unraveled. Argentina eventually defaulted on a debt of more than $100 billion and saw a revolving door of five presidents in just two weeks.
But Dujovne reassured Argentines, saying that the IMF "today is very different than the one we knew 20 years" ago. "It has learned lessons from the past, and I repeat — it has helped our gradual program (of policies)."
Macri, a conservative, came into power in 2015 promising to cut government spending to boost Argentina's troubled economy. But while Macri struggles to reduce the country's high fiscal deficit and tame inflation, Argentines continue to lose purchasing power and many are growing frustrated with rises in fuel and transportation costs.
Argentina's Merval stock index recovered after Macri's announcement, and was falling about 3 percent after starting the day down at about 5 percent. The peso also bounced back to close at 22.8 per dollar after having plunged to a record low of 25.5 earlier in the day.
The IMF flexible credit line is designed specifically for countries with strong fundamentals, a track record of solid policy implementation, and a commitment to continue to implement sound policies and take appropriate corrective action whenever warranted, Goldman Sachs economist Alberto Ramos said in a research note.
"It is unclear to us if Argentina truly fits this description: while the authorities are certainly orthodox and market friendly and committed to implement sound policies, the country's fundamentals are hardly strong," he said.