Argentina president: Reforms expected after election victory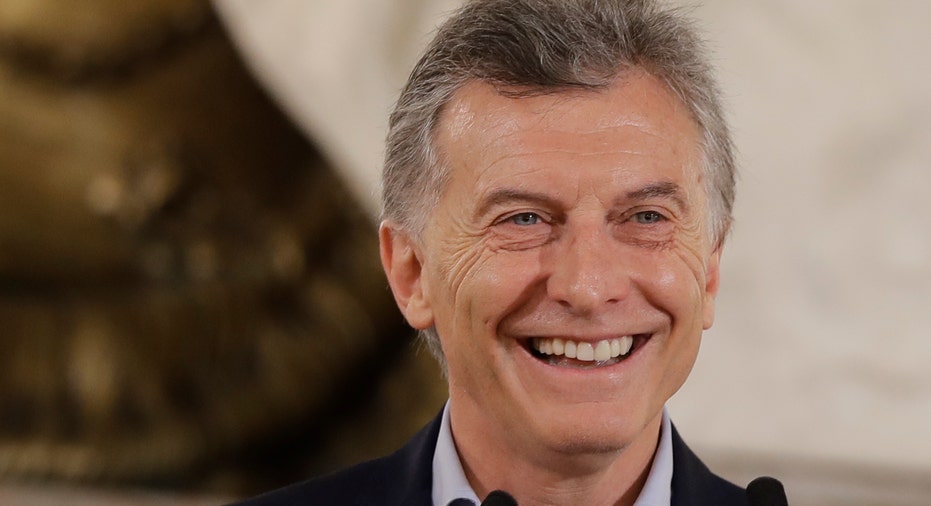 President Mauricio Macri said Monday he will seek more sweeping reforms for Argentina after his governing coalition scored a resounding victory in congressional elections.
Macri's center-right coalition remains a minority in both houses of Congress. But the "Let's Change" coalition won in 13 out 23 provinces as well as the Argentine capital in Sunday's voting and will have the biggest bloc in Congress.
Macri told reporters Argentines should expect reforms in tax, education and labor, without providing details.
The conservative leader has been pushing a free-market reform agenda to overhaul Argentina's struggling economy. But his ordering of layoffs of state workers, the elimination of tariffs aimed at protecting local industry, and hikes in utility rates has fueled labor unrest.
"We need to make many reforms," Macri said. "We've done some already ... but looking ahead, there's still a lot to be done."
The elections were largely seen as a referendum on Macri's two years in office, but they were also watched as a test of power for his left-leaning predecessor, Cristina Fernandez.
Fernandez won a Senate seat, but she came in a distant second in her multi-seat district, and analysts said that had diminished her chances of a presidential run in 2019.
Fernandez is fighting corruption allegations stemming from her 2007-2015 presidency, and a Senate seat grants her immunity from prosecution.
"The Argentine electorate has greenlighted President Macri's reform agenda, giving his 'Cambiemos' (Let's Change) coalition a convincing victory across the country in yesterday's midterm elections," Jimena Blanco, the head of Latin America issues at global risk consultancy Verisk Maplecroft, said in a research note.
"Labor and tax reforms will be at the top of the government's legislative agenda, which aims to boost the business environment improvements that begun in December 2015," she said.
Argentine stocks and bonds rose and the country's peso currency strengthened on the election results.
"The market has taken this election very well," said Marcelo Trovato, head of Buenos Aires-based Pronostico Bursatil consultancy.
Twenty-four of 72 Senate seats were at stake as were 127 seats in the 257-member lower Chamber of Deputies. The electoral result paves the way for Macri to seek re-election in 2019 as he faces a divided opposition without a clear leader.
"For Macri, the challenge is 100 percent the economy and the social situations, where the government has few achievements and must now face structural reforms," said analyst Patricio Giusto of Diagnostico Politico consultancy.
___
Associated Press video journalist Paul Byrne contributed to this report.