Arena Pharmaceuticals' Shares Slid 13% in April: Can the Stock Bounce Back?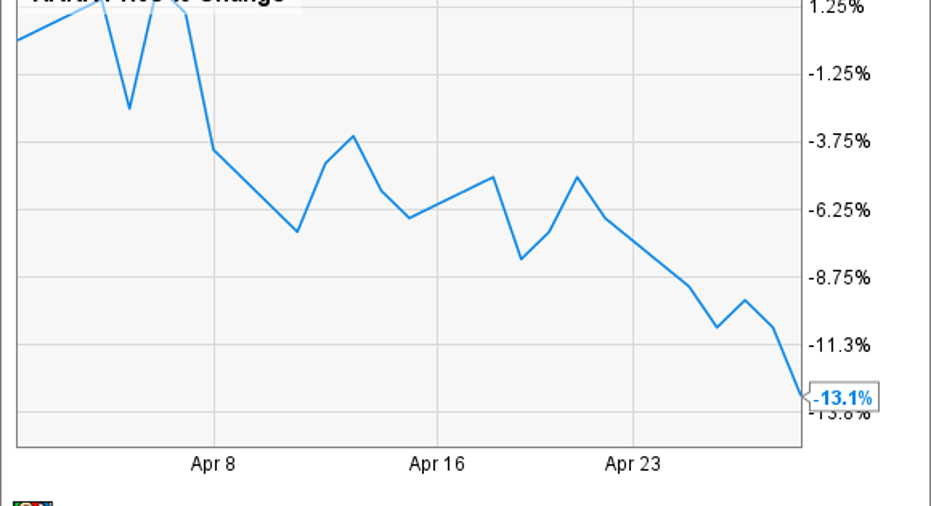 What:Shares ofArena Pharmaceuticals fell by more than 13% last month,according to data fromS&P Global Market Intelligence. The biotech's monthly plunge seems to stem from the updated prescription numbers from IMS Health for the company's anti-obesity pill Belviq, showing that the drug's commercialization failed to build any positive momentum in the first quarter of 2016.
Source: Arena Pharmaceuticals
So what:The Street is expecting Arena's top-line to decline by roughly 26% year over year when the company reports its first quarter earnings on May 9 due in no small part to Belviq's flagging sales.
Now what: Arena and its fellow anti-obesity drugmakers have struggled mightily in their collective efforts to commercialize this latest cohort of FDA approved weight loss medicines. Unfortunately, the combination of weak patient demand and the apparent unwillingness of doctors to prescribe these drugs is proving to be a tough nut to crack, devastating Arena's two closest competitors in the process.
In response to Belviq's tepid sales, Arena has attempted to shift investors' attention to its promising clinical-stage pipeline that sports the experimental pain medicineAPD371, and theautoimmune disorder drug candidate APD334. The bad news, though, is that this strategy implies that Arena will remain cash flow negative for the foreseeable future, given that APD371 and APD334 are both several years away from even entering a pivotal stage trial.
Another major issue to consider is the potential for Belviq's marketing partner,Eisai , to terminate its partnership with Arena as a result of the drug's flattening sales trajectory. If Eisai did decide to cut its losses on Belviq, Arena would be solely responsible for the drug's commercialization, which the drugmaker frankly doesn't have the resources to handle.So, my take is that investors are probably best served by watching this speculative biotech from the safety of the sidelines for the time being.
The article Arena Pharmaceuticals' Shares Slid 13% in April: Can the Stock Bounce Back? originally appeared on Fool.com.
George Budwell has no position in any stocks mentioned. The Motley Fool has no position in any of the stocks mentioned. Try any of our Foolish newsletter services free for 30 days. We Fools may not all hold the same opinions, but we all believe that considering a diverse range of insights makes us better investors. The Motley Fool has a disclosure policy.
Copyright 1995 - 2016 The Motley Fool, LLC. All rights reserved. The Motley Fool has a disclosure policy.