Are These 2 Retail Stocks Back in Style?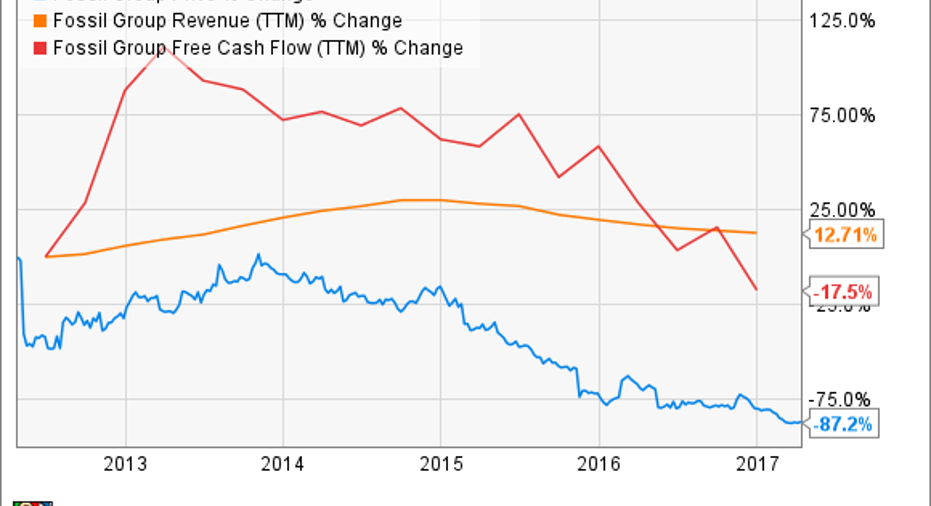 The world of retail has been getting hammered. A combination of changing consumer trends, frugal shoppers, and a shift to online purchasing has led to a tidal wave of store closures and bankruptcies the last few years.
That doesn't mean consumers aren't spending, though. In fact, Americans have been steadily increasing what they shell out each month on non-essential items ever since the financial crisis. This situation of rising spending but struggling retailers can create buying opportunities for value investors.
Running a search within the retail industry with one of my favorite value metrics -- a low price-to-free-cash-flow ratio -- yielded, among other results, Fossil Group (NASDAQ: FOSL) and Michael Kors (NYSE: KORS). However, with the fashion industry in flux, these apparent bargains could end up being nothing more than posers. Let's take a look.
The digital watch revolution leaves some behind
Watch and accessory maker Fossil has been in a world of hurt. Sales and profits have been on the decline for years as consumers have favored wearable devices over traditional watches.
Data by YCharts.
The company has work to do. Chief among its tasks is creating a portfolio of goods people want to buy. Wearable devices are now part of the sales lineup, and that showed up in the last quarter where declines in watch sales flattened out, but for the year were still down a total of 6%.
The other segments, leathers and jewelry, notched 6% and 8% year-over-year declines, respectively. Part of the problem was a loss due to currency fluctuations as a strong U.S. dollar ate up international sales. But the company's licensing was also to blame, as sales by companies Fossil makes product for fell throughout the year. It's a trend that is partially outside of Fossil's control, but the anchor remains attached nonetheless.
Image source: Fossil.
Besides designing sellable products, the company needs to revamp its model for the digital age. Going forward, it has plans to close underperforming stores, bolster e-sales, and optimize the supply chain to reduce costs. Such efforts take time, though, and Fossil sees sales falling again as much as 6.5% and being flat at best in the year ahead. While this stock may look cheap on the surface, there could be more pain in store.
Cutthroat fashion strikes an industry veteran
Michael Kors has had a rough year. After riding a wave of growth that lasted through 2015, sales went stagnant and most recently reversed course. The cause? An intensely competitive fashion industry in the U.S. and Europe that has reduced selling prices and declining foot traffic in stores.
Data by YCharts.
To combat declines over the long term, the company has opted to reduce its promotional activity in developed countries like the U.S. So far that hasn't helped, as revenue in the Americas and Europe declined 7.4% and 7%, respectively, in the third quarter. Discounting only has short-term benefit. It boosts sales, but ultimately diminishes the value of the brand and trains buyers to only come back during sales events. Now Michael Kors is cutting back on the discounting.
Image source: Michael Kors.
Catering to shopping trends, Michael Kors has also begun working on a new digital store business model and wearable electronics were recently added to the mix in response to demand for such things. Overall, the company expects business in its biggest markets to continue struggling in the short term.
The good news is that Michael Kors' growth strategy relies heavily on Asia, which makes up a small percentage of sales at only 8% at last report. Management sees the region as a billion-dollar-a-year opportunity in time, a big increase from its current fiscal year running total of $281 million. To that end, it purchased its licensed business in China and South Korea to help drive growth. In part due to that decision, free cash flow is back on the rise. This stock is worth keeping tabs on.
The world of retail continues to be reshaped by technology and younger generations with different tastes. The polarizing changes will create opportunity, though, as established brands that are able to adapt could emerge stronger than ever. Right now, Michael Kors' stock looks like it could come back in style. Fossil is not looking in such good shape.
10 stocks we like better than Michael Kors HoldingsWhen investing geniuses David and Tom Gardner have a stock tip, it can pay to listen. After all, the newsletter they have run for over a decade, Motley Fool Stock Advisor, has tripled the market.*
David and Tom just revealed what they believe are the 10 best stocks for investors to buy right now... and Michael Kors Holdings wasn't one of them! That's right -- they think these 10 stocks are even better buys.
Click here to learn about these picks!
*Stock Advisor returns as of April 3, 2017
Nicholas Rossolillo has no position in any stocks mentioned. The Motley Fool owns shares of Michael Kors Holdings. The Motley Fool recommends Fossil Group, Inc. The Motley Fool has a disclosure policy.