Are There Any Other Airline Mergers on the Horizon?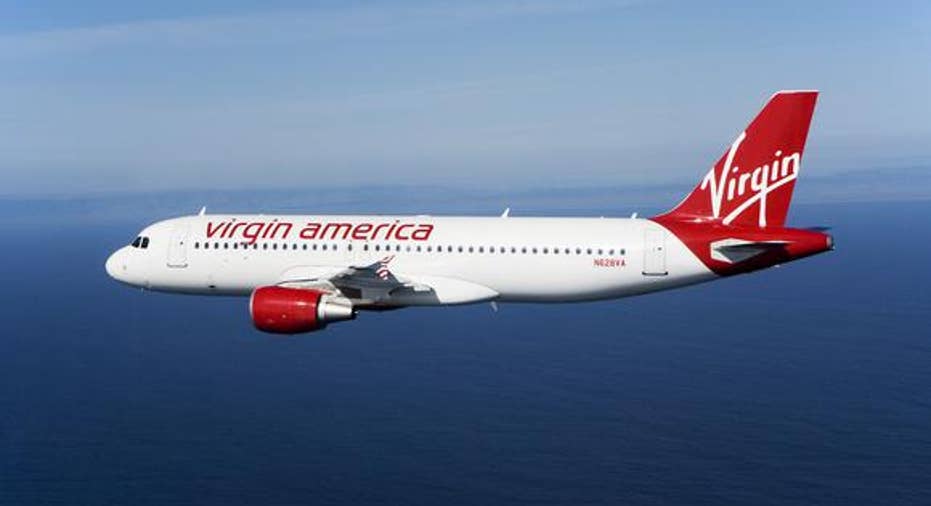 Earlier this month, Alaska Air announced plans to acquire chic low-cost carrier Virgin America , topping a rival bid by JetBlue Airways .
This month, Alaska Air agreed to buy Virgin America for $2.6 billion. Image source: Virgin America.
Airline mergers have frequently come in waves. As a result, the recent Alaska-Virgin America deal has lots of investors wondering whether more merger agreements will be announced in the near future. Let's take a look at some of the possibilities.
Will jilted JetBlue look for a new partner?One possibility that has been mentioned a lot in the past two weeks is that JetBlue could acquire Hawaiian Holdings . Stifel analyst Joseph DeNardi has been particularly vocal in predicting this move.
JetBlue and Hawaiian already have a codeshare and frequent flyer partnership. This makes it easier for travelers to connect between JetBlue's domestic network and Hawaiian Airlines' flights to and from Hawaii.
However, a full-blown merger seems extremely unlikely. First of all, neither carrier has shown much of an appetite for bulking up. JetBlue has never been involved in any merger activity in its 16-year history. Hawaiian Airlines has remained independent for nearly a century.
JetBlue doesn't seem interested in pursuing other potential mergers. Image source: JetBlue Airways.
Second, buying Hawaiian Airlines would add tons of complexity to JetBlue's operations. It would add three new aircraft types to the two JetBlue already uses. Furthermore, it would extend JetBlue's operations to Asia and the South Pacific, regions it has no experience with.
Third, there would be very minimal synergies from combining JetBlue and Hawaiian Airlines. For the most part, they serve completely different markets. JetBlue doesn't operate any flights to Hawaii. Meanwhile, of JetBlue's six focus cities, Hawaiian Airlines serves just one: New York.
Thus, a combined JetBlue and Hawaiian Airlines wouldn't be worth much more than the sum of the parts. And Hawaiian would be a pricey acquisition: Its market cap has surged to $2.7 billion, driven in part by merger speculation. JetBlue wasn't willing to spend that kind of money to buy Virgin America -- a deal that could have produced huge synergies -- so it's extremely unlikely to pay up for Hawaiian.
A megadiscount carrierAnother much-discussed possibility is a merger between Spirit Airlines and Frontier Airlines. Spirit and Frontier are two of the three major "ultra-low-cost carriers" (ULCCs) that have shaken up air travel in recent years by offering much lower base fares while charging fees for everything from carry-on bags to advance seat assignments.
There are good reasons for Spirit and Frontier to combine. In addition to having similar business models, the two carriers also operate compatible fleets, using planes in the Airbus A320 family.
Spirit Airlines may eventually try to merge with rival Frontier Airlines. Image source: Spirit Airlines.
Also, Spirit and Frontier have increasingly started to encroach on each other's markets. Both ULCCs are already facing price-matching activity from larger rivals -- the last thing they need is to get trapped in a brutal price war with each other.
However, the time is not right for a Spirit-Frontier merger. First, both carriers have more pressing issues to attend to. Spirit just got a new CEO at the beginning of 2016 and is trying to improve its reliability and customer satisfaction. Meanwhile, Frontier only fully transitioned to the ULCC business model in the past year or two.
Second, Frontier Airlines is still a private company. It started to plan for an IPO last month, and it probably makes sense for Frontier to maximize its valuation as a public company before contemplating a sale.
Third, Spirit Airlines should try to improve its own stock's valuation before attempting an acquisition. It needs to invest a lot of capital to support its growth plan, so it would probably need to pay with stock for most (if not all) of a Frontier Airlines acquisition. With Spirit's share price down more than 40% from its late 2014 high, making a big acquisition with stock would cause significant dilution for existing shareholders.
The ULCC business model doesn't offer big economies of scale. As a result, there's no rush for Spirit and Frontier to merge. Both companies are probably better off waiting for a few years.
Not many other optionsThere aren't many other intriguing merger possibilities in the airline sector. The four top airlines recognize that they are all too big to win antitrust approval for any merger. Meanwhile, Alaska Air will be busy integrating the Virgin America acquisition for the next few years and JetBlue seems determined to go it alone.
Eventually, a Spirit-Frontier combination seems logical in the ULCC segment, but that probably won't happen for at least a year or two. Looking even further down the road, an Alaska-JetBlue tie-up could create a fifth national carrier. Such a deal might make sense, but investors shouldn't count on it happening -- especially not in the next few years.
The article Are There Any Other Airline Mergers on the Horizon? originally appeared on Fool.com.
Adam Levine-Weinberg owns shares of Hawaiian Holdings, JetBlue Airways, and Spirit Airlines and is long Jan. 2017 $17 calls on JetBlue Airways, short Oct. 2016 $50 calls on Hawaiian Holdings, and long June 2016 $30 calls on Spirit Airlines. The Motley Fool recommends Spirit Airlines and Virgin America. Try any of our Foolish newsletter services free for 30 days. We Fools may not all hold the same opinions, but we all believe that considering a diverse range of insights makes us better investors. The Motley Fool has a disclosure policy.
Copyright 1995 - 2016 The Motley Fool, LLC. All rights reserved. The Motley Fool has a disclosure policy.