Are Solar Developers in Trouble?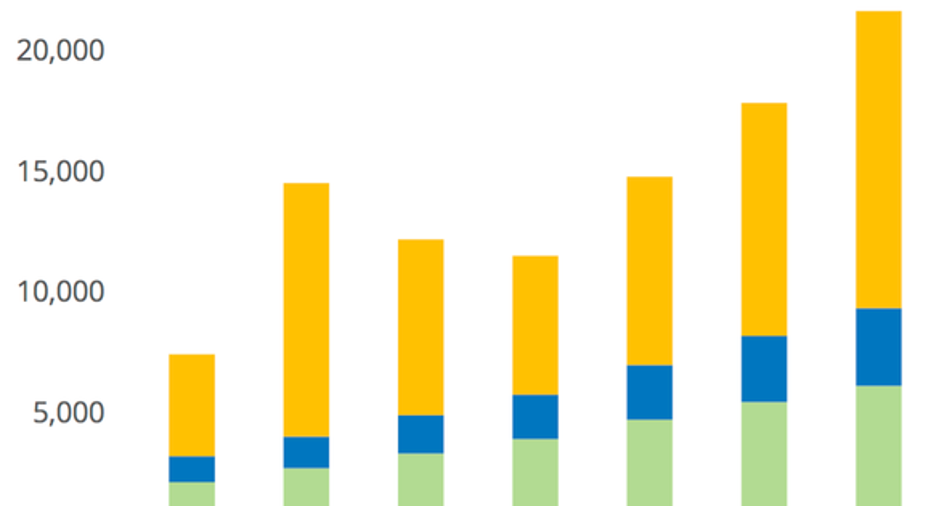 Image source: Getty Images.
Solar stocks are getting pounded right now, driven by weaker-than-expected guidance from industry leaders First Solar (NASDAQ: FSLR) and SunPower (NASDAQ: SPWR). Canadian Solar (NASDAQ: CSIQ), which has built a business comprised of large projects after acquiring Recurrent Energy, has also been dragged down as a result. As three of the largest solar manufacturers and developers in the world, are they in trouble long term or is this the market being short-sighted?
What's going on in solar today
There are a three broad dynamics playing out in solar, particularly in the U.S., that are negatively affecting solar developers.
First, U.S. utilities don't need more solar today because they loaded up on solar ahead of the expected investment tax credit (ITC) reduction at the end of 2016. It takes anywhere from 6 months to 3 years to develop a utility scale solar plant, so with the expected reduction in the ITC coming this year utilities signed a lot of power purchase agreements (PPA) in 2015 and before. By the time the ITC was extended very late in 2015, it was too late to sign projects for 2016 and companies had plenty of solar to meet mandates for 2017 and even into 2018. So, there was no rush to sign more PPAs.
Of the 3,220 MW projects First Solar has under contract at the end of Q2 2016, just 303 MW have completion dates in 2017 and 40 MW in 2018. But First Solar has 810 MW contracted for 2019, mostly in the U.S. That's the abyss I'm talking about in U.S. solar demand. Long term, the industry is in good shape but it'll take getting through 2017 to get to a point of strong demand.
SunPower has 575 MW of projects due to be completed by the end of 2016 but just one 111 MW project in Chile due in 2017. Its recently announced 164 MW Chile project and 500 MW Mexico project start in 2018.
The falling demand for utility projects can be seen in GTM Research's installation projections below. You can see that U.S. utility projects will fall off dramatically in 2017.
Image source: SunPower Q2 2016 earnings presentation. Data from GTM Research.
This dynamic of falling demand leads to the second problem for developers. Companies are getting desperate for new contracts. That, along with new independent power producers entering the global solar market, has reduced the cash flow solar companies can get from projects. This makes the economics more difficult, which I'll cover below.
The third problem is a lack of buyers for solar projects. And this is a multifaceted problem that may be short-lived.
As SunEdison has moved through bankruptcy, it has been looking into selling wind and solar assets, flooding the market for potential buyers. If you're NRG Energy, a rumored bidder for 2.1 GW of SunEdison assets that could be extremely cheap, why would you buy solar assets with lower returns from First Solar, SunPower, or Canadian Solar? The specter of SunEdison's assets hitting the market may be making all of the major solar buyers cautious to pay up for high-quality assets when they may be getting SunEdison's assets at a discount.
Layered on top of that is that there's a limited amount of tax equity out there. This is the funding from selling tax benefits like the ITC and accelerated depreciation to investors. But they have to have taxes to write off the tax assets against. And that may be limited at the moment.
Another factor is that yieldcos have yet to recover to levels of a healthy industry. In theory, yieldcos should be large buyers of renewable energy assets, but their dividend yields have been above 6% for most of the past year. That's too high to buy renewable projects and has largely kept them out of the market. Yields have come down in the last couple of months, but this is another headwind the industry is facing.
Combine all of these factors together and you get falling cash flows for solar projects and rising internal rates of return (IRR) demanded by customers. And that has a big impact on the bottom line.
Why IRRs are a big deal in solar energy
When it comes to the financials, the impact of higher IRRs is huge to a solar company's bottom line. A developer can predict cash flows based on a solar system's energy production and the PPA price, but without a low IRR the projects may not be profitable.
Below, I've outlined how rising IRRs can impact a project's value. In this example, I'm assuming $1 million in cash flows from an energy PPA and IRRs of 8% to 10%.
| Example Project | Annual Cash Flow (30 years) | Discount Rate | Project Value |
| --- | --- | --- | --- |
| Project A | $1 million | 8% | $11.26 million |
| Project B | $1 million | 9% | $10.27 million |
| Project C | $1 million | 10% | $9.43 million |
Calculations by author.
You can see that an increase in the discount rate of just 8% lowers the project value by 8.8%. And a 2% increase lowers the value 16.3%. This is what SunPower said it experienced when selling projects in the second quarter. And as a result it's going to be far less profitable in 2016 than management expected. After all, the cost of a project doesn't change when IRRs change, but the lower sale price flows directly to the bottom line.
As utility-scale solar demand dries up, SunPower will focus on residential and commercial solar in 2017. Image source: SunPower.
Is trouble temporary or permanent?
Are these factors something investors should worry about long term or are they temporary? We don't know for sure, but I'll give my thoughts on the solar environment today.
I think the headwinds selling projects will eventually subside. SunEdison's assets will be sold in the next few months and the appetite for tax equity will reset once the calendar turns to 2016. On the tax equity side, the reduction in installations in 2017 could lead to a dynamic where demand goes from low to very high, which could help solar companies next year.
The yieldco market is a big unknown but we've seen some improvement recently, and as SunEdison's bankruptcy is sorted out, I think that market will stabilize. Long term, all of these factors should lead to lower IRRs and higher project sale prices.
The competition for PPAs, however, will likely last for a long time. The solar industry is still oversupplied with modules, causing manufacturers to bid aggressively to sell the product they have. And new developers in the market are bidding aggressively to get market share. That's one reason both SunPower and First Solar have said they'll focus on developing full projects in a smaller number of markets and sell components to developers in the rest of the world.
Long term, the solar industry has a bright future and you can see that demand in 2018 and 2019 is already starting to come in. But there's no doubt that 2017 will be a bad year for the utility-scale solar industry and First Solar, SunPower, and Canadian Solar will be hard hit. But if they can get over that hurdle, the upside for investors will be big.
A secret billion-dollar stock opportunity The world's biggest tech company forgot to show you something, but a few Wall Street analysts and the Fool didn't miss a beat: There's a small company that's powering their brand-new gadgets and the coming revolution in technology. And we think its stock price has nearly unlimited room to run for early in-the-know investors! To be one of them, just click here.
Travis Hoium owns shares of First Solar and SunPower. The Motley Fool has no position in any of the stocks mentioned. Try any of our Foolish newsletter services free for 30 days. We Fools may not all hold the same opinions, but we all believe that considering a diverse range of insights makes us better investors. The Motley Fool has a disclosure policy.