Are Netflix and Disney Close to Breaking Up?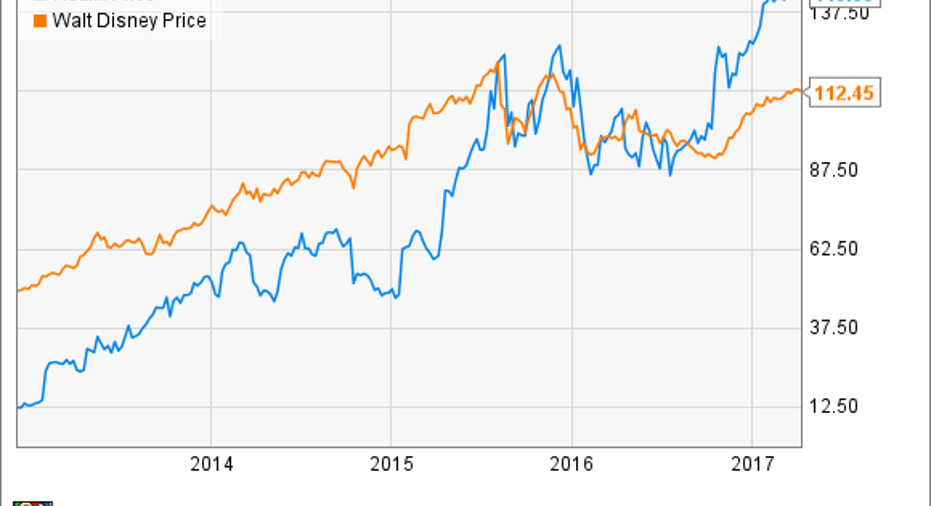 On Dec. 4, 2012, Netflix (NASDAQ: NFLX) and The Walt Disney Company (NYSE: DIS) issued a joint press release announcing a multiyear agreement for Netflix to become the exclusive subscription outlet in the U.S. for films from Disney, Walt Disney Animation Studios, Pixar Animation Studios, Marvel Studios, and Disneynature, beginning with 2016 theatrical releases. In separate deals, it was also announced that Netflix would receive some of Disney's catalog of shows and direct-to-video releases beginning the following year.
It was great news for Netflix even though some Disney fans were disappointed with how the deal played out, as they had expected the full catalog of Disney classics to appear on Netflix. What actually happened was some, not all, older Disney releases appeared on Netflix, and a host of new shows and movies such as Marvel Studios' superhero series Daredevil, Jessica Jones, Luke Cage, and Iron Fist were added as they were created. Doctor Strange and Rogue One: A Star Wars Story, both 2016 theatrical releases, are expected to become available on Netflix later this year.
Image source: Disney.
The release of Disney shows on Netflix has coincided with fantastic success for the streaming service. Since the announcement, Netflix stock has gone up more than 1,000%. Not all of that increase is attributable to Disney, but the Disney content is a great attraction that likely generates new subscribers and helps retain the current Netflix audience. Variety reports that Marvel's Iron Fist accounted for 14.6% of all Netflix streams on its debut date earlier this year, the highest percentage for any series premiere measured by data-crunching company 7Park Data.
In the most recent Netflix conference call, Chief Content Officer Ted Sarandos said
Sarandos was responding to a question that talked about renewing the Disney deal and he did not give a firm response to how that might play out, instead saying, "... we'll see."
All good things must come to an end
Although the companies did not publicly give an end date when the deal was announced, some have speculated that the end will come in the next two to three years. That could turn out to be the case.
Disney has a powerhouse brand of dynamite content and seems to be moving closer to its own over-the-top (OTT) streaming service, meaning it won't need Netflix forever. The question becomes what will Disney decide to do. The outcome could swing from taking all its content and going elsewhere, like a Disney branded OTT service, to leaving some content on Netflix, such as the Marvel superhero shows. In any case I would doubt that Disney will simply renew the current contract.
Disney has a lot going for it
Forbes ranks Disney as the eighth-most-valuable brand in the world while Piper Jaffray's spring 2017 teen survey says that "Disney films dominated the most anticipated list ..." Meanwhile, Disney's Star Wars: The Force Awakens is No. 3 on Box Office Mojo's list of top movies by box-office gross at over $2 billion. Any way you slice it, Disney content is a winner with audiences.
And the company has been making moves to bring its content to viewers in ways beyond traditional television and movies. The partnership with Netflix was one such move, but that deal was made in 2012 and something that could be even bigger has developed since then.
In August 2016, Disney bought a 33% stake in BAMTech, a digital media company spun off from Major League Baseball. BAMTech has 7.5 million subscribers, and its over-the-top (OTT) clients include HBO NOW, the NHL, the MLB, the PGA Tour, WWE Network, and Riot Games' League of Legends e-sports content. Disney put $1 billion into the network and has the option to take majority ownership in the coming years.
In the company's February conference call, CEO Bob Iger said:
Disney's investment in BAMTech could give it an alternative distribution outlet to Netflix, and the technical capability to launch its own OTT service like other BAMTech clients.
Avoid potential headline risk and sleep better at night
I hope Disney content will stay on Netflix, but I'm not sure that will be the case long term. In the short term, if Disney starts its own OTT service, it would not surprise me to see the headlines spark a drop in Netflix's share price as investors would fear a potential slowdown in U.S. subscriber additions. However, Netflix is scheduled to spend $6 billion in 2017 on new content and this type of content spend should bring in enough new shows to balance out any loss of Disney content over the long haul.
For me, owning shares in both companies lets me sleep better at night as that way I own a piece of the earnings power of the Disney content no matter what the company decides to do.
10 stocks we like better than Walt DisneyWhen investing geniuses David and Tom Gardner have a stock tip, it can pay to listen. After all, the newsletter they have run for over a decade, Motley Fool Stock Advisor, has tripled the market.*
David and Tom just revealed what they believe are the 10 best stocks for investors to buy right now... and Walt Disney wasn't one of them! That's right -- they think these 10 stocks are even better buys.
Click here to learn about these picks!
*Stock Advisor returns as of April 3, 2017
Frank DiPietro owns shares of Netflix and Walt Disney. The Motley Fool owns shares of and recommends Netflix and Walt Disney. The Motley Fool has a disclosure policy.