Are Himax Technologies' Growth Days Over?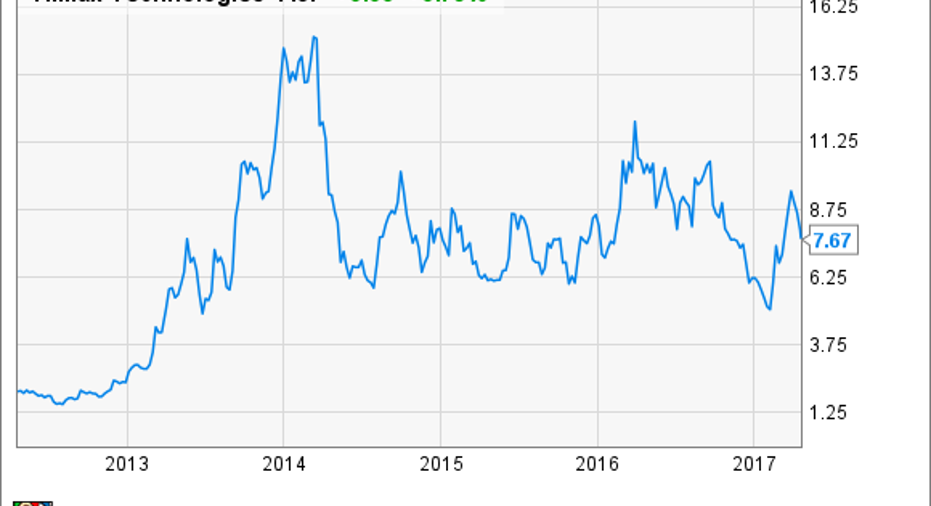 Himax Technologies' (NASDAQ: HIMX) stock price has seen some highs over the past few years on the prospects that design wins in augmented reality (AR) devices will bring big gains for the company -- only for share prices to tumble as those opportunities never quite panned out.
The first instance of market excitement happened a few years ago when Alphabet's Google took a 6.3% investment stake in Himax, with an option to purchase another 14.8%. Google was building out its Glass device, and many Himax investors were expecting huge benefits from the partnership between the two companies. In the end, Glass hit major roadblocks -- mainly from the public -- and it never became the device Google or Himax expected. Due, at least in part, to the Glass partnership sputtering, Himax's share price took acliff divein early 2014:
HIMX price chart by YCharts.
Since then the company's share price has been much more volatile, and subsequent AR design wins, like the Microsoft Hololens, have also failed to bring share-price gains for Himax, though the stock hasn't experienced anything as dramatic as the 2014 slide.
So are Himax's growth days over? The short answer: probably not. But it could take a little while longer before the company regains its bearings.
Why Himax has more room to grow
It's easy to fall into the trap of believing that whatever's happened in the past will happen again in the future. For Himax, that means that failing to capitalize on Google Glass and Microsoft's Hololens doesn't necessarily mean that the company can't substantially benefit from this market.
The AR market will reach an estimated$117 billion by 2022, according to Markets and Markets research, and Himax has a strong position in the space. Thecompany has been working with 30 AR-related companies over the past 15 years, and that experience and exposure to the augmented reality market could be lucrative -- but the company has noted that the benefits might not be seen until later next year.
The caveat is that investors shouldn't get fixated on Himax grabbing one big design win for an AR device.The company will likely need several design wins across a handful of AR devices in order to bring long-term, sustainable growth.
One promising bit of news lately was the company's investment in Emza Visual Sense, which makesvisual sensors and proprietary machine-vision algorithm tech. Himax now owns 45% of the company with a one-year option to purchase the rest of it. The company says that gaining some of Emza's technology could help it expand its offerings across a handful of its businesses, includingaugmented and virtual reality.
I've been bearish on Himax in the past because I think investors tie this company too closely to one AR play, and then when that device doesn't pan out, the stock tanks. I'm not changing my position on that, but I do think the company has potential if it can score several big design wins and spread its risk out among several companies.
Himax is gearing up for new products within its AR business in the latter part of this year and into 2018, which could eventually help bring revenue and boost the share price as a result. In light of this opportunity, I'd take a carefully optimistic approach to Himax for the time being, and wait to see how the company fares over the next few quarters.
10 stocks we like better than Himax TechnologiesWhen investing geniuses David and Tom Gardner have a stock tip, it can pay to listen. After all, the newsletter they have run for over a decade, Motley Fool Stock Advisor, has tripled the market.*
David and Tom just revealed what they believe are the 10 best stocks for investors to buy right now... and Himax Technologies wasn't one of them! That's right -- they think these 10 stocks are even better buys.
Click here to learn about these picks!
*Stock Advisor returns as of April 3, 2017
Suzanne Frey, an executive at Alphabet, is a member of The Motley Fools board of directors. Teresa Kersten is an employee of LinkedIn and is a member of The Motley Fools board of directors. LinkedIn is owned by Microsoft. Chris Neiger has no position in any stocks mentioned. The Motley Fool owns shares of and recommends Alphabet (A shares) and Alphabet (C shares). The Motley Fool has a disclosure policy.