Are Cars Really Driving Apple Inc.'s R&D Budget Up?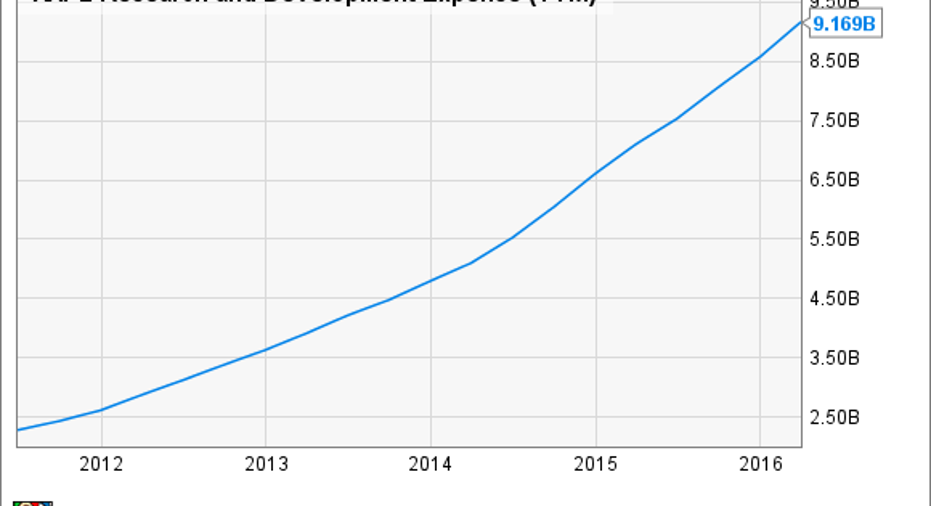 Above Avalon analyst Neil Cybart recently published a column in which he argues that the huge increase in Apple's research and development budget is attributable to a "pivot into the automobile industry."
AAPL Research and Development Expense (TTM) data by YCharts.
Although it may very well be the case that Apple is working on self-driving cars, and this may indeed be responsible for a reasonable chunk of the sizable research and development budget increase that Apple is reporting, I doubt it. Here's why.
My best explanation for the increased R&D budget
On Apple's most recent earnings call, CFO Luca Maestri gave the following three key drivers for the company's surging research and development spending.
The first driver is that Apple invests "in initiatives and projects ahead of revenue." This is a fancy way of referring to new products and/or services that the company hasn't made public yet. This could potentially include the oft-rumored Apple Car.
The next is that the company has a "much broader [product] portfolio" than the company had previously offered. This portfolio has expanded to include two iPhone sizes, multiple iPad sizes, Apple Watch (and assorted accessories), and so on.
And, finally, Maestri said that the company does "much more in-house technology than [Apple] used to do a few years ago."
I think it's that last bit, more than anything else, that's driving this increase.
Examples of this?
A smartphone is composed of a multitude of cutting edge technologies -- this goes even more so for premium smartphones, Apple's specialty.
Premium smartphones require cutting edge processors, displays, cameras user interface technologies (think touch controllers, 3D Touch capability, Taptic Engine, and so on), and more. Over time, they may integrate many other features that we haven't really even thought about yet.
An easy example of the kinds of in-house technology development that Apple does is its A-series applications processors. Over time, these chips have become much more sophisticated, offering performance and features that were once limited to bulkier personal computers.
Another area where I believe Apple is getting more aggressive is in display technology. Apple had previously offered best-in-class displays on its iPhones, but over the last couple of years, the iDevice maker has been surpassed by many vendors on this front. I am sure that Apple is investing heavily to try to regain a leadership position here.
Beyond these obvious ones (processor, display), DigiTimes reported late last year that Apple is working on an in-house integrated touch and display driver chips (though the report also claims that Apple's solution won't be ready in time for the iPhone 7).
Image source: Apple.
It's clear that Apple is trying to bring the development of technologies critical to the iPhone in-house. In the near term I expect that this will mostly yield benefit in terms of cost savings, but in the future as Apple's teams get really good at development these technologies, this in-house technology development will allow the company to build differentiated products that will be more difficult for competitors to copy.
It can't all just be bringing technology development in-house, though
Although I think that bringing hardware technology development in-house is a big driver of Apple's R&D spent, it can't be the only thing. However, it's worth noting that software development is very R&D intensive.
Indeed, simply to support Apple's key platforms (iOS, Mac OS, watchOS, tvOS) the company is going to need to bring on more skilled software and quality assurance engineers. Beyond that, though, as Apple adds more services and seeks to integrate them into its key platforms, it's going to need to spend more.
The complexity of the solutions that Apple will need to deliver on the software side, even for existing product categories, continues to grow substantially. So, I wouldn't be surprised if the continued development and support of those solutions is contributing significantly to the growth in Apple's research and development spending.
The article Are Cars Really Driving Apple Inc.'s R&D Budget Up? originally appeared on Fool.com.
Ashraf Eassa has no position in any stocks mentioned. The Motley Fool owns shares of and recommends Apple. The Motley Fool has the following options: long January 2018 $90 calls on Apple and short January 2018 $95 calls on Apple. Try any of our Foolish newsletter services free for 30 days. We Fools may not all hold the same opinions, but we all believe that considering a diverse range of insights makes us better investors. The Motley Fool has a disclosure policy.
Copyright 1995 - 2016 The Motley Fool, LLC. All rights reserved. The Motley Fool has a disclosure policy.