Are Analysts Right About Canadian Natural Resources?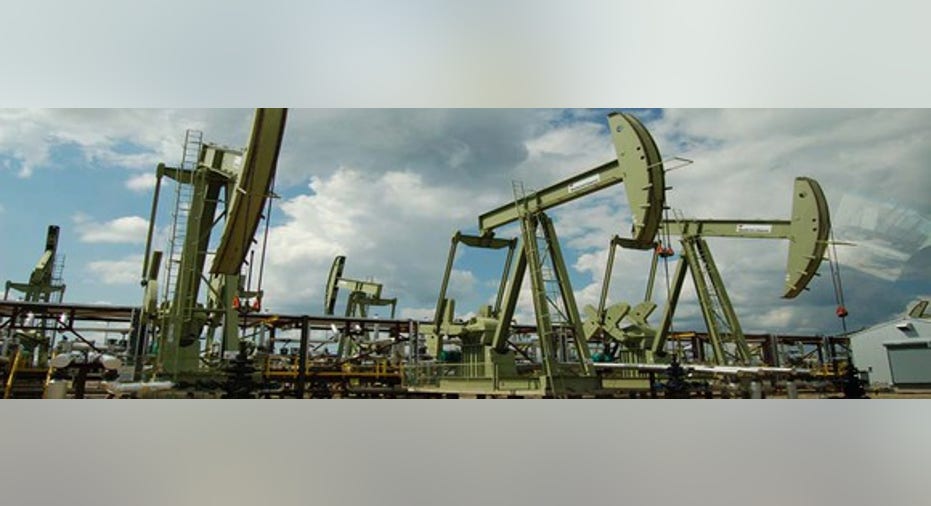 Image source: Canadian Natural Resources.
There sure is a lot of excitement about Canadian Natural Resources these days. It's normally not worth your time to focus on analyst statements, but now that RBC Capital rated it as a top pick and Citigroup reconfirmed its buy rating, perhaps it's time to dive a little deeper. Is Wall Street's love for this stock just another flash in the pan or is there something to the Canadian Natural Resources' long-term investment thesis? It turns out, there's actually a lot for you to like about CNQ.
Forecasted oil production
The president of Canadian Natural Resources, Steve Laut, recently generated a lot of excitement when he discussed his expectations for future production growth. He said if oil prices continue to rise and can consistently remain at $60 a barrel, the company is prepared to increase its spending to $3.5 billion a year during the three-year period of 2017 through 2019, up from the 2016 capital program of between $2.4 to $2.7 billion.
The increased spending is expected to create a significant boost in oil production, potentially bringing its barrels of oil equivalent per day (BOE/D) to over one million in 2017.
The expected boost in production comes on top of the already anticipated 125,000 BOE/D increase from the company's Horizon oil sands expansion. Canadian Natural Resources discussed this expansion in its 2016 forecast, expecting to spend nearly $1.6 billion this year in capital expenditures to complete phase 2 of the expansion. If completed on target in the second half of 2016, this will bring in an additional 45,000 BOE/D by 2017.
Phase 3 of the Horizon expansion, expected to cost an additional $800 million, is expected to be complete by the end of 2017 and will produce an anticipated 80,000 BOE/D. When the total 125,000 BOE/D is added to the first-quarter net production averages of 844,531 BOE/D, Canadian Natural is already approaching the million-barrel mark. The increased spending Laut suggests would simply push the company across that symbolic marker.
Forecasted balance sheet
The Horizon oil sands expansion projects are expected to augment Canadian Natural Resources' cash flows by the fourth quarter of this year. The estimated cash flow from phase 3 is not yet accounted for in future estimates, and all capital for Horizon expansion drops to $0 by 2018, so CNQ will receive a significant boost in cash flow to strengthen its balance sheet by the end of 2017.
This is very good news for the company. Canadian Natural Resources is depending on the increased Horizon production to help shore up its balance sheet. The company is currently relying heavily on $5.7 billion in credit facilities, of which $1.8 billion is undrawn,since its cash on hand sits at a skimpy $11.7 million.
The company expressed confidence that its credit, flexible capital expenditure programs, and cash flow from operations will provide sufficient liquidity for sustained operations. To avoid taking on more debt, though, it needs to increase its cash flow. Its cash flow from operations for the first quarter dropped to $511 million, down from $1.07 billion in the fourth quarter, while its capital expenditures were nearly $800 million. Reduced cash flows were caused by lower oil prices and reduced demand, which contributed to net first-quarter losses of $78.7 million. With such low cash on hand, CNQ can't afford too many more quarters of such losses.
Fortunately, the company appears confident that expected fourth-quarter cash flows, when annualized and taking into account the possibility of$30 oil, will sufficiently cover forecasted capital expenditures and will continue to grow into 2017 and 2018. Add on the fact that average first-quarter production expenses per BOE dropped by over 13% from one year earlier, and CNQ is in great shape for continued growth.
Foolish bottom line
With the volatility in oil prices the past two years, it's hard to feel certain about any oil and gas stock. In this case, though, I think the analysts will be proven correct. Canadian Natural Resources has a highly diversified asset portfolio around the world and is investing in long-term, long-life positions. Its current investments and expected production increases create high growth potential even if oil prices slip again this year-- and potentially a solid addition to your long-term oil and gas portfolio.
The article Are Analysts Right About Canadian Natural Resources? originally appeared on Fool.com.
David Lettis has no position in any stocks mentioned. The Motley Fool has no position in any of the stocks mentioned. Try any of our Foolish newsletter services free for 30 days. We Fools may not all hold the same opinions, but we all believe that considering a diverse range of insights makes us better investors. The Motley Fool has a disclosure policy.
Copyright 1995 - 2016 The Motley Fool, LLC. All rights reserved. The Motley Fool has a disclosure policy.