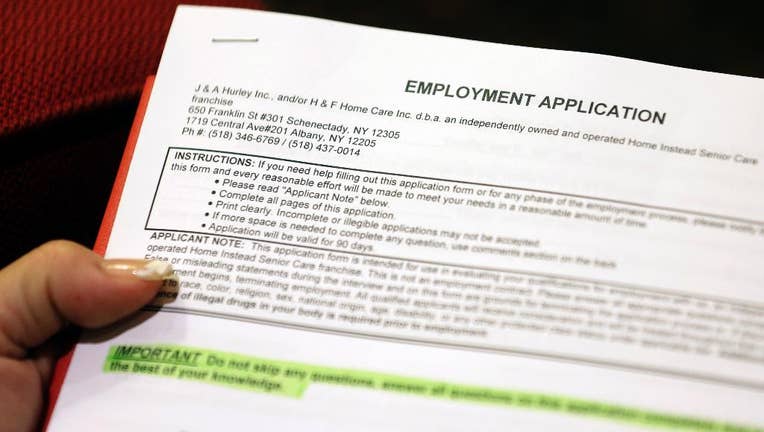 The Labor Department reports on the number of people who applied for unemployment benefits last week at 8:30 a.m. Eastern Thursday.
SMALL DROP: Economists forecast that weekly applications for unemployment aid fell 2,000 last week to a seasonally adjusted 275,000, according to a survey by data firm FactSet.
A small decline would be an early sign that the past week's global financial market volatility has not yet darkened U.S. employers' views about future growth and caused them to cut jobs. Applications are a proxy for layoffs and are at historically low levels.
For now, companies appear confident that the economy will continue to grow at its slow but steady pace and are holding onto their workers.
Earlier this month, the four-week average of applications stood at 266,250, the lowest since April 15, 2000.
GLOBAL ECONOMIC TURMOIL: Economic turmoil in China and uncertainty about the Federal Reserve's next moves on interest rates caused US stocks to tumble for six straight days before recovering some lost ground Wednesday.
The stock market volatility reflects investors' fears that China's economy, the world's second largest, may be weakening more severely than its official data suggests. It has also revived fears about the U.S. economy's strength and the impact of the strong dollar on exports.
Applications for unemployment aid have been below 300,000, a historically low reading, since March. Economists frequently look to the applications data for early clues on how employers are responding to economic turmoil.
Contrary to the stock market's violent fluctuations, recent economic data has largely been positive. U.S. factories are receiving more orders for long-lasting manufactured goods, a sign that companies are investing more in industrial machinery, computers and other items that can be used to expand production.
And sales of new homes jumped 5.4 percent in July to a seasonally adjusted annual rate of 507,000, after a slide in June.
Consumer confidence rose to its highest level in seven months in August, the Conference Board said Tuesday, though the report was compiled before the stock market's gyrations began last week.