Apple's E-Book Court Loss Is a Win for Amazon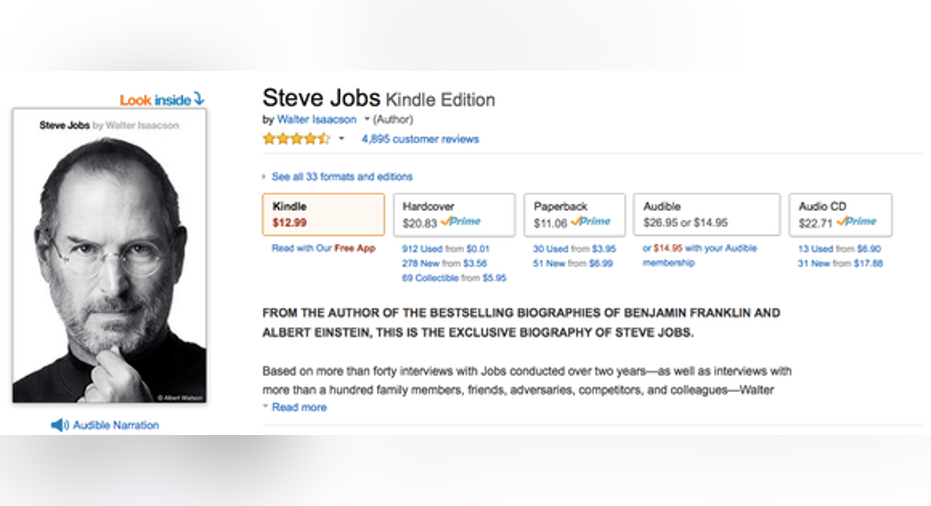 Amazon has long worked to push digital book prices to no higher than $9.99 per title.
It does that not solely to benefit consumers, but also because the lower sale price encourages writers to cut out the middleman. Amazon does not specifically preach that, but the math of charging less works a lot better for the author when there is no middleman involved. In theory, selling a book at a cheaper price means that more copies will sell and the author will make more money as long as he or she does not cut a traditional publisher in on the deal.
As you might imagine, the major publishers do not want this to happen and they were eager to work with Apple when the company entered the e-book marketplace in 2010. Unfortunately, in 2015, a divided three-judge panel of the United States Court of Appeals for the Second Circuit, in New York, found that the terms Apple offered to five major publishers allowed them to participate in price-fixing, according to The New York Times.
Now, the Supreme Court has refused to hear Apple's appeal, meaning that the lower court ruling will stand and Apple will have to pay $450 million -- $400 million in credits or cash to book buyers and $50 million to lawyers. It's a resounding win for Amazon in its battle to push prices down.
What was Apple asking for?When the Court of Appeals ruled against Apple in the first place it issued the following statement, The Times reported: "Competition is not served by permitting a market entrant to eliminate price competition as a condition of entry, and it is cold comfort to consumers that they gained a new e-book retailer at the expense of passing control over all e-book prices to a cartel of book publishers."
Apple, as you might image, did not see it that way and filed a petition with the Supreme Court to get it to hear the case.
"Apple's launch of the iBookstore as a platform for tens of millions of consumers to buy and read digital books on the iPad dramatically enhanced competition in the e-books market, benefiting authors, e-book publishers and retail consumers," the company wrote. "Following Apple's entry, output increased, overall prices decreased and a major new retailer began to compete in a market formerly dominated by a single firm."
Basically the 296-page Apple petition boiled down to the following line: "If a new firm's entry disrupts a monopoly and creates long-term competition, that is to be lauded, whether the previous prices were artificially high or artificially low," the company argued.
The Supreme Court did not agree, or at least did not think it was worth considering, so now Apple must pay the $450 million it had previously agreed upon were it to lose. All five book publishers involved in the dispute had already settled with payments having been distributed to affected customers.
Even though Amazon wants a $9.99 maximum price for Kindle books, publishers can still set prices higher. Image source: Amazon.
This is a win for AmazonThe win for Amazon is not that its customers -- those who bought e-books from any of the involved publishers -- will receive refunds, but that the effort to drive prices higher was stopped.
Lower prices means more sales for Amazon and if that forces authors to consider self-publishing, that's even better for the online retailer.
For consumers, having another major player selling e-books would be nice as it would be a long-term check on Amazon, but in the short-term the retailer is on the side of consumers. The Supreme Court has dealt Apple a blow, albeit a minor one since the plan had already fallen apart, and customers who bought qualifying books betweenApril 1, 2010 and May 21, 2012 stand to get a bit of a payday.
The article Apple's E-Book Court Loss Is a Win for Amazon originally appeared on Fool.com.
Daniel Kline owns shares of Apple. The Motley Fool owns shares of and recommends Amazon.com and Apple. Try any of our Foolish newsletter services free for 30 days. We Fools may not all hold the same opinions, but we all believe that considering a diverse range of insights makes us better investors. The Motley Fool has a disclosure policy.
Copyright 1995 - 2016 The Motley Fool, LLC. All rights reserved. The Motley Fool has a disclosure policy.