Apple's App Store Earned $8.6 Billion Last Year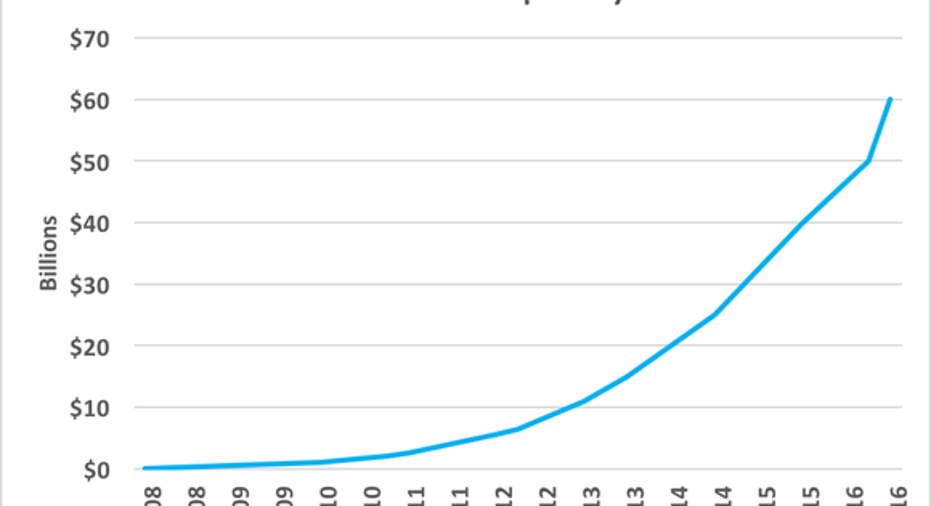 Image source: Apple.
Following a merry Christmas, Apple (NASDAQ: AAPL) is kicking off the new year with a press release touting how well its popular App Store is doing. The company puts out a similar release around this time each year. New Year's Day was the "busiest single day ever," according to the Mac maker, generating $240 million in sales. Collectively, developers earned over $20 billion in 2016, up 40% from 2015. The cumulative developer payout since the App Store's launch in 2008 is now $60 billion. There are now 2.2 million apps available in the App Store.
Look how far the App Store has come.
They grow up so fast
It took a full two years for the App Store to pay out its first $1 billion to developers. Over the years, the company has disclosed updates at irregular intervals, but there's no questioning how quickly App Store growth is accelerating.
Data source: Apple. Chart by author.
Just three years ago, the cumulative developer payout was $15 billion by the end of 2013, rising to $25 billion by the end of 2014. The most recent update prior to this release was a tweet from Tim Cook in August, when the cumulative payout hit $50 billion.
Apple also notes that after introducing subscription billing across the App Store, subscription-based apps are soaring. Subscription billings jumped 74% in 2016 to $2.7 billion. While Apple initially introduced subscriptions in 2011, the big change last year was expanding subscriptions across all categories and reducing its cut to 15% after the first year. That's a major difference for developers if they're able to maintain long-term relationships.
The services business is booming
Considering Apple's long-standing 70/30 split, the $20 billion payout to developers in 2016 translates into approximately $8.6 billion going into Apple's anodized aluminum coffers. It's highly likely that Apple has already cut a few deals with video apps where they pay 15% from the start without having to wait a year, and while these should be concentrated with the major providers, Apple's overall cut on average should still be very close to 30%. In-app purchases still dominate subscriptions, which comprised less than 10% of total App Store billings last year.
But going forward as more subscription-based apps transition to the 15% tier, it will be less clear how much Apple is keeping on average, which will depend on mix and length of subscriptions. I wouldn't expect Apple to provide regular updates there, though.
Once Apple reports fourth-quarter earnings, investors will then be able to see how well the overall services business fared in 2016. At the end of fiscal 2016 (which closed at the end of September), services was a $24.3 billion business on a trailing-12-month basis. Safely assuming services revenue grows in the fourth quarter, the App Store will likely account for 25% of all services revenue for the year. We also know that on a look-forward basis, Apple Music is a $2.4 billion business based on 17 million current subscribers.
The company has really prioritized helping developers improve monetization over the past couple of years -- iAd's failure notwithstanding -- and those efforts are clearly paying off for Apple and developers alike.
10 stocks we like better than Apple When investing geniuses David and Tom Gardner have a stock tip, it can pay to listen. After all, the newsletter they have run for over a decade, Motley Fool Stock Advisor, has tripled the market.*
David and Tom just revealed what they believe are the 10 best stocks for investors to buy right now... and Apple wasn't one of them! That's right -- they think these 10 stocks are even better buys.
Click here to learn about these picks!
*Stock Advisor returns as of January 4, 2017
Evan Niu, CFA owns shares of Apple. The Motley Fool owns shares of and recommends Apple. The Motley Fool has the following options: long January 2018 $90 calls on Apple and short January 2018 $95 calls on Apple. The Motley Fool has a disclosure policy.