Apple Just Ordered 100 Million OLED iPhone Displays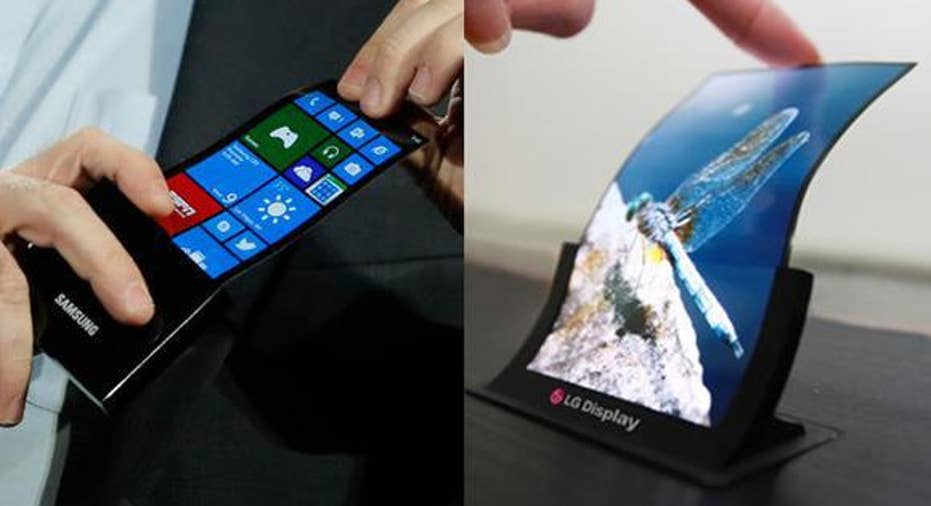 OLED displays from both Samsung (left) and LG Display (right), Image sources: Samsung Display, LG Display
For years now, the technology rumor mill has speculated as to if and when Apple would begin a broader migration of its products away from LCD and toward OLED displays. But if recent reports from South Korea are any indication, the Cupertino-based tech giant may have just taken its biggest step yet toward that transition.
According to leading South Korean news site Yonhap News, leading OLED producer Samsung Display just struck a dealworth an estimated $2.59 billion to supply roughly 100 million 5.5-inch OLED smartphone displays annually to Apple. The duration of the agreement is said to be "at least three years."
Assuming the report is accurate, it marks an enormous expansion of Apple's use of OLED technology. Up until now, Apple has only employed OLED displays in its Apple Watch, while choosing to stick with LCD for its remaining product lines, including iPhone and iPad.
Surprise!(?)The deal shouldn't come as a surprise. Almost exactly one year ago, Samsung Display raised my eyebrows by forming a 200-person teamwhose reported goal was to focus exclusivelyon Apple's display needs.
What's more, this past November, the CFO of OLED specialist Universal Display Corporation , Sidney Rosenblatt, reminded investors that Apple has been filing OLED patents for "six or seven years." And while Rosenblatt noted the capacity likely wouldn't be in the marketplace until at least 2017 to satisfy Apple's demand, he also asserted his belief that it's only a matter of time, given Apple management's past comments praising the thinner form factor, greater power efficiency, and superior colors and contrast that OLED displays enable.
Universal Display arguably stands to benefit most from this deal. Universal Display already counts Samsung Display as its single-largest customer, as Samsung has long used OLED displays as a key technological differentiator for its popular Galaxy smartphones and tablets.
As I wrote after Universal Display shares fell following its weaker-than-expected quarterly report in February, the company can primarily blame its recent under performance on Samsung Display's year-end inventory management, as well as its recent shift away from UDC's higher-margin host OLED materials -- which aren't protected under its emitter-centric patent portfolio -- in favor of its own. In turn, this meant a larger percentage of overall revenue came from UDC's lower-priced, lower-margin emitters.
Then again, Universal Display's emitter business has long remained its primary growth opportunity. While there may be risk of UDC suffering margin pressure givenevenlarger-volume orders from Samsung as it works to support Apple, the sheer size of those orders should more than compensate for its narrower profitability.
There may (not) be a loserShares of LG Display -- which stood as Universal Display's second-largest customer last quarter behind Samsung Display -- fell nearly 6% today on the news, presumably based on the assumption that Samsung's gain came at the expense of its South Korean rival. But here again, this shouldn't come as a surprise considering reports dating as far back as last November stating Samsung had secured its status as the exclusive provider of OLED iPhone displays -- that is, at least, for the initial run.
Investors should also know it's not uncommon for Apple to hedge its bets by using multiple display suppliers. LG Display was initially the exclusive supplier of OLED displays for the Apple Watch when it was released last year -- until Apple diversified its sources by adding Samsung as a secondary Apple Watch OLED supplier this past October.
What's more, in January,Focus Taiwan reported Apple was mulling an investment in AU Optronicsto "transform" it into a third-reliable source of OLED iPhone displays. And a full year earlier, supply-chain sources stated Apple had commissioned longtime suppliersFoxconnand Innolux to build a $2.6 billion OLED display factory with a targeted 2017 time frame for production. While LG Display's supposed snub from the initial run of OLED iPhones may not be ideal for the company, the door remains open for it to play a significant supporting role in Apple's ongoing shift to OLED.
Regardless of the specific players for now, I've said it before and I'll say it again: Apple's OLED iPhone appears to be more inevitable than ever. And the financial rewards could be great for investors with the foresight to buy and hold the companies helping to make it happen.
The article Apple Just Ordered 100 Million OLED iPhone Displays originally appeared on Fool.com.
Steve Symington owns shares of Apple and Universal Display. The Motley Fool owns shares of and recommends Apple and Universal Display. Try any of our Foolish newsletter services free for 30 days. We Fools may not all hold the same opinions, but we all believe that considering a diverse range of insights makes us better investors. The Motley Fool has a disclosure policy.
Copyright 1995 - 2016 The Motley Fool, LLC. All rights reserved. The Motley Fool has a disclosure policy.