Apple Is Boring -- and That's OK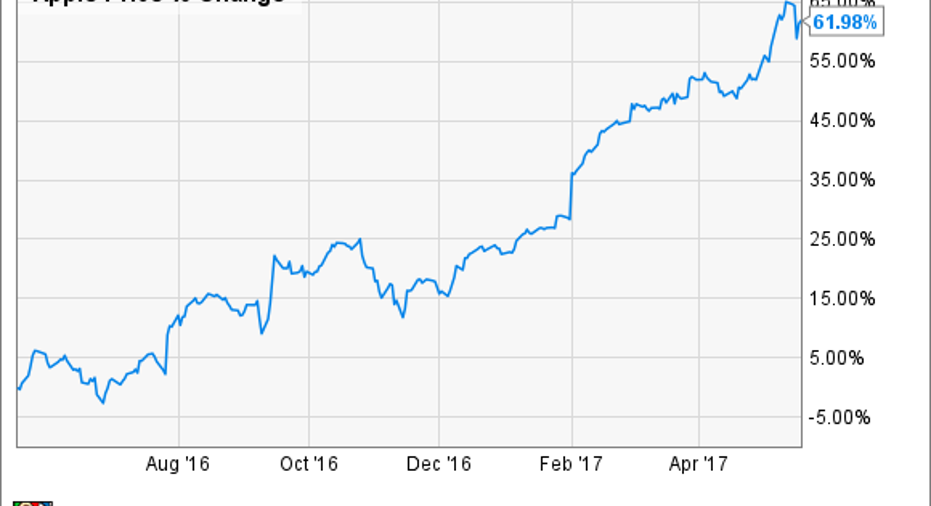 I read an article recently that questioned whether Apple (NASDAQ: AAPL) had lost its "innovation mojo."It's not the first piece of journalism to address Apple's ability to impress consumers like it once did, and it won't be the last. And, to be fair, I think it's a perfectly reasonable question to ask.
Apple's so-called innovations over the past few years have, for the most part, been slight upgrades (fingerprint sensors for the iPhone, a larger iPad with Apple Pencil, the Apple Watch, etc.) or a move into markets that were already established by other companies. In short, there's been nothing earth-shattering from Apple for quite some time.
Image source: Getty Images.
And for that reason, the case could be made that Apple is, well, a little boring. But the company has made it very clear, particularly in its latest quarter, that boring can be beneficial for investors.
Here are five quick reasons why a perceived, or real, lack of innovation from Apple hasn't mattered all that much.
1. Revenue, profits, and share buybacks are up
Apple reported a revenue increase of 4.5% year over year in the fiscal second quarter of 2017and an earnings per share jump of 10.5%. That's not all that exciting, but consider that Apple's fiscal Q2 was the second consecutive quarter of growth after three consecutive quarters in 2016 of declining revenue.
As a result of the strong quarter, Apple increased its share buyback program. "Given the strength of our business and our confidence in our future, we are happy to announce another $50 billion increase to our capital return program today," Apple CEO Tim Cook said. This boosts the company's capital return program to $300 billion and increases Apple's value for investors(what a snooze-fest, right?)
2. iPhones are still flying off the shelves
The company sold 51.8 million iPhones in the third quarter, which accounted for about 63% of the company's total revenue.
"We are proud to report a strong March quarter, with revenue growth accelerating from the December quarter and continued robust demand for iPhone 7 Plus," Apple Cook said.
Strategy Analytics estimated that the iPhone 7 was the best-selling smartphone worldwide in the first quarter of this year, with the iPhone 7 Plus taking the No. 2 spot. Apple is still creating one of the most sought-after mobile devices, even after nearly a decade of iPhone sales.Seriously, can this company get any duller?
3. Service revenue is growing
Apple brought in $7 billion from the company's service segment in the most recent quarter, an increase of 18% year over year. This segment may not be as flashy as the iPhone, but it's been Apple'ssecond-largest revenue streamfor two straight quarters now, and it accounted for 13% of total revenue in Q2.
Image source: Apple.
This is an important category because it shows Apple's ability to bring in recurring revenue in additionto its hardware sales. Apple's active subscriptions now total 165 million, up from 150 million in the quarter ending in December.Wake me up when it's over.
4. Stock price is rising, yet still priced relatively cheap
Apple's strong performance over the past few quarters has helped push the company's share price up more than 40% over the past six months and more than 60%over the past year.
Even with its share price gains, the company's stock trades at a price-to-earnings ratio of about 18,which is far below the average P/E ratio of 24 for stocks in the S&P 500. So, one of the world's most valuable companies is trading at a relatively inexpensive price...I think I need a nap.
10 stocks we like better than AppleWhen investing geniuses David and Tom Gardner have a stock tip, it can pay to listen. After all, the newsletter they have run for over a decade, Motley Fool Stock Advisor, has tripled the market.*
David and Tom just revealed what they believe are the 10 best stocks for investors to buy right now...and Apple wasn't one of them! That's right -- they think these 10 stocks are even better buys.
Click here to learn about these picks!
*Stock Advisor returns as of May 1, 2017.
Chris Neiger has no position in any stocks mentioned. The Motley Fool owns shares of and recommends Apple. The Motley Fool has a disclosure policy.