Apple Inc's iPad Business Isn't as Bad as It Looks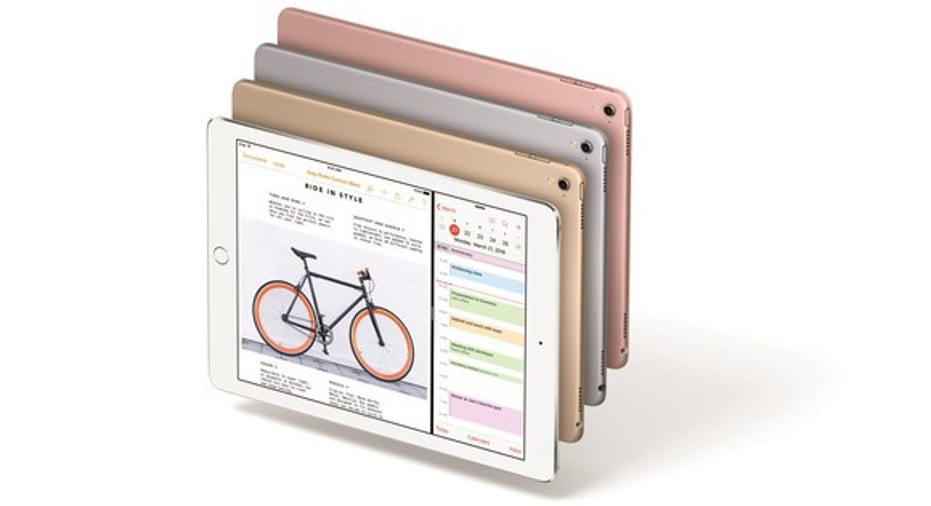 Apple (NASDAQ: AAPL) reported a strong quarter, driven by better-than-expected demand in its key product line, the iPhone. However, while investors often pay far more attention to the iPhone business than to any of the company's other segments, it's important to watch the others nonetheless.
Apple's 9.7-inch iPad Pro. Image source: Apple.
That includes the iPad business.
Apple reported a 19% year-over-year drop in iPad unit shipments and a full 22% year-over-year drop in iPad revenue, making it the company's worst-performing business unit by far. Although these results are quite disappointing -- making it increasingly difficult to have confidence in the future of this product line -- the business isn't in as dire shape as it appears.
Channel inventory dynamics
In Apple's most recent quarter, it shipped 13.08 million iPads, down from 16.12 million in the same period a year ago. One of the drivers of the steep year-over-year drop was channel inventory dynamics. Remember that Apple ships products to distributors (i.e., channel partners), and then those distributors sell those products to end customers.To get a true sense of underlying customer demand, it's important to not just watch the change in unit shipments but the amount of inventory that's sitting out there in the hands of Apple's channel partners.
With that in mind, Apple says that in the most recent quarter, the company reduced iPad channel inventories by 700,000 units. The company says that in the year-ago quarter, Apple had boosted its channel inventory levels by 900,000 units.
So to get a sense of the underlying demand, we can adjust the numbers to account for the channel inventory changes. Apple shipped 13.08 iPads, but channel inventories were down 700,000 units, which suggests that actual demand was more like 13.78 million units.Performing the same math for the year-ago quarter, Apple increased channel inventory by 900,000 units, meaning that underlying customer demand was 15.22 million units.
To be clear, demand was still down year-over-year and that's far from ideal, but adjusting for these channel inventory dynamics, it looks like the decline was "just" 9.4%.
Product cycle dynamics
Another factor that impacted the iPad results, at least according to CEO Tim Cook, were product cycle dynamics.
On the earnings call, Cook explained that in the year-ago quarter, Apple had just launched its 12.9-inch iPad Pro, which he reminded investors is "the iPad with, obviously, the highest price on it".
"We would have done the channel fill plus the launch of the product, and so that would have bolstered [average selling prices] in that particular quarter", Cook said.
Indeed, Apple reported that in addition to iPad units being down 19%, iPad revenue was down 22% in the most recent quarter, suggesting a weaker product mix. Cook's commentary absolutely makes sense here, especially as demand for the 12.9-inch model is probably well below where it was when it first launched.
Looking ahead
On the call, Cook tried to reassure investors that the company has "some exciting things coming on iPad" and that he is "very optimistic about where [Apple] can take the product".
Unfortunately, Apple management has been bullish about the iPad business for a while now, but it's still hard to see where the bottom will ultimately be and even harder to predict how much the business can grow once it hits that bottom.
10 stocks we like better than Apple When investing geniuses David and Tom Gardner have a stock tip, it can pay to listen. After all, the newsletter they have run for over a decade, Motley Fool Stock Advisor, has tripled the market.*
David and Tom just revealed what they believe are the 10 best stocks for investors to buy right now... and Apple wasn't one of them! That's right -- they think these 10 stocks are even better buys.
Click here to learn about these picks!
*Stock Advisor returns as of January 4, 2017
Ashraf Eassa has no position in any stocks mentioned. The Motley Fool owns shares of and recommends Apple. The Motley Fool has the following options: long January 2018 $90 calls on Apple and short January 2018 $95 calls on Apple. The Motley Fool has a disclosure policy.