Apple, Inc. Wants to Help You Pay Your Friends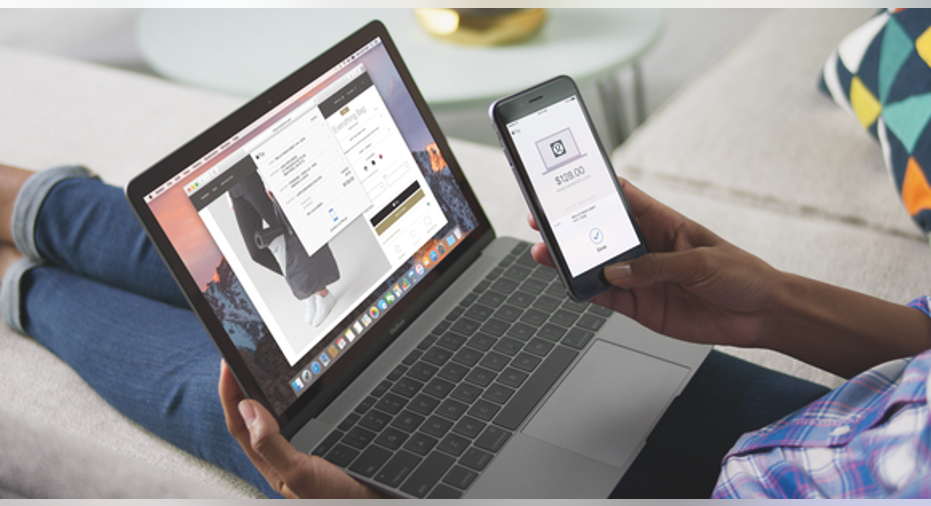 Back when Apple (NASDAQ: AAPL) first launched Apple Pay in 2014, it was able to avoid a bit of regulatory oversight since the service could not store money and could not be used to send funds to other people on a peer-to-peer (P2P) basis. Storing funds opens up a whole can of regulatory worms, in part to adhere to anti-money-laundering regulations. At the time, it made sense to leave P2P to other companies while focusing on the relatively harder challenge of pushing adoption of contactless payments among both merchants and consumers, or person-to-business (P2B).
All the while, P2P has seemed like an opportunity for Apple Pay to expand into. Recode reports that Apple is indeed working on such a service (again).
Apple Pay on the Web. Image source: Apple.
Try, try again
The company has reportedly been in talks with partners in the payments industry to introduce a P2P service that would compete with PayPal (NASDAQ: PYPL) and its subsidiary Venmo; eBay acquired Venmo parent Braintree for $800 million in 2013, which was included in the subsequent PayPal spinoff in 2015. The new P2P service could be announced as soon as this year, but that timing could change. There had been prior reports from 2015 that Apple was putting together a P2P service.
Apple has also considered the idea of launching its own line of pre-paid debit cards that would be integrated with the P2P service, according to the report, which could allow users to have faster access to transferred funds without having to wait through holding times at financial institutions. The prospect of Apple launching a debit card has irked may banks, since Apple's strong brand could commandeer a user's wallet.
Apple Pay adoption has been underwhelming thus far
One of the most prominent hurdles for Apple Pay has been the mere fact that paying with your phone at a register isn't that much more convenient than using a regular old plastic card; this is an old observation that has long made it difficult for all mobile payment services to gain traction, since it's tough to beat the ubiquitous status quo that already just takes a few seconds. That's why Apple continues to explore new ways to implement Apple Pay.
On the January earnings call, CEO Tim Cook touted some vague Apple Pay metrics:
Recode says that industry partners are far more excited about Apple Pay on the Web, since e-commerce is often held back by the cumbersome process of entering payment information, especially on mobile devices. That process takes more time, and Apple Pay represents a meaningful improvement in convenience in that context; it really has the potential to be a game changer as more and more sites and apps implement Apple Pay.
P2P payment services are notorious money-losers, though. Competition continues to sprout up, but much of it isn't sustainable since consumers aren't really willing to pay a fee in order to send a friend $3 for that cup of coffee. Meanwhile, there are still costs associated with facilitating those payments. Companies that have jumped into P2P in recent years include Venmo, Square with Square Cash, and even Facebook with Messenger. Just this month, the social network added the ability to send group payments among friends.
The loss-inducing nature of P2P services is also why they make the most sense as a tangential service offered by larger companies, as opposed to stand-alone companies trying to squeeze blood from a stone.
Apple Pay wants to become Venmo before Venmo can become Apple Pay
PayPal reported first-quarter results yesterday, and said Venmo total payments volume (TPV) more than doubled year over year to $6.8 billion as the service continues to gain momentum. The company is in the process of rolling out its P2B offerings like Pay with Venmo, which allows merchants to accept Venmo on their sites and apps.
Apple Pay started as P2B and now wants to expand to P2P, while Venmo started as P2P and wants to expand to P2B. In other words, Apple Pay wants to become Venmo before Venmo can become Apple Pay. That would typically put Apple Pay on better financial footing, but Venmo's parent PayPal already operates one of the largest and most profitable P2B platforms in the world. This won't be a short-lived battle by any stretch of the imagination.
10 stocks we like better than AppleWhen investing geniuses David and Tom Gardner have a stock tip, it can pay to listen. After all, the newsletter they have run for over a decade, Motley Fool Stock Advisor, has tripled the market.*
David and Tom just revealed what they believe are the 10 best stocks for investors to buy right now... and Apple wasn't one of them! That's right -- they think these 10 stocks are even better buys.
Click here to learn about these picks!
*Stock Advisor returns as of April 3, 2017
Evan Niu, CFA owns shares of Apple and FB. Evan Niu, CFA has the following options: long January 2018 $120 calls on FB. The Motley Fool owns shares of and recommends Apple, EBAY, FB, and PayPal Holdings. The Motley Fool has a disclosure policy.