Apple, Inc. Stock Surges Past $140 -- What's Next?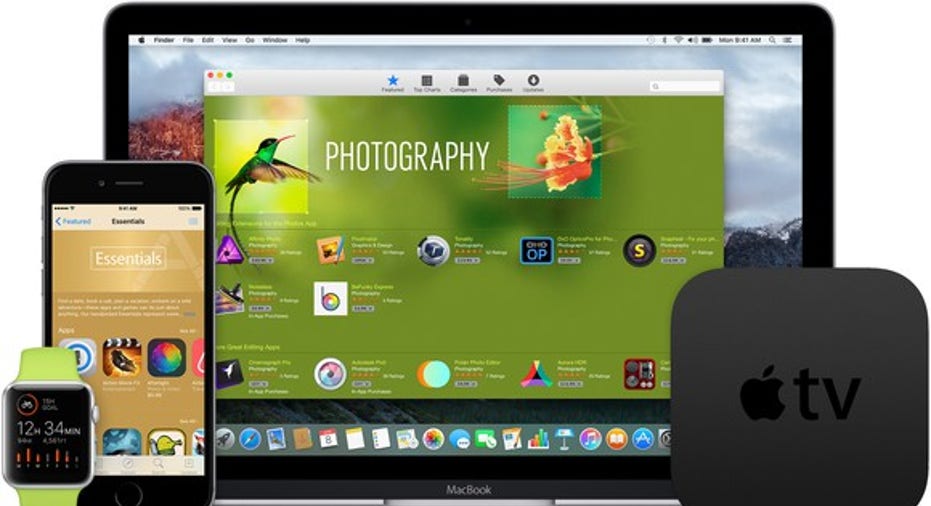 Apple (NASDAQ: AAPL) stock has seemingly been hitting new highs every week recently. And now the tech giant's stock has passed $140 and is trading just over $141 this week. With the stock rising 21% in the past three months, it's a good time to take a look at Apple's overall business and ponder what's next for the tech giant.
Still an iPhone-driven business
Believe it or not, just over nine years after Apple introduced the first iPhone, the smartphone is still Apple's bread and butter. In Apple's most recent quarter, for instance, the iPhone accounted for a whopping 69% of the company's revenue. Of course, this means Apple's other product segments pale in comparison. Mac, Services, iPad, and other products segments represented about 9%, 9%, 7%, and 5% of the total revenue, respectively.
Image source: Apple.
When iPhone sales were soaring, its significant share of revenue was a good thing. But now iPhone's share of revenue is creating a problem for Apple. iPhone unit sales during the trailing 12 months are down 7% compared to the year-ago period, highlighting how difficult it is for Apple to grow sales of its flagship product. Sure, iPhone units and revenue are up about 5% year over year in the company's most recent quarter, providing a glimpse of a possible rebound in iPhone sales -- particularly if Apple's upcoming 10th-anniversary iPhone is as big of an improvement as rumors suggest it will be. But, given the growth headwinds iPhone has faced recently, investors shouldn't count on a sharp rebound in iPhone sales.
With iPhone sales slowing and Apple stock trading at a new all-time high above $140, this may have some investors wondering: Where can the growth come from next?
What's Apple's next big catalyst?
Fortunately, even if iPhone sales struggle to grow from here, two areas of Apple's business are offering promising prospects: services and other products.
Services is probably Apple's most important catalyst. Indeed, while Mac revenue in Apple's most recent quarter was greater than services revenue -- thanks to the company's recent introduction of its new MacBook Pro laptops -- on a trailing-12-month basis, services revenue is now greater than Mac revenue. During this period, services accounted for a strong 12% of total revenue -- slightly higher than Mac's 11% share of total Apple revenue.
Image source: Apple.
Apple's services revenue in the company's most recent quarter hit an all-time high of $7.2 billion -- up 18% year over year. And there's good reason to expect Apple's services revenue will continue growing. For instance, Apple's App Store revenue, which is part of the company's services segment, was up 43% year over year in Apple's holiday quarter. Further, management has forecasted annual services revenue will double over the next four years, growing to just over $50 billion in 2020.
Apple's other products segment, is more of a wildcard than services. Accounting for just 5% of trailing-12-month revenue, the segment is still very small as a proportion of total revenue. However, the 2014 introduction of Apple Watch has proven the company can carry over its brand power to new product segments. Sure, the product hasn't transformed into a major revenue driver for the company. But it's still faring well several years after its launch, with Apple reporting Apple Watch revenue was at an all-time high in the company's most recent quarter.
Combining Apple stock's conservation valuation with a promising outlook for its services and other products segments, I'm still betting on Apple stock -- even above $140.
10 stocks we like better than AppleWhen investing geniuses David and Tom Gardner have a stock tip, it can pay to listen. After all, the newsletter they have run for over a decade, Motley Fool Stock Advisor, has tripled the market.*
David and Tom just revealed what they believe are the 10 best stocks for investors to buy right now... and Apple wasn't one of them! That's right -- they think these 10 stocks are even better buys.
Click here to learn about these picks!
*Stock Advisor returns as of February 6, 2017
Daniel Sparks owns shares of Apple. The Motley Fool owns shares of and recommends Apple. The Motley Fool has the following options: long January 2018 $90 calls on Apple and short January 2018 $95 calls on Apple. The Motley Fool has a disclosure policy.