Apple, Inc. Should Make a Stationary Siri-Powered Speaker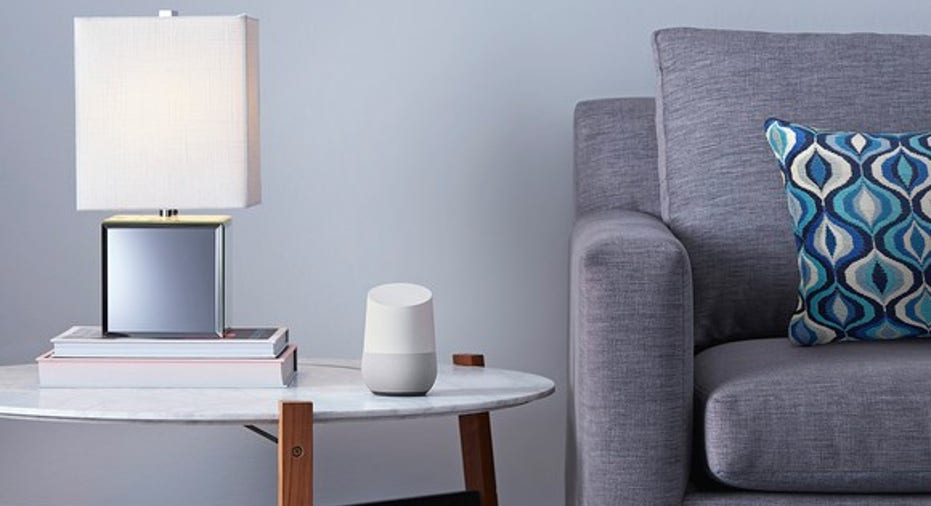 Google Home. Image source: Google.
Amazon.com sure did stumble on a sleeper hit with its Echo speaker. When the product was first introduced a couple years back, the initial reaction was fairly muted. Isn't Echo little more than a Bluetooth wireless speaker?
But the real reason why Amazon's virtual assistant Alexa became so powerful within Echo was specifically because the device was not a mobile device, which is somewhat counterintuitive at a time when mobile devices are all the rage. By choosing to make Echo a stationary device that's plugged in all the time, Amazon was able to change the consumer expectation. Echo would always be on, and Alexa would always be listening from a centralized location.
That was the key that surprised the market.
Alexa owns the home
Particularly in the context of smart home use cases, this is a huge advantage. Many other virtual assistants reside on smartphones (or tablets), and the user has to wonder where the device is, whether or not it's plugged in and charged, and if it's actively listening for input. It can be a big drain on the battery for the device to constantly be listening (more on this later). Sure, you want your smartphone to be able to control your smart home, but Echo showed just how useful a centralized and stationary device can be.
The e-commerce giant then ran with Echo's momentum, opening up Alexa as a bona fide platform last summer, releasing a software development kit (SDK) with application programming interfaces (APIs) for third-party developers to use.
Alphabet jumps in
This week at its I/O developer conference, Alphabet's Google announced its official response to Echo: Google Home. The new device is precisely the competitor that will spur the market and drive more innovation through competition. It's a small voice-activated speaker that is stationary and plugged in, just like Echo.
Google is also revamping its virtual assistant. Google Assistant appears poised to replace Google Now, and the company says Google Assistant will be much more conversational. In no uncertain terms, Google CEO Sundar Pichai described it as an "ambient experience" that represents "computing evolving beyond phones."
The search giant has not yet confirmed pricing or specific availability.
Come on in, Apple -- the water's warm
As usual, Apple will stick to its philosophy that it doesn't need to be the first one to market -- it just needs to be the best in the market once it gets there. Ironically, Apple was the first to the virtual assistant market with Siri, but has arguably fallen behind despite its first-mover status.
In the latest iPhone iterations that include an embedded motion co-processor, the device is able to always listen for the "Hey, Siri" activation phrase even if it's not plugged in since the integrated M9 barely draws any power. Prior generations required the iPhone to be plugged in for "Hey, Siri" to work. This is precisely the mixed expectations that having a stationary solution solves. The average consumer is unlikely to remember if the motion co-processor in their smartphone is discrete or integrated.
Apple has probably tried very hard to forget the last stationary speaker that it made -- the iPod Hi-Fi that was released a decade ago. But with the recent demonstrable demand for voice-powered stationary speakers with virtual assistants, it seems like a no-brainer that Apple should introduce a similar product.
Doing so would also go a long way with nurturing Apple's own smart home platform, HomeKit, as Apple also continues improving Siri, too.
The article Apple, Inc. Should Make a Stationary Siri-Powered Speaker originally appeared on Fool.com.
Suzanne Frey, an executive at Alphabet, is a member of The Motley Fool's board of directors. Evan Niu, CFA owns shares of Apple. The Motley Fool owns shares of and recommends Alphabet (A shares), Alphabet (C shares), Amazon.com, and Apple. The Motley Fool has the following options: long January 2018 $90 calls on Apple and short January 2018 $95 calls on Apple. Try any of our Foolish newsletter services free for 30 days. We Fools may not all hold the same opinions, but we all believe that considering a diverse range of insights makes us better investors. The Motley Fool has a disclosure policy.
Copyright 1995 - 2016 The Motley Fool, LLC. All rights reserved. The Motley Fool has a disclosure policy.