Apple, Inc.'s Move to Ditch the Headphone Jack Is More User-Friendly Than You Think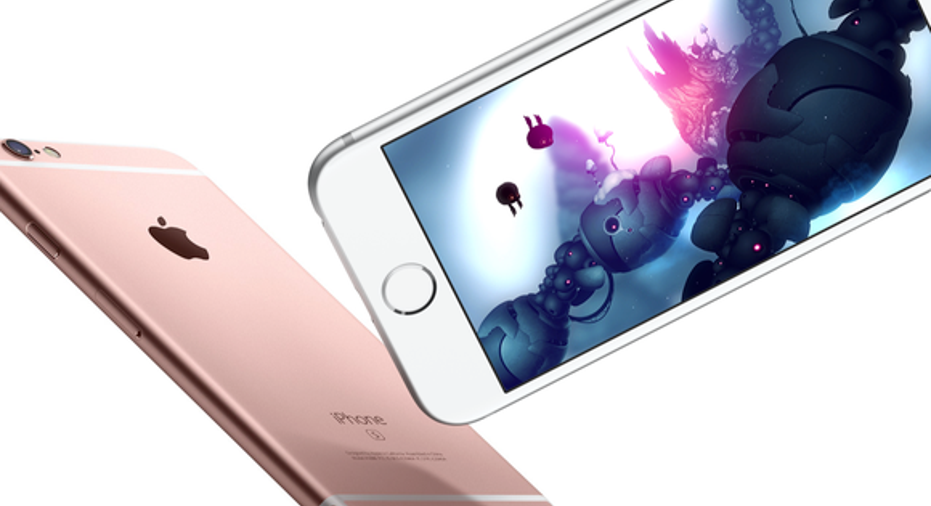 Rumors thatApple would ditch its headphone jack on the upcoming iPhone 7 recently gained steam when The Wall Street Journal reported Apple really is planning to keep it off the tech giant's next smartphone. While the move may initially seem borderline hostile toward users, there are ways the user experience can benefit, too. Indeed, even before Apple has confirmed it will actually move on from the 3.5mm headphone jack, maker of analog and digital signal processing products Cirrus Logic already seems to be on board with the port's evolution.
iPhone 6s. Image source: Apple.
The benefits of Lighting-based headphones
In place of the 3.5mm headphone jack, users will likely be able to utilize headphones with the device in one of two ways. Listeners will either be able to use Bluetooth technology, or they will be able to plug compatible headphones into the iPhone's Lightning port. But what are the benefits of using a Lighting port over a 3.5mm headphone jack?
Interestingly, Lightning-based headphones will actually be able to offer a superior user experience compared to the capabilities of 3.5mm-based headphones. As pointed out by MacRumors, these advantages are articulated by Cirrus Logic's Wednesday-announced headset development kit for lighting-based audio accessories:
Cirrus Logic MFi Headset Development Kit. Image source: Cirrus Logic.
Among other benefits, lighting-based headphones can support more power, better sound, and more customizable EQ adjustments.
Cirrus Logic Vice President of Audio Products Marketing Carl Alberty even went as far as to say that a "Lighting-based interface ... is creating opportunities for [original equipment manufacturers] to innovate in product design and is accelerating the transition from analog- to digital-connected products within today's billion-unit headset and headphone market."
The downside, of course, to the removal of the 3.5mm headphone jack from the iPhone is that users will need adapters to use their current headphones. While Apple could easily opt to minimize friction of having to do this by including an adapter as standard with a purchase of an iPhone 7, there's no way to address the fact that users would need to carry an extra piece of hardware with them in order to connect their 3.5mm-based headphones to the iPhone 7.
Still, as headphone manufacturers and headphone suppliers begin to explore Lightning-based headphone technology, it's increasingly clear there may be more positives to moving on from the 3.5mm headphone jack than initially thought.
Another sign Apple really is ditching the headphone jack?
Interestingly, the wording in Cirrus Logic's press release seemed to support rumors that Apple really is ditching the headphone jack with the iPhone 7. The headset development kit is "designed to help OEMs quickly develop new Lighting-based digital headsets," (emphasis mine) Logic noted. It's as if Logic foresees that a new popular mobile device will spark a surge in development of Lighting-based headphones.
Macbook with USB-C. Image source: Apple.
It's not unlike Apple to be the first OEM to ditch or evolve a key hardware port on its devices. Apple has always been at the forefront when it comes to the evolution of ports. For instance, Apple led the charge when it came to removing floppy disk and optical CD drives. And the tech giant was also quick to move on from the 30-pin connector to the Lighting port. More recently, Apple has continued to demonstrated its aggressiveness in eliminating ports with the introduction of its USB-C, which combines the capabilities of multiple ports into one.
As the rumored 3.5mm jack-free iPhone 7 is beginning to look all but certain, it's comforting to know the move away from the old technology will at least represent an upgrade in the listening experience.
Is it possible this is the first move that will help consumers someday look back at the 3.5mm headphone jack in the same way we view the antiquated floppy disk today?
The article Apple, Inc.'s Move to Ditch the Headphone Jack Is More User-Friendly Than You Think originally appeared on Fool.com.
Daniel Sparks owns shares of Apple. The Motley Fool owns shares of and recommends Apple. The Motley Fool has the following options: long January 2018 $90 calls on Apple and short January 2018 $95 calls on Apple. The Motley Fool recommends Cirrus Logic. Try any of our Foolish newsletter services free for 30 days. We Fools may not all hold the same opinions, but we all believe that considering a diverse range of insights makes us better investors. The Motley Fool has a disclosure policy.
Copyright 1995 - 2016 The Motley Fool, LLC. All rights reserved. The Motley Fool has a disclosure policy.