Apple Inc.'s Mac Is Back on Track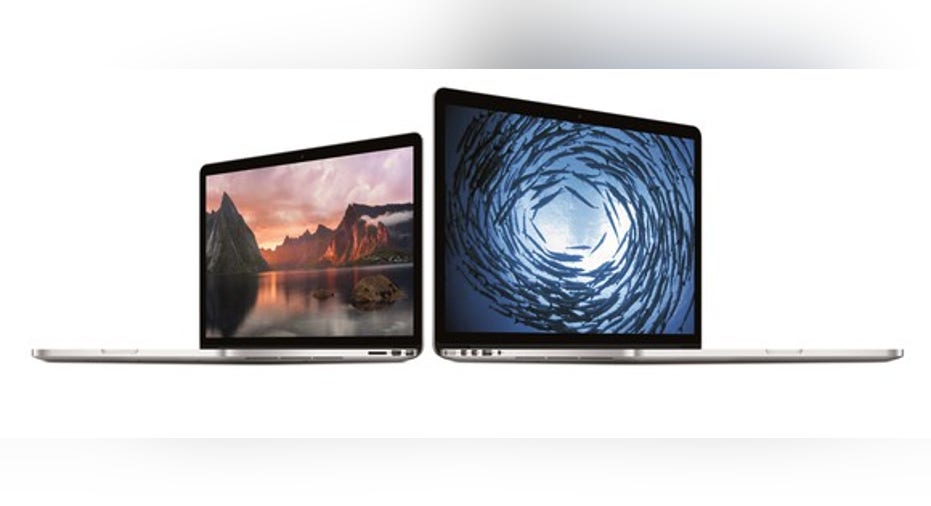 For a while there, Apple's (NASDAQ: AAPL) Mac business was really struggling. Not only was it a victim of a generally weak personal-computer market, but a stale product line in the face of aggressive moves from competing computer vendors also led the company to underperform the broader market.
Apple MacBook Pro computers. Image source: Apple.
That, by the way, is a nice way of saying the company lost market share.
Last October, though, Apple finally launched new MacBook Pro machines. It updated both its 13-inch and 15-inch MacBook Pro lines, and because of all the new features it packed into these updated systems, the company charged higher prices for them than it did for the prior-generation models.
Now that Apple's first-quarter financial results are out -- the first quarter in which the company would recognize revenue for the new systems -- investors can get an idea of how well customers have received the new systems.
And, perhaps unsurprisingly, things are looking good.
Putting Mac back on a growth path
Apple reported shipping 5.37 million Macs in the first quarter of its fiscal year 2017, netting $7.24 billion in revenue from those sales. Mac unit shipments were up from the 5.31 million Apple shipped in the prior-year period, amounting to 1.1% growth.
That's not a huge amount of growth, but considering the 10% unit decline that Apple's Mac business suffered last year, that's an improvement.
Though unit growth was positive but anemic, the revenue growth story was completely different. Apple's Mac revenue in its most recent quarter was up 7% year over year, implying a solid increase in Mac average selling prices.
"The Mac not only returned to growth but generated its highest quarterly revenue ever," Apple CEO Tim Cook proclaimed on the company's first-quarter earnings call.
It's still early in the current MacBook Pro product cycle, but it seems customers were willing to pay extra for the added features and technologies Apple added to its latest MacBook Pro machines.
Apple knows what it must do
I'd hazard a guess that it won't take any miracles or game-changing innovations to allow Apple's Mac product line to continue to at least perform in line with the personal-computer market. Apple simply needs to make sure it provides regular updates to its Mac products so the lineup doesn't get stale.
These regular updates can be as simple as adopting the latest processors and adding other technological improvements, though obviously the bigger and more interesting the changes -- think the Touch Bar, the Force Touch trackpad, and so on -- the better.
The Mac doesn't make up a huge portion of Apple's annual revenue. Mac sales made up less than 10% of Apple's fiscal first-quarter revenue, though this percentage is bound to increase as Apple moves past the peak iPhone quarter. And when taken in conjunction with Apple's other non-iPhone products, it's still a reasonable contributor to revenue.
Further, much has been said about the strength of Apple's ecosystem and the company's ability to build products that work well together. If the company can sell more Macs, then that might also translate into customers who will switch to -- or stick with -- Apple's iPhone.
Apple should do its very best to make sure all of the elements of its ecosystem are strong, to maximize the potential value it can extract from said ecosystem.
10 stocks we like better than Apple When investing geniuses David and Tom Gardner have a stock tip, it can pay to listen. After all, the newsletter they have run for over a decade, Motley Fool Stock Advisor, has tripled the market.*
David and Tom just revealed what they believe are the 10 best stocks for investors to buy right now... and Apple wasn't one of them! That's right -- they think these 10 stocks are even better buys.
Click here to learn about these picks!
*Stock Advisor returns as of January 4, 2017
Ashraf Eassa has no position in any stocks mentioned. The Motley Fool owns shares of and recommends Apple. The Motley Fool has the following options: long January 2018 $90 calls on Apple and short January 2018 $95 calls on Apple. The Motley Fool has a disclosure policy.