Apple Inc.'s Jet-Black iPhone 7 Plus Supply Is Improving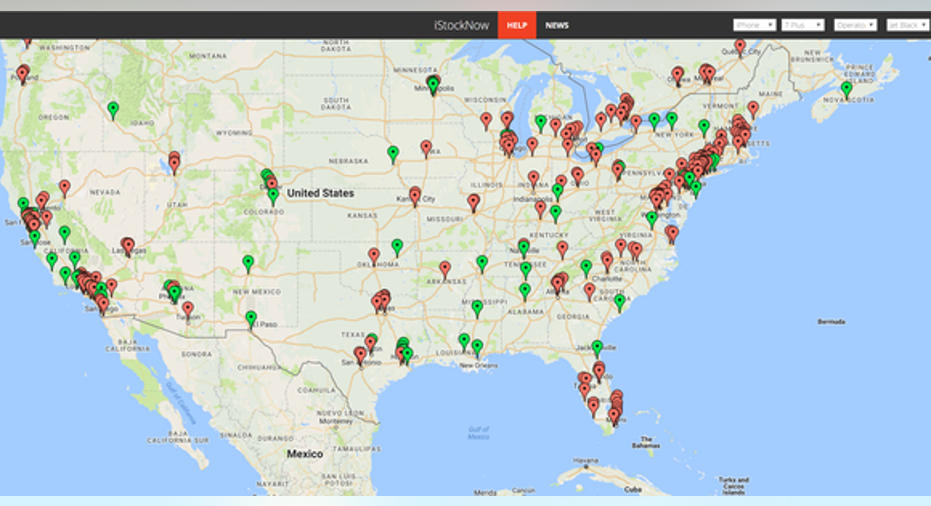 Apple (NASDAQ: AAPL) CEO Tim Cook indicated on the company's Oct. 25 earnings call that it expects to reach supply-demand balance on the iPhone 7 by the end of the current quarter. The iPhone 7 Plus, on the other hand, is a different story.
Image source: Apple.
Cook explained that he's not confident in calling for Apple to reach supply-demand balance on the iPhone 7 Plus by the end of the quarter, as "demand looks extremely strong on both products, but particularly on the iPhone 7 Plus versus [Apple's] forecast going into the product launch."
Cook referred to iPhone 7 Plus in general, but investors should note that the iPhone 7 Plus comes in five finishes: gold, rose gold, silver, black, and jet black. By far the most difficult to buy has been the iPhone 7 Plus in jet black, with the iPhone 7 Plus in black coming in a close second.
The bad news is that the iPhone 7 Plus in jet black is still very hard to purchase, even though it launched more than a month ago. The good news, though, is that supply of these phones appears to be improving.
Availability at some Apple retail stores; shipping times down
For some time after the iPhone 7 Plus launch, website iStockNow showed that it was virtually impossible to find a jet-black iPhone 7 Plus in stock at Apple stores across the United States.
The situation is still pretty bleak for those looking to buy the device in store, but it has gotten better. There are at least some Apple stores within the United States that have the devices in stock:
Red means that the iPhone 7 Plus isn't available for in-store pickup; green means that it is. Image source: iStockNow.
For those looking to order from Apple's online store rather than making an in-store reservation, ship times have come down from approximately six to eight weeks to a more modest three to five weeks.
Image source: Apple.
To be clear, that's still a pretty long time to wait, which indicates that the supply-demand imbalance for these models is still severe, but progress is progress.
Investment takeaway
It's a positive thing for any company when there's robust demand for its products. The better-than-expected demand for the iPhone 7 Plus is a positive for the iDevice maker, as these phones carry higher average selling prices than their smaller counterparts. Another potential positive for iPhone average selling prices is that demand for the jet-black iPhone 7 Plus appears to be better than it is for the iPhone models in other finishes.
At the very least, we can say that the supply-demand imbalance for the iPhone 7 Plus in jet black is more severe than it is for any other iPhone 7 Plus models.
Strong demand for high-priced iPhone models is good, but Apple needs to work quickly to make sure it satisfies that demand while it still exists. If it can, that'll be good for Apple's financial results for the current quarter and potentially its share price. If Apple exits the quarter still in supply-demand imbalance for the iPhone 7 Plus, and in particular the jet-black version, then that will push some sales out into the next quarter.
Revenue push-outs wouldn't necessarily be a negative for Apple. As long as Apple gets that revenue within the fiscal year, it's all good. However, the potential for frustrated possible iPhone 7 Plus buyers to simply give up on waiting and purchase alternative non-Apple devices is something the iDevice maker should aim to mitigate with improved supply.
10 stocks we like better than Apple When investing geniuses David and Tom Gardner have a stock tip, it can pay to listen. After all, the newsletter they have run for over a decade, Motley Fool Stock Advisor, has tripled the market.*
David and Tom just revealed what they believe are the ten best stocks for investors to buy right now and Apple wasn't one of them! That's right -- they think these 10 stocks are even better buys.
Click here to learn about these picks!
*Stock Advisor returns as of November 7, 2016
Ashraf Eassa has no position in any stocks mentioned. The Motley Fool owns shares of and recommends Apple. The Motley Fool has the following options: long January 2018 $90 calls on Apple and short January 2018 $95 calls on Apple. Try any of our Foolish newsletter services free for 30 days. We Fools may not all hold the same opinions, but we all believe that considering a diverse range of insights makes us better investors. The Motley Fool has a disclosure policy.