Apple, Inc.'s iPhone Sales May Get Slammed -- but I Don't Care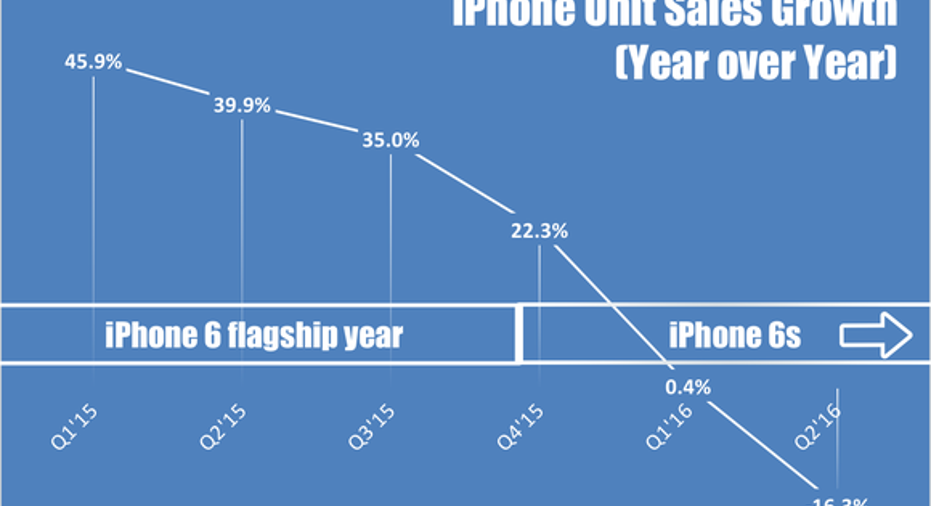 As Apple's third fiscal quarter of 2016 comes to a close at the end of this month, many analysts will begin forecasting the tech giant's iPhone sales for the quarter. Representing 65% of sales, it's no wonder the figure is closely analyzed. Apple's iPhone segment is, without question, the most important facet of Apple's results.
So, how many iPhones can investors expect Apple to deliver this quarter?
iPhone 6s. Image source: Apple.
Another year-over-year decline?
In its third fiscal quarter of last year, Apple delivered 47.5 million iPhones. Ideally, then, it would be nice for Apple to outperform this figure in the third quarter of this year. But it's not looking like this will happen. Indeed, Apple looks poised to report its second quarter in a row of declining iPhone sales on a year-over-year basis -- a trajectory Apple inventors aren't used to.
The best evidence investors have that Apple will report yet another quarter of declining iPhone sales is Apple's guidance, which forecasts about a 16% year-over-year decline in total revenue. Given that the iPhone represents the bulk of Apple's sales, Apple management wouldn't guide for such a steep decline in total revenue if it expected year-over-year iPhone sales growth.
Still, it doesn't require a look at Apple's guidance to put a finger on the company's trajectory of declining iPhone sales this year. Unit sales were already down substantially in Q2, declining 16.3% from the year-ago quarter. It's clear, therefore, that Apple's iPhone 6s cycle is facing some headwinds -- at least when compared to the year-ago iPhone 6 cycle.
Data source: Apple SEC filings. Chart: Author.
How many iPhones could Apple sell this quarter? One simple way to make an estimate is to apply the company's expected decline in total revenue to Apple's iPhone unit sales, as iPhone sales are, after all, a key driver of the direction of the company's total revenue. This would put iPhone unit sales at about 40 million, down from 47.5 million in the year-ago quarter.
Expecting such a big decline, should investors be concerned about Apple's business? Not necessarily.
It's too early to say Apple's business is in decline
Sure, total revenue is declining in the near term. But investors shouldn't peg Apple as a business in decline yet.
Some bigger-picture context helps illustrate why Apple's iPhone business is doing just fine.
The monster iPhone 6 cycle simply makes for a very tough comparison for the iPhone 6s cycle. The iPhone 6, or last year's flagship phone, was a blockbuster success. In the first fiscal quarter of 2015, iPhone unit sales soared a whopping 46% -- and this was up from a quarter of record iPhone sales. As Apple's first foray into smartphones with displays larger than four inches, customers continued to buy iPhones in record numbers throughout the year as they eagerly snapped up flagship iPhones with new form factors. iPhone sales were up 40% and 35%, year over year, in Apple's 2015 fiscal Q2 and Q3, respectively. With this huge growth in iPhone unit sales in Apple's recent history, it's easy to see why the company is struggling to post strong growth this year.
So, Apple's iPhone business is far from struggling. Unit sales are still significantly higher than they were two to three years ago; for instance, Apple sold just 35.2 million iPhone units in the third quarter of 2014 and 32.2 million units in the same quarter of 2014. Further, Apple is still commanding a premium price for its smartphones as it basks in unparalleled customer loyalty, suggesting the tech giant's overall customer base is sticking around. The iPhone 6s, therefore, is a success -- but it has simply been overshadowed by the success of the iPhone 6's flagship year.
The article Apple, Inc.'s iPhone Sales May Get Slammed -- but I Don't Care originally appeared on Fool.com.
Daniel Sparks owns shares of Apple. The Motley Fool owns shares of and recommends Apple. The Motley Fool has the following options: long January 2018 $90 calls on Apple and short January 2018 $95 calls on Apple. Try any of our Foolish newsletter services free for 30 days. We Fools may not all hold the same opinions, but we all believe that considering a diverse range of insights makes us better investors. The Motley Fool has a disclosure policy.
Copyright 1995 - 2016 The Motley Fool, LLC. All rights reserved. The Motley Fool has a disclosure policy.