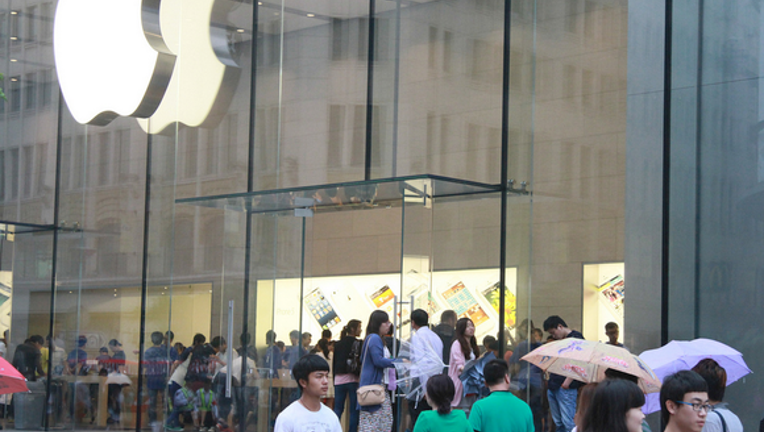 Apple (NASDAQ: AAPL) isn't the growth stock it used to be. With over $200 billion of revenue per year -- twice as much as five years ago -- top line growth simply doesn't come as easily for the company anymore. But along with lower growth potential comes more excess cash for shareholders, which can be paid out in dividends. This has turned Apple into quite the dividend stock. Indeed, Apple arguably now shines just as brightly as a dividend investment as it did a growth investment five years ago.
To show just how strong of a dividend stock Apple is, consider how the tech giant's payout could very well double in just seven years.
Image source: Getty Images.
Apple's recent dividend growth
When Apple initiated a quarterly payout in 2012, the company instantly became a major dividend player. With a cash hoard that had ballooned to over $100 billion, and its $40 billion in annual free cash flow at the time, Apple was a strong choice for income investors despite lacking dividend history.
But the four years that have passed since then have provided more insight into what dividend investors might expect next from Apple. In particular, Apple has proven to be a great contender for long-term dividend growth. During this short period, Apple has increased its dividend every year, averaging an annualized increase of about 10.7%. Further, management has explicitly declared an annual dividend increase to be a priority for the company.
"The Company also plans to increase its dividend on an annual basis," Apple said in a 2014 press release about its dividend increase that year. And management has continued to emphasize its commitment to annual increases.
Where is Apple's dividend headed now?
But can the tech behemoth continue delivering dividend increases as it faces headwinds with growing its business?
A quick overview of Apple's annual dividend payments as a percentage of its earnings and cash flow suggests it can. As it turns out, Apple is only paying out a small portion of its annual free cash flow (cash from operations less capital expenditures) in dividends.
In the past 12 months, for instance, Apple's free cash flow was an impressive $52.3 billion. Yet during this same period, the tech giant paid out just $12.2 billion in dividends. Similarly, its currently paying out only 25% of its annual net income.
Apple store. Image source: The Motley Fool.
Clearly, the company still has considerable room to continue increasing its dividend. Indeed, it would be realistic for it to maintain the annual increase rate it has averaged for the past four years into the foreseeable future. And an average 10.7% annual hike would double Apple's dividend in just seven years.
This analysis illustrates how powerful dividend growth can be over time. While investors who buy Apple stock today will get a dividend yield of just 2%, it's very possible its annual dividend payments seven years from now will amount to 4% of its stock price today.
10 stocks we like better than Apple When investing geniuses David and Tom Gardner have a stock tip, it can pay to listen. After all, the newsletter they have run for over a decade, Motley Fool Stock Advisor, has tripled the market.*
David and Tom just revealed what they believe are the 10 best stocks for investors to buy right now... and Apple wasn't one of them! That's right -- they think these 10 stocks are even better buys.
Click here to learn about these picks!
*Stock Advisor returns as of Nov. 7, 2016
Daniel Sparks owns shares of Apple. The Motley Fool owns shares of and recommends Apple. The Motley Fool has the following options: long January 2018 $90 calls on Apple and short January 2018 $95 calls on Apple. Try any of our Foolish newsletter services free for 30 days. We Fools may not all hold the same opinions, but we all believe that considering a diverse range of insights makes us better investors. The Motley Fool has a disclosure policy.