Apple, Inc.'s Buyback Program Is Cooling Off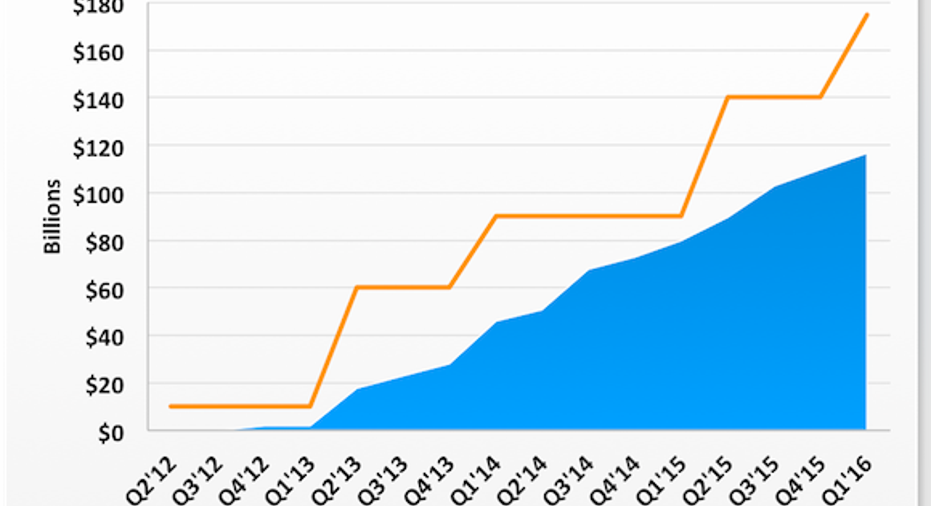 Marketing chief Phil Schiller introducing the 9.7-inch iPad Pro. Image source: Apple.
I've long been a big fan of Apple's share repurchase program, largely due to the fact that it's simply enormous. By virtue of its magnitude, combined with Apple's cheap valuation, the buyback program is mostly able to avoid the common criticisms that typically surround repurchase programs (most are not accretive and/or poorly timed).
The buyback program was a no-brainer during the 2012-2013 pullback, and Apple was able to retire a boatload of shares as it repurchased during that time frame. That's precisely why Apple added a whopping $50 billion to its repurchase authorization in early 2013. But once shares inevitably recovered to highs around $130, and even with today's prices of around $100, it's not as clear-cut. Even as the valuation remains cheap, it's not entirely obvious whether or not the broader market will ever assign Apple higher multiples.
As such, it seems appropriate that Apple's buyback program, while still going strong, is starting to cool off a little bit.
Time to play it slowAlongside fiscal second-quarter earnings, Apple said that it was again expanding its capital return program (as expected, since it's about that time of year). The company is adding $50 billion to the program, bringing the total to $250 billion. Of that increase, $35 billion is being allocated to share repurchases, with the remaining $15 billion to cover dividend payouts over the next couple of years. Apple is still focusing its capital return strategy on repurchases, which is the right call since that's how it can ensure that the program is accretive.
The reason I say that the buyback program is cooling off is that while $35 billion is still a meaningful increase, it's a relatively more conservative increase than last year's boost, which was $50 billion. Here's each year's respective increase in repurchase authorization.
| Year | Increase | Total Authorization |
| --- | --- | --- |
| 2012 | $10 billion (initial) | $10 billion |
| 2013 | $50 billion | $60 billion |
| 2014 | $30 billion | $90 billion |
| 2015 | $50 billion | $140 billion |
| 2016 | $35 billion | $175 billion |
Data source: SEC filings.
Here's how cumulative share repurchases have compared:
Data source: SEC filings. Calendar quarters shown.
You can also see this cooling off in quarterly trends:
Data source: SEC filings. Calendar quarters shown.
To date, Apple has repurchased $116.6 billion worth of stock, which is a pretty astounding figure when you think about it. That's greater than the entire market caps of tech companies like Qualcomm ($78 billion), Baidu ($65 billion), and Texas Instruments ($60 billion). The level of Apple's increases also signal the company's intentions over the next year.
Apple will have a little over $58 billion left on the authorization until its next capital return update, which comes every April. That should be plenty considering the fact that Apple has repurchased about $37 billion over the past four quarters.
The article Apple, Inc.'s Buyback Program Is Cooling Off originally appeared on Fool.com.
Evan Niu, CFA owns shares of Apple and Baidu, and The Motley Fool owns shares of and recommends those two stocks, as well as Qualcomm. Try any of our Foolish newsletter services free for 30 days. We Fools may not all hold the same opinions, but we all believe that considering a diverse range of insights makes us better investors. The Motley Fool has a disclosure policy.
Copyright 1995 - 2016 The Motley Fool, LLC. All rights reserved. The Motley Fool has a disclosure policy.