Apple Inc. Reportedly About to Ink Deals for OLED Display Supply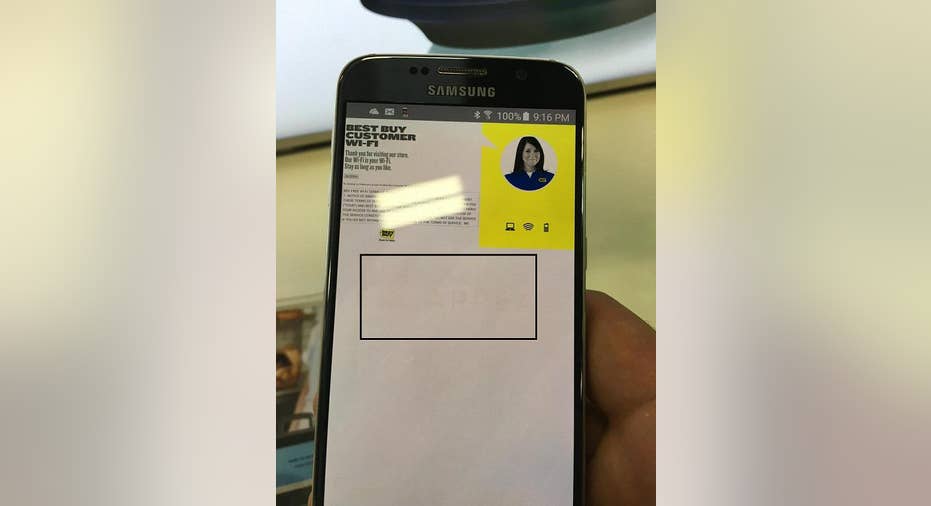 There has been a lot of chatter in the press about Apple (NASDAQ: AAPL) potentially using OLED displays in future iPhones rather than the traditional liquid crystal displays, or LCDs, that it has used since the very first iPhone.
OLEDs are widely known to offer a number of advantages over LCDs, such as effectively infinite contrast ratios (blacks are "perfect" on such displays) and the elimination of the display back-light found in LCDs (potentially enabling a thinner device). However, they are fairly difficult to manufacture and current OLEDs can still face issues with image "burn in," as you can see in the image below:
Burn in is visible in this Galaxy S6 display unit. Image source: Author.
However, it would seem that Apple's confidence in the technology has increased substantially as it is reportedly in the final stages of inking OLED panel supply agreements with Samsung (NASDAQOTH: SSNLF) Display and LG Display (NYSE: LPL) for future iPhones, per ET News(via MacRumors).
Serious capacity for serious volumesAccording to the report, Samsung Display and LG Display will, combined, shell out a whopping 15 trillion Korean won (roughly $12.74 billion) over the next two to three years in support of Apple's massive OLED display needs.
A translation of the report indicates that Apple is expected to help fund the capital investments needed to put in this capacity into place in order to ensure that it gets the supply that it needs.
Margins? This is Apple we're dealing with hereThe report goes on to indicate that one roadblock to getting a supply agreement with Samsung inked is that Apple wants very low margins for these OLED displays. Samsung Display has enjoyed a nice boost in operating profit as it has increased its supply of OLED displays to other smartphone vendors, notes the report.
However, at the prices that Apple wants to pay for displays, Samsung would only net "low single digit margins," the report indicated.
That being said, given the kinds of volumes that Apple brings, and given that it's probably interested in buying higher-quality/higher-average-selling-price panels than most other customers, even "low single digit margins" could be enough to make it worth Samsung's while. This is especially true if Apple is going to be funding a portion of the equipment purchases.
Sounds great, but too bad we won't see these until 2018It's good to see that Apple will eventually transition to OLED-based displays, as I do think that by the 2018 timeframe (i.e. iPhone 8) OLEDs will essentially be required in order to deliver a genuinely market-leading display.
However, from a competitive perspective, I worry that Apple might be a little late to the OLED game.
For example, according to display specialists at Display Mate, the OLED display found on the Samsung Galaxy Note 5 is an overall better display than the LCDs found on either the iPhone 6 or 6 Plus.
Although I do think that Apple will make a number of major advancements with the iPhone 7/7 Plus displays and that they will generally be leadership at launch (except for in contrast ratio/black levels since they will be LCDs and not OLEDs).
The problem for Apple is that the company generally recycles the display that it introduces in its "new number" phones in the "s" series phones that land in the following year. If Apple follows this same pattern with the iPhone 7s, then that year's iPhone risks looking somewhat outdated compared to the other flagships that it will have to go up against -- potentially impacting the company's competitive positioning and risking a repeat of the struggles Apple is seeing this year with the iPhone 6s/6s Plus phones.
Maybe Apple can introduce another even better LCDs in the iPhone 7s/7s Plus in a bid to keep up with rivals that will likely have transitioned to OLEDs?
The article Apple Inc. Reportedly About to Ink Deals for OLED Display Supply originally appeared on Fool.com.
Ashraf Eassa has no position in any stocks mentioned. The Motley Fool owns shares of and recommends Apple. Try any of our Foolish newsletter services free for 30 days. We Fools may not all hold the same opinions, but we all believe that considering a diverse range of insights makes us better investors. The Motley Fool has a disclosure policy.
Copyright 1995 - 2015 The Motley Fool, LLC. All rights reserved. The Motley Fool has a disclosure policy.