Apple Inc. May Launch Thinner Apple Watch at WWDC 2016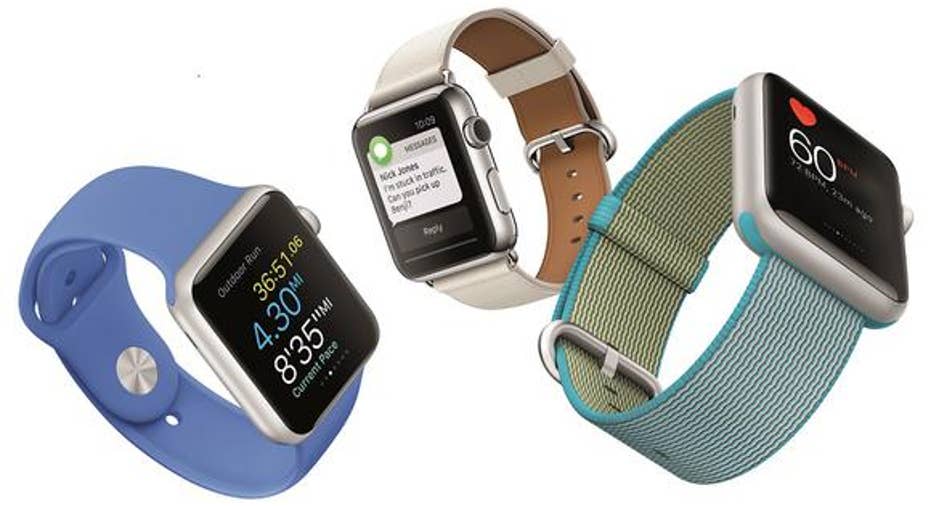 Image source: Apple.
Drexel Hamilton analyst Brian White, well-known for his sky-high price targets on Apple stock, published a research report detailing his findings from meetings with members of Apple's supply chain (via MacRumors).
The analyst said that Apple plans to begin mass production of its next-generation iPhones in July. Per one of his supply chain contacts, Apple will see iPhone sales grow year over year during the second half of 2016 after a rough start to 2016.
White also confirmed KGI Securities' earlier report that only Apple's larger iPhone 7 Plus would feature a dual-lens camera, with the iPhone 7 coming equipped with a single lens.
Arguably more interesting, though, was the information that White gave about Apple's next-generation Apple Watch.
Say hello to Apple Watch 2White indicates that his field work suggests that the next-generation Apple Watch won't launch alongside the new iPhones in the fall. Instead, the new devices could come at Apple's World Wide Developers Conference, which is generally hosted in June.
White doesn't give too many details about the device, but he does say that it could be anywhere from 20%-40% thinner than the current generation model. Given that the original Apple Watch is quite bulky, a slimmed-down design would be most welcome.
Why does this matter to investors?When Apple dropped the price of its entry-level Apple Watch at its "Let Us Loop You In" event, it was clear that the company wanted to stimulate demand for the devices. If Apple Watch sales were going gangbusters, then it probably wouldn't have made sense to lower prices until the next-generation models arrived.
Now, Apple may have by far the most successful smartwatch industrywide (by a large margin, too), but in my view, the category is still in its infancy and the features and functionality required to drive significant mainstream adoption just aren't there in the first gen product.
There were also many complaints on the Web about the thickness/form factor of the device. For a product that's virtually a "fashion" item, that's hardly ideal.
The second-generation Apple Watch has the potential to shake things up, though. With a substantial boost in processing power, app developers should have a lot more freedom to build more interesting and exciting stand-alone applications.
At any rate, the more capable the Apple Watch becomes, the more likely it is that Apple will be able to grow unit shipments and ultimately revenue. Though it'll be a while before Apple Watch brings in the kind of revenue that something like the iPad is able to, the more diverse the company's revenue base is, the less risky it is -- meaning a potentially higher price-to-earnings multiple.
One more thing...An Apple Watch in June would also serve to keep the buzz around Apple alive in the months leading up to the big iPhone 7/7 Plus launch. New Apple Watches could also help Apple boost its revenues a bit in the final quarter of its fiscal 2016 in order to partially offset the relatively lackluster sales of the iPhone 6s/6s Plus.
The article Apple Inc. May Launch Thinner Apple Watch at WWDC 2016 originally appeared on Fool.com.
Ashraf Eassa has no position in any stocks mentioned. The Motley Fool owns shares of and recommends Apple. Try any of our Foolish newsletter services free for 30 days. We Fools may not all hold the same opinions, but we all believe that considering a diverse range of insights makes us better investors. The Motley Fool has a disclosure policy.
Copyright 1995 - 2016 The Motley Fool, LLC. All rights reserved. The Motley Fool has a disclosure policy.