Apple Inc. Likely to Stay Ahead of Competition in Chip Manufacturing Tech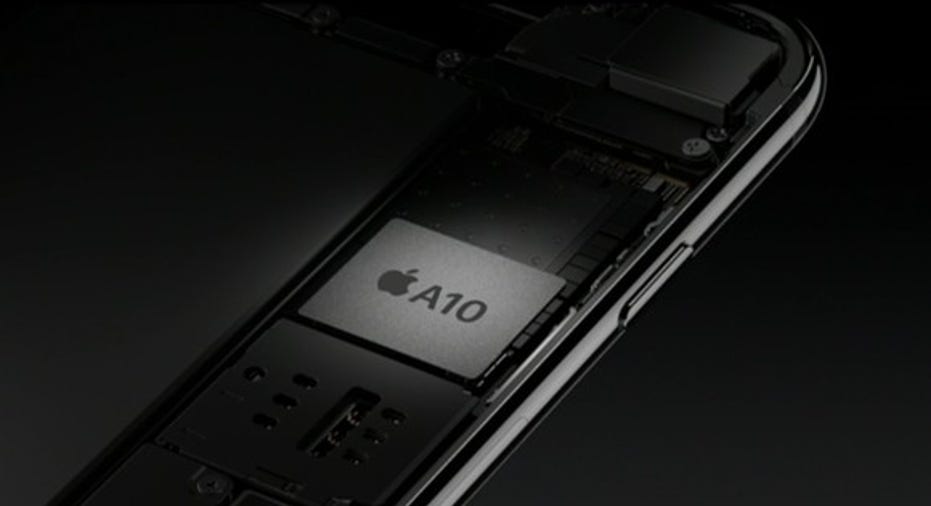 Over the last several years, Apple (NASDAQ: AAPL) has gotten more aggressive about transitioning to the latest chip manufacturing technologies out there. It was the first to utilize Taiwan Semiconductor Manufacturing Company's (NYSE: TSM) 20-nanometer technology for a high-volume applications processor, and it was among the first to use its 16-nanometer technology.
Interestingly, it looked as though Apple wouldn't be the first to utilize TSMC's upcoming 10-nanometer technology; wireless chip-maker MediaTek made quite a lot of noise about being among the first to use this technology (though it seems very few smartphone makers were interested in the chip MediaTek is building with it).
Image source: Apple.
Going forward, I think Apple will once again take the lead when it comes to using new TSMC manufacturing technologies.
First to 7-nano, first to 7-nano+
On TSMC's most recent earnings call, executives said the company plans to move its 7-nanometer+ technology -- a performance-enhanced, area-reduced variant of the company's 7-nanometer technology -- into production in the second half of 2019, one year after the company begins mass production of its 7-nanometer technology.
Interestingly, TSMC's stated timeline seems to imply that the first-generation 7-nanometer technology will go into mass production in the second half of 2018. Given that the company plans to go into what it calls "risk production" on the technology in the second quarter of 2017, mass production near the end of the first half of 2018 or at the very beginning of the second half of 2018 (to meet Apple's needs) seems like a reasonable timeline.
If TSMC does indeed begin production at around those times for 7-nanometer and 7-nanometer+, then it's hard to imagine that Apple won't be the first, if not among the first, to utilize those technologies.
Why is chip manufacturing tech important?
The quality of a chip certainly depends on the quality of the chip design itself, and that's largely under Apple's control. However, it's also an inescapable fact that the better the underlying manufacturing technology, the better a given chip will be.
Indeed, the power efficiency and performance of the transistors have a direct impact on how quickly a chip can run while staying in a desired power/thermal envelope.
Additionally, the density of a technology (that is, how densely chip designers can pack those transistors) is important for economic reasons since chips become uneconomical to produce if they get too big. The denser the technology, the more features and functionality the chip designers can cram into a fixed chip area, which is generally a good thing.
Consistent chip leadership
It's widely accepted that Apple has one of the best, if not the best, mobile chip development organizations in the industry. If Apple continues to develop best-in-class architectures, then the combination of those architectures, its tight control of the software ecosystem, and the newest, best chip manufacturing technology available to it should allow it to maintain a healthy lead in chip technology.
I'd say the clear majority of users don't care about the performance/specs of the chips inside of their smartphones. However, faster/more feature-rich chips that are custom tailored to deliver the best user experiences (even if customers don't know why iPhones deliver that user experiences) are not only interesting selling points today, but they could inspire current iPhone users to remain loyal to the iPhone franchise when it comes time to upgrade.
10 stocks we like better than AppleWhen investing geniuses David and Tom Gardner have a stock tip, it can pay to listen. After all, the newsletter they have run for over a decade, Motley Fool Stock Advisor, has tripled the market.*
David and Tom just revealed what they believe are the 10 best stocks for investors to buy right now...and Apple wasn't one of them! That's right -- they think these 10 stocks are even better buys.
Click here to learn about these picks!
*Stock Advisor returns as of April 3, 2017.
Ashraf Eassa has no position in any stocks mentioned. The Motley Fool owns shares of and recommends Apple. The Motley Fool has a disclosure policy.