Apple, Inc. iPhone Sales in China Reportedly Fell 18% Last Year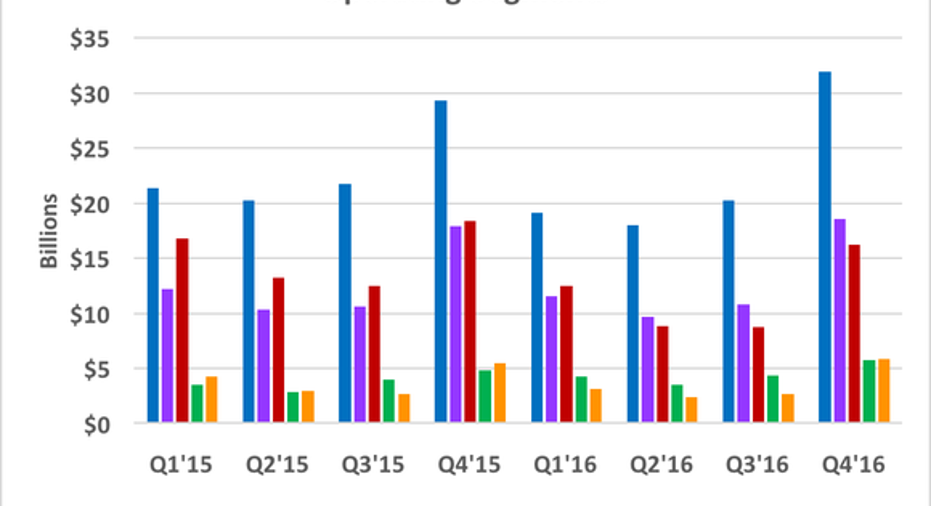 China has been the world's largest smartphone market for a few years now, underscoring how important the region is for Apple (NASDAQ: AAPL). But the Mac maker has hit a speed bump in the Middle Kingdom in recent quarters, largely due to intensifying competition from local, low-cost manufacturers. The company occasionally mentions growth rates for various geographical markets, but doesn't disclose unit sales by region in detail. That leaves investors having to rely on third-party estimates, and the most recent ones don't look good.
We're No. 5! We're No. 5!
Market researcher Canalys released its estimates today for the Chinese smartphone market in 2016. Total unit volumes in China hit a fresh high of 476.5 million handsets, up 11%. Of that total, roughly 131.6 million units were shipped in the fourth quarter, a quarterly record that represents a third of the global market. The top four brands were all Chinese manufacturers; Apple came in at No. 5 amid declining unit volumes.
| Manufacturer | 2016 Units |
| --- | --- |
| Huawei | 76.2 million |
| Oppo | 73.2 million |
| Vivo | 63.2 million |
| Xiaomi | 51.4 million |
| Apple | 43.8 million |
Data source: Canalys.
Both Xiaomi and Apple saw double-digit declines from 2015 levels, with Xiaomi's units falling 21% and Apple's units down 18%. Oppo and Vivo exploded onto the scene in 2016; both companies sold fewer than 40 million units in 2015. Huawei strengthened its position in the tier-one and tier-two cities, according to Canalys analyst Jessie Ding. Oppo and Vivo are now looking to target those regions, while Huawei moves in on tier-three and tier-four cities.
iPhone 7 with AirPods. Image source: Apple.
While Apple has never aspired to be the largest vendor in any market by volumes, instead focusing on other things like customer satisfaction and profitability, that's still a discouraging directional trend at a time when Apple has been trying to reinvigorate investor confidence. The iPhone maker's decline in China is also significantly worse than its worldwide volumes; iPhone units fell 7% in 2016 to 215.4 million. If we look at it in absolute units, Canalys' numbers suggest that Apple sold 9.7 million less units in China in 2016, which is a large proportion of the 16.1 million unit decline in total iPhone units. China is becoming an increasingly tough market, and it's weighing on results.
"A very, very difficult market"
Last quarter, Greater China was the only geographical segment of Apple's five reportable segments that did not hit record levels.
Data source: SEC filings. Chart by author. Calendar quarters shown.
Apple's Greater China segment includes Hong Kong, China, and Taiwan. The weakness appears to be coming from Hong Kong and Taiwan, and revenue in mainland China was roughly flat with the record levels from a year ago. Here's CEO Tim Cook on the call:
Cook also conceded that Hong Kong "remains a very, very difficult market."
10 stocks we like better than AppleWhen investing geniuses David and Tom Gardner have a stock tip, it can pay to listen. After all, the newsletter they have run for over a decade, Motley Fool Stock Advisor, has tripled the market.*
David and Tom just revealed what they believe are the 10 best stocks for investors to buy right now... and Apple wasn't one of them! That's right -- they think these 10 stocks are even better buys.
Click here to learn about these picks!
*Stock Advisor returns as of February 6, 2017
Evan Niu, CFA owns shares of Apple. The Motley Fool owns shares of and recommends Apple. The Motley Fool has the following options: long January 2018 $90 calls on Apple and short January 2018 $95 calls on Apple. The Motley Fool has a disclosure policy.