Apple, Inc. Could Sell 90 Million iPhones This Fall: Here's How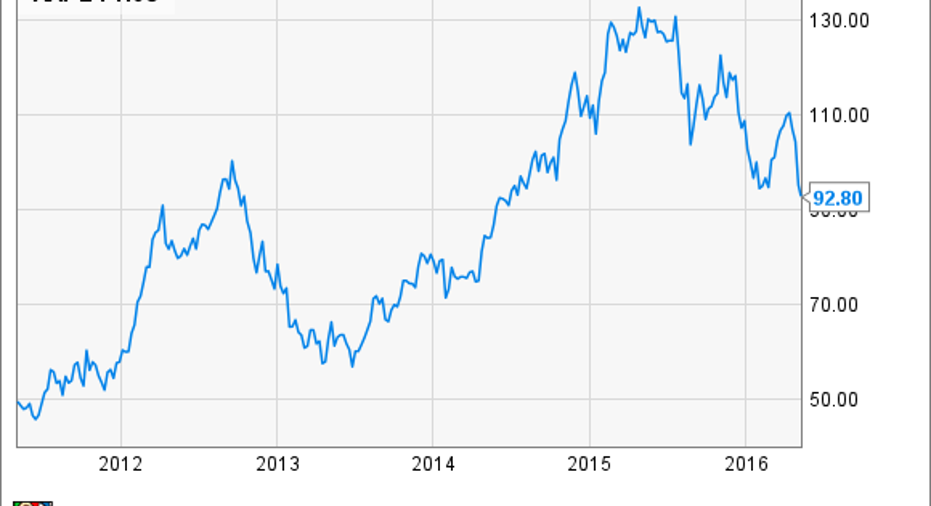 Looking at Apple's stock performance over the past five years, it appears that Mr. Market has regularly oscillated between euphoria and despair with regard to the iPhone maker's prospects. So far in 2016, despair has been the order of the day.
Apple Stock Performance, data by YCharts
It's true that Apple's second quarter results and third quarter guidance were nothing to write home about. iPhone sales have taken a step backwards after posting very strong growth a year ago, and Apple's other product lines haven't picked up the slack.
However, some of this weakness is due to the timing of Apple's two-year product cycle. The iPhone 6/6s cycle is winding down -- but that also means the iPhone 7 launch is right around the corner. With a fresh iPhone lineup, Apple is likely set a new record for iPhone sales in its first fiscal quarter this fall. It even has a realistic shot at selling a staggering 90 million iPhones.
Growth is almost assuredA lot of pundits have proclaimed the death of the two-year phone upgrade cycle and blamed the recent slowdown in iPhone sales on a lengthening replacement cycle. Indeed, many fewer people are on two-year contracts than was the case a few years ago.
Still, the two-year contract isn't completely dead. (I still have one!) Furthermore, many people have replaced their smartphone contracts with installment plans, which typically spread device payments over 24 months. While you can save money by holding onto your old phone after it is paid off, the two-year mark is still a natural time to upgrade -- especially if a new model has just come out.
Thus, the number of iPhones sold two years earlier is an important factor (though not the only one) in gauging iPhone demand in any given quarter. In the fall quarter of 2014, Apple sold 74.5 million iPhones. By contrast, in the fall quarter of 2013, it sold just 51.0 million iPhones.
The iPhone 6 and iPhone 6 Plus caused iPhone sales to surge in late 2014. Image source: Apple.
The huge jump in iPhone sales beginning in September 2014 virtually guarantees that iPhone sales will return to growth this fall, when phones sold in late 2014 will enter the peak upgrade window.
Getting to 90 millionDuring the first quarter of fiscal 2016 -- last year's holiday quarter -- Apple sold 74.8 million iPhones: roughly in line with its sales a year earlier. iPhone unit sales would need to rise a little more than 20% year over year to reach 90 million in Q1 of fiscal 2017. This may seem like an impossible task, but it's more realistic than you might think.
First, Q1 of fiscal 2017 will be a 14-week quarter for Apple. In each of the last two holiday quarters, Apple has sold more than 5.7 million iPhones per week. Thus, the extra week alone would push iPhone sales above 80 million, even if the weekly sales rate didn't change.
Second, Apple could have sold significantly more iPhones in Q1 of fiscal 2015 if it had been able to build them fast enough. Even at the end of the quarter, it still faced a supply shortage. With two years of experience selling 75 million iPhones in a quarter, Apple should be better prepared to ramp up production to meet demand this fall.
Thus, Apple doesn't need extremely fast growth in demand to sell 90 million iPhones this fall. A weekly sales rate 5%-10% above the underlying demand trend from two years ago would be enough, given that Apple will be better prepared on the supply side and will have an extra week.
Will Apple see the necessary demand growth? There's a pretty good chance it will. While the upgrade rate is slowing, the iPhone installed base has increased by 80% over the past two years, creating a huge pool of potential upgraders.
In addition, Apple continues to attract a steady stream of Android-switchers and first-time smartphone buyers. The recently launched iPhone SE could help Apple maintain that momentum this fall by offering a smaller screen size and lower price point.
The widespread feeling of despair that has sunk Apple shares about 30% below their 52-week high could therefore turn into another round of euphoria later this year. History shows that Apple investors should be suspicious of either extreme in sentiment.
The article Apple, Inc. Could Sell 90 Million iPhones This Fall: Here's How originally appeared on Fool.com.
Adam Levine-Weinberg is long January 2017 $85 calls on Apple. The Motley Fool owns shares of and recommends Apple. Try any of our Foolish newsletter services free for 30 days. We Fools may not all hold the same opinions, but we all believe that considering a diverse range of insights makes us better investors. The Motley Fool has a disclosure policy.
Copyright 1995 - 2016 The Motley Fool, LLC. All rights reserved. The Motley Fool has a disclosure policy.