Apple Inc. Building Graphics Chip Team in the U.K.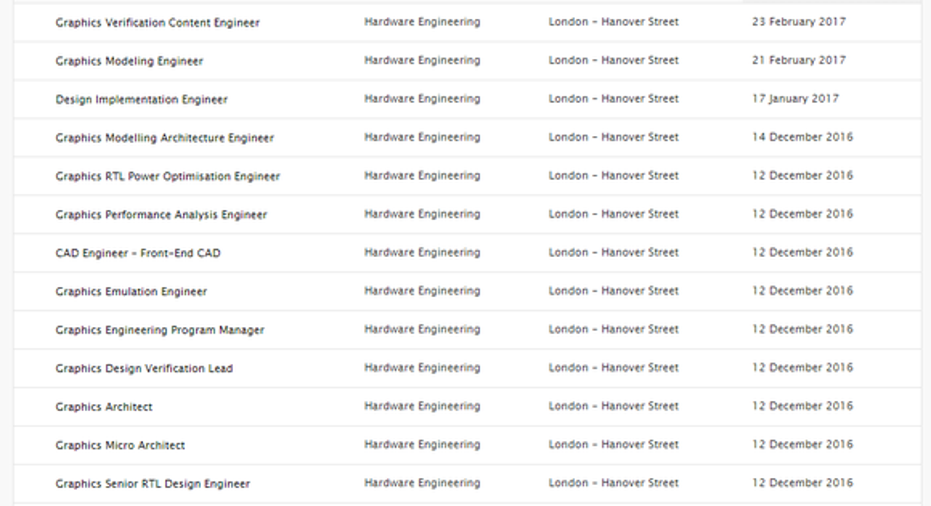 It's no secret at this point that Apple (NASDAQ: AAPL) is building its own graphics processors. In fact, not only is Apple working on its own graphics processors, but microprocessor expert David Kanter revealed last year that Apple has been employing its own graphics processors inside of its A-series processors since the launch of its A8 system-on-a-chip in the fall of 2014.
Based on where many of the graphics-oriented Apple employees that I see on LinkedIn appear to be located, the company apparently has a graphics processor design site in Orlando, FL.
Image source: Apple.
While perusing LinkedIn, I noticed that one of my connections began advertising the fact that Apple is looking to fill positions in its U.K.-based "Apple Hardware Design Center."
Unsurprisingly, as you can see in the screenshot below, all the positions that came up were graphics related:
Image source: LinkedIn.
Further, when I clicked on one of the positions ("Graphics Modeling Engineer"), the job description says "This is a career defining opportunity to get in at the ground floor as we build our UK Design Centre."
It's clear that the company is building a graphics processor design team in the U.K. So, why is the company doing that?
Increasing the pace of innovation
What I suspect Apple is doing is building a parallel graphics processor team to the one(s) that it already has in place. If that hypothesis is correct, it'll mean that the company will gain the ability to work on multiple graphics processors in a "leap frogging" fashion.
That is, Team 1 works on the graphics processor that'll be used in some iPhone (let's call it iPhone x) while Team 2 works in parallel on the graphics processor that will be used in the follow-on iPhone, iPhone x+1. Then, once Team 1 finishes its work on the graphics processor for iPhone x, it begins working on the graphics processor for iPhone x+2.
Under such a development methodology -- and it is a common one in the chip industry -- a company can increase the pace and the scope of the innovation that it can bring with each new design.
Why is Apple doubling-down on graphics?
Apple CEO Tim Cook is on record stating that he believes that augmented reality will be a huge deal. To fully capitalize on the opportunities in both virtual reality and augmented reality, companies are likely going to need to have significant expertise when it comes to efficient, high-performance graphics processors.
In other words, it's an intellectual property that could be very important for the future of the iPhone and mobile devices in general.
Beyond the iPhone, though, Apple surely wants to have best-in-class graphics to enable the kinds of workloads and experiences that it can deliver through its iPad (which it is positioning as a notebook/PC replacement) as well as through its Apple TV products (better graphics could help Apple TV inch closer to becoming a game console competitor).
Apple appears to recognize the importance of having excellent graphics technologies in-house and I think what we are seeing is Apple simply making financial bets commensurate with that viewpoint.
10 stocks we like better than AppleWhen investing geniuses David and Tom Gardner have a stock tip, it can pay to listen. After all, the newsletter they have run for over a decade, Motley Fool Stock Advisor, has tripled the market.*
David and Tom just revealed what they believe are the 10 best stocks for investors to buy right now... and Apple wasn't one of them! That's right -- they think these 10 stocks are even better buys.
Click here to learn about these picks!
*Stock Advisor returns as of February 6, 2017
Teresa Kersten is an employee of LinkedIn and is a member of The Motley Fool's board of directors. LinkedIn is owned by Microsoft. Ashraf Eassa has no position in any stocks mentioned. The Motley Fool owns shares of and recommends Apple. The Motley Fool owns shares of LinkedIn and has the following options: long January 2018 $90 calls on Apple and short January 2018 $95 calls on Apple. The Motley Fool has a disclosure policy.