Apple iBooks and Movies Shut Down in China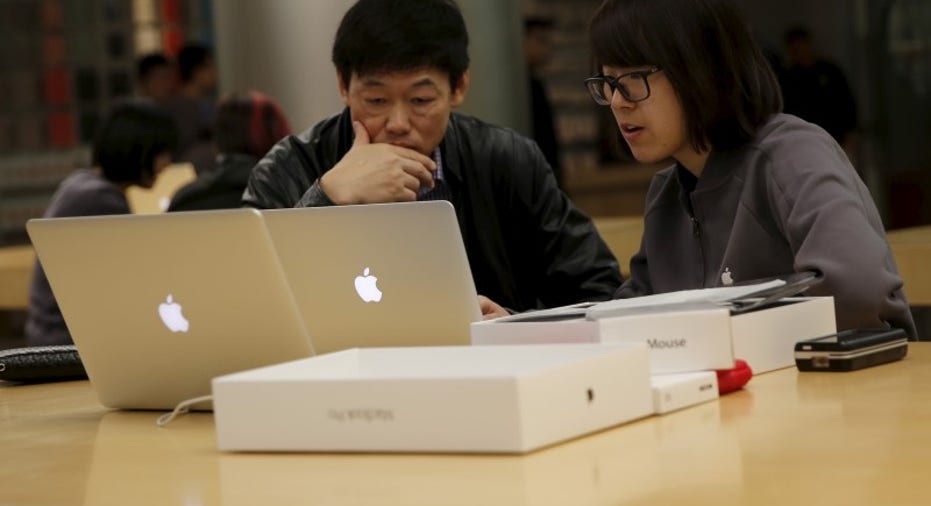 China has shut down Apple Inc.'s online book and movie services in the country, suggesting an intensifying campaign to bring Web content in line with Beijing's stringent guidelines for traditional media.
The shutdown has sent shockwaves through the U.S. high-tech sector, which has long seen Apple as a China success story. The brand's popularity in China has helped it maintain strong growth there in the past two years, even as Beijing's buy-local push has crimped sales for many U.S. electronics makers.
Apple suspended its iBooks and iTunes Movies services in China last week after meetings with the country's video and publishing regulator, the State Administration of Press, Publication, Radio, Film and Television, two people familiar with the matter said.
"We hope to make books and movies available again to our customers in China as soon as possible," the company said in a statement.
The case highlights the challenges of navigating China, where laws are often vaguely worded and only clarified much later. In last week's meetings with Apple, officials pointed to broad new rules issued in February that ban companies with any foreign ownership from engaging in online publishing, one of the people familiar with the talks said.
They also cited a 2008 provision that requires companies to get a license to broadcast videos on the Internet and limits license eligibility to Chinese companies, the person said. People in China's entertainment industry have long wondered why this provision hadn't prevented Apple from operating its movie service in China.
An Apple spokeswoman declined to say what Chinese licenses the company holds and how it hopes to restart its book and movie services. The regulator didn't respond to a faxed request for comment.
China has been seeking control over new-media formats similar to its control over traditional media. China's President Xi Jinping summoned regulators and technology-industry executives to Beijing on Monday to call for tighter Internet regulation. The Chinese Communist Party's leading mouthpiece, the People's Daily, said in an editorial this week that regulators must scrutinize new media more strictly as its influence grows.
Industry insiders say other U.S. technology companies are assessing whether they could face a similar crackdown.
"It's a big and successful pattern for regulators to claim big targets at the outset and scare everybody else," said one Beijing-based lawyer. "Apple won't be the only one."
The suspension appeared to have taken Apple by surprise. The company still lists a Beijing-based "Studio Relations" job on its website. "The key responsibility is to grow iTunes' movie business in Greater China," reads the posting, dated Dec. 22.
The setback is a rarity for Apple, which has been one of the most surefooted U.S. tech companies in China. Microsoft Corp. and Qualcomm Inc. were targets of antitrust investigations in China last year, and Beijing continues to block the websites of Alphabet Inc.'s Google, Facebook Inc. and Twitter Inc. Makers of enterprise equipment like Cisco Systems Inc. and International Business Machines Corp. have faced a sales chill in China since Edward Snowden's disclosures of U.S. National Security Agency spying.
By contrast, Apple's revenue from Greater China--which includes Hong Kong and Taiwan--was up 84% in the fiscal year ended Sept. 26, compared with 16% globally. Greater China is its second-largest market, accounting for a quarter of its global sales.
There have been hitches, such as in 2014, when state broadcaster China Central Television called the iPhone a "national security risk" because of a feature that can track user locations. Apple said a day later it "appreciated" CCTV's having raised the issue, and added that it didn't have access to user locations.
That year Apple moved Chinese customers' data onshore to a facility operated by China Telecom, saying the data was encrypted and not accessible by China Telecom.
In contrast with Apple's very public battle with the U.S. Federal Bureau of Investigation over the bureau's request for help in unlocking an iPhone, the company' disputes with the Chinese government have largely been behind closed doors. In a rare statement on the subject, Apple General Counsel Bruce Sewell testified before a U.S. legislative committee this week that the company had refused a request from the Chinese government to provide source code.
Alyssa Abkowitz, Lilian Lin and Yang Jie contributed to this article.
Write to Eva Dou at eva.dou@wsj.com