Apple CEO Tim Cook More Warren Buffett's Speed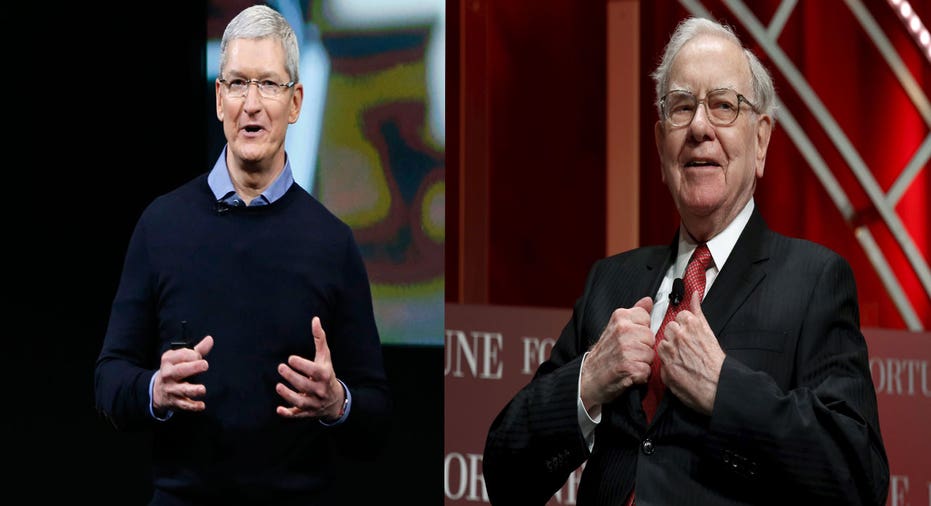 As far as prominent Apple (NASDAQ:AAPL) investors go, this is about as big of a win as you can get. Berkshire Hathaway (NYSE:BRK.A) has now officially taken a $1.1 billion position in the Mac maker, according to fresh SEC filings. We're talking about 9.8 million shares as of the end of the first quarter, valued at just under $1.1 billion. Apple closed at approximately $109 on March 31, with shares losing 17% of their value through last Friday, so Buffett's position has already sustained some losses.
As far as prominent investors that Apple has lost go, Carl Icahn just dumped his position, after investing a couple years ago and cashing in some hefty gains. David Tepper and his Appaloosa Management hedge fund also recently exited its position of 1.3 million shares.
How meaningful is Buffett's vote of confidence?
Berkshire's short history with tech
Buffett has long been averse to technology companies in general, as well as Apple specifically. Buffett is a big fan of stable companies with strong recurring cash flows and low valuations, but as a sector, tech is inherently very volatile as competitive landscapes shift rapidly.
That's why it was so notable when Berkshire decided to invest in IBM (NYSE:IBM) half a decade ago in 2011. Make no mistake, Buffett loaded up too, scooping up nearly $11 billion worth of Big Blue in 2011, while adding occasionally in the years since. As of the end of March, Berkshire's IBM position was worth $12.3 billion.
However, Buffett's IBM position has severely underperformed the market over the past five years, even if you factor in dividends.
Buffett recently acknowledged that IBM has been a poor performer thus far, acknowledging the possibility that the position could prove to be a mistake.
A change of tune
Over the years, Buffett has downplayed the idea of investing in Apple, in part because shifting consumer preferences could theoretically wreak havoc on Apple's business. At the same time, Apple must maintain a constant rate of innovation to stay relevant in the market, which keeps the pressure on each subsequent product cycle.
Apple CEO Tim Cook. Image source: Apple.
The Oracle of Omaha has acknowledged that Apple and other tech companies likely have plenty of upside potential, it's just these aspects of the business that reduce visibility over five- and 10-year horizons. However, keep in mind that Buffett isn't always the one making the investment decision. He has several top lieutenants that have the autonomy to make the call, and Buffett told The Wall Street Journal in an email that one of these lieutenants indeed pulled the iTrigger.
With Apple shares trading even lower than Berkshire's cost basis, it seems possible that Buffett will only continue adding and building his position now that he's made the plunge. It's probably safe to say that Apple's rock-bottom valuation tempted Buffett or his lieutenants, and they're also probably huge fans of the massive share repurchase program, too.
Buffett did advise Steve Jobs to implement a share repurchase program many years ago, after all. (Not that Jobs listened to him.) Present CEO Tim Cook is a lot more strategic than Jobs, though, when it comes to corporate finance and listening to shareholders, so you can imagine Cook and Buffett seeing eye to eye in a few areas.
The article Warren Buffett Gives in to Apple's Cheap Valuation originally appeared on Fool.com.
Evan Niu, CFA owns shares of Apple. The Motley Fool owns shares of and recommends Apple and Berkshire Hathaway. The Motley Fool has the following options: long January 2018 $90 calls on Apple and short January 2018 $95 calls on Apple. Try any of our Foolish newsletter services free for 30 days. We Fools may not all hold the same opinions, but we all believe that considering a diverse range of insights makes us better investors. The Motley Fool has a disclosure policy.
Copyright 1995 - 2016 The Motley Fool, LLC. All rights reserved. The Motley Fool has a disclosure policy.