Apple Can't Save Best Buy Now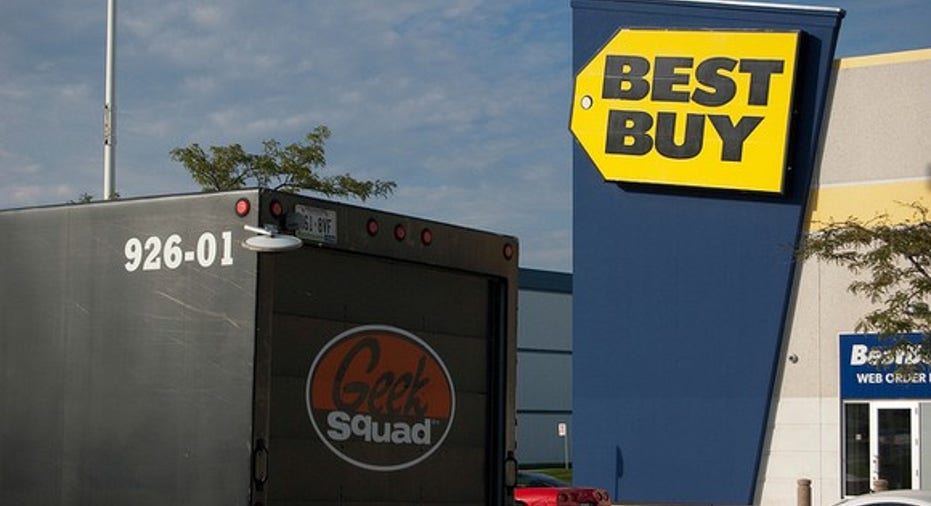 Image source: Elvis Fool on Flickr.
Another Wall Street pro is cooling on Best Buy . Credit Suisse downgraded shares of the last major consumer electronics superstore chain -- from outperform to neutral -- yesterday. Analyst Seth Sigman is also lowering its price target on the stock from $36 to $31.50.
Investors shook off the news. Best Buy may have opened slightly lower on Wednesday following the downgrade, but quickly bumped into positive territory where it closed out the day. Slapping a price target of $31.50 on a stock that had closed at $28.80 the day before still opens the door for modest gains.
However, if we dig deeper into Credit Suisse's takedown, we see legitimate concerns for Best Buy's prospects during the latter half of this year. A big worry here is that mobile in general and Apple's iPhone 7 in particular won't be enough to save the holiday quarter for Best Buy this year.
Call waiting
Sigman is basing his concerns on research done by fellow Credit Suisse analyst Kulbinder Garcha,who covers Apple and also happened to issue a new call on the consumer tech giant yesterday. Garcha feels that the iPhone 7 won't have enough bar-raising features to merit the kind of upgrade frenzy that Apple experienced in late 2014 with the iPhone 6 and iPhone 6 Plus. He feels that those meaty innovations will likely have to wait until the iPhone 8.
Garcha still sees year-over-year growth. He just feels that it will be more muted.
The difference between the fresh Credit Suisse takes yesterday is that the firm is still bullish on Apple. He is slightly lowering his fiscal 2017 earnings projections for Apple in light of what he predicts will be lukewarm appeal for the iPhone 7 -- Apple's next fiscal year begins in October, around the time that the new smartphone will likely hit the market -- but he's sticking to his $150 price target. That's 54% of upside if he's right.
Superstores aren't so super
This all comes at a time when Best Buy isn't at its best. Itslatest quarterwas a dud. Revenue and comps were slightly negative, and its international operations are faring even worse.Online sales and adjusted earnings did move higher, but its guidance calls for margins to contract again during the current quarter on flat to slightly negative top-line results.
Best Buy is in an understandable predicament. Sales of CDs, DVDs, and video games -- the small-ticket fare that used to drum up repeat business -- have gone digital. Best Buy is still selling the devices that make digital delivery possible, but on that front it's competing against cheaper prices offered by Internet retailers.
Best Buy needs Apple as the tastemaker that turns heads with new smartphone, tablet, smartwatch, and computer releases. Unfortunately for Best Buy, analysts see Apple's sales growth being challenged in the coming quarters. Best Buy may need a new savior this year.
The article Apple Can't Save Best Buy Now originally appeared on Fool.com.
Rick Munarriz owns shares of Apple. The Motley Fool owns shares of and recommends Apple. The Motley Fool has the following options: long January 2018 $90 calls on Apple and short January 2018 $95 calls on Apple. Try any of our Foolish newsletter services free for 30 days. We Fools may not all hold the same opinions, but we all believe that considering a diverse range of insights makes us better investors. The Motley Fool has a disclosure policy.
Copyright 1995 - 2016 The Motley Fool, LLC. All rights reserved. The Motley Fool has a disclosure policy.