Apogee Aims for a Brighter Future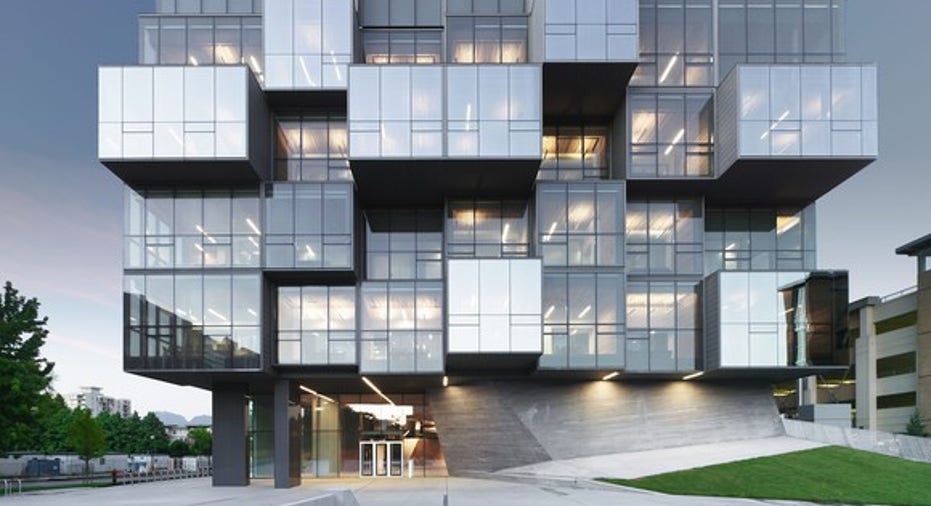 Image source: Apogee Enterprises.
Many companies rely on a healthy economic environment for construction and infrastructure building in order to thrive. Apogee Enterprises is one of them, with a specialty in various high-end glass products for use in architectural and optical applications. As Apogee investors prepare for Wednesday's fiscal first-quarter financial report, they believe that top-line growth could slow from previous quarters, but they still have healthy expectations for profit gains. Let's take an early look at how Apogee Enterprises has been doing lately and what investors are likely to see in its report.
Stats on Apogee Enterprises
| | |
| --- | --- |
| Expected EPS Growth | 19.5% |
| Expected Revenue Growth | 3% |
| Forward Earnings Multiple | 13.3 |
| Expected 5-Year Annualized Growth Rate | 10% |
Data source: Yahoo! Finance.
What's ahead for Apogee earnings?
In recent months, investors have gotten less enthusiastic about Apogee's earnings prospects, reducing their fiscal first-quarter projections by more than a nickel per share. The stock has nevertheless bounced back somewhat, rising almost 7% since mid-March.
Apogee's fiscal fourth-quarter results gave investors some reassurance that even in a tough environment for the construction industry, the glassmaker has been able to make the most of it. Revenue grew a faster-than-expected 6% during the quarter, and net income jumped to nearly $20 million, up by more than 40% from the year-ago quarter. Sales in architectural services and glass divisions were especially strong, offsetting drops in the large-scale optical segment. Favorable outlooks for the next couple of years led the company to make optimistic assessments for fiscal 2018 that led investors to increase their views on earnings for next year.
The key to Apogee Enterprises' success has been a combination of innovation and operational efficiency. On one hand, the company has implemented lean manufacturing initiatives in its factories. That has helped give Apogee better performance than it has ever seen before, producing margin gains that have boosted profits. At the same time, new products like hurricane- and blast-resistant framing products have also improved Apogee's reputation as a go-to provider for reliable construction and architectural materials.
In addition, Apogee has looked for opportunities to serve new and existing customers alike. New markets have included engineered optics in Apogee's picture-framing business, large-scale projects in the storefront business, and smaller projects in architectural glass. Acquisitions have fleshed out Apogee's network in the southern and eastern parts of the U.S. as well as in Canada, and the large-scale optical unit has sought growth in Europe. Apogee's retrofit initiative has also provided new sales across the company's divisions, and a focus on choosing projects that have more capacity for profit has paid off in Apogee's results.
Still, investors will want some reassurance that a few troubling trends won't turn into long-term difficulties for Apogee. For instance, in the fiscal fourth quarter, backlog figures grew 4% from the year-ago quarter to $508 million, but that figure was down 7% sequentially from the fiscal third quarter. Apogee was quick to note that the company's architectural services unit has fiscal 2017 almost fully booked, and that division tends to be the biggest part of the glassmaker's overall backlog because of the long lead time that its projects involve. Apogee reported that strength in the office building sector helped drive backlogs, with hotels and multifamily residential also looking solid.
In the Apogee earnings report, investors should keep tabs on whether the company is able to meet or surpass the relatively modest expectations that they have for fiscal first-quarter results. With currency-related issues having played a sizable role in holding back Apogee's results, the fact that the U.S. dollar's gains have slowed or even stopped against some major currencies should be good news for those looking for greater growth, especially in Europe. Meanwhile, if global economic conditions can show signs of improvement, they should help to drive faster growth for Apogee for the remainder of the fiscal year and beyond.
The article Apogee Aims for a Brighter Future originally appeared on Fool.com.
Dan Caplinger has no position in any stocks mentioned. The Motley Fool recommends Apogee Enterprises. Try any of our Foolish newsletter services free for 30 days. We Fools may not all hold the same opinions, but we all believe that considering a diverse range of insights makes us better investors. The Motley Fool has a disclosure policy.
Copyright 1995 - 2016 The Motley Fool, LLC. All rights reserved. The Motley Fool has a disclosure policy.