AP FACT CHECK: A look at Dem governor candidates' claims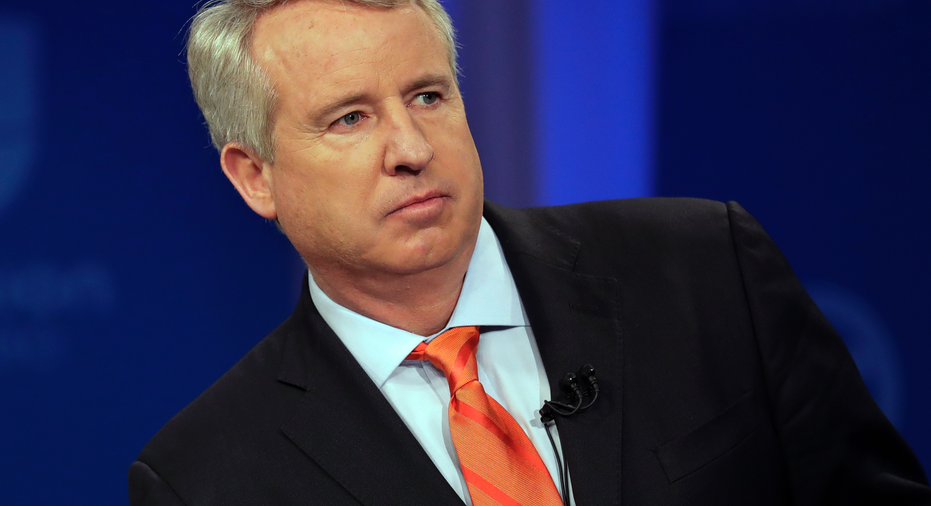 The 2018 campaign for Illinois governor could be one of the most expensive races in the nation with several wealthy candidates spending freely to win votes.
Gov. Bruce Rauner, a wealthy private equity firm founder and the only Republican holding a statewide office in left-leaning Illinois, is considered one of the most vulnerable incumbents in the country.
Democrats have their own well-heeled candidates who hope to take Rauner down in J.B. Pritzker, listed by Forbes as having a net worth of $3.5 billion from his family's hotel and investments conglomerate, and Chris Kennedy, son of the late U.S. Sen. Robert Kennedy. A third leading contender of more modest means is state Sen. Daniel Biss.
They have tangled in the run-up to the Illinois primary on March 20. Pritzker has put more than $60 million in his campaign fund and says he's best positioned to beat Rauner. Kennedy has criticized the Democratic establishment, while Biss styles himself the "middle-class candidate."
Some of their recent comments merit a closer look. Here's a look at remarks each made at a recent debate in Chicago:
___
CHRIS KENNEDY: Asked about incentives to lure Amazon's second headquarters to Chicago, he said he'd ask Amazon CEO Jeff Bezos "why he hasn't matched the restrictions that Dick's has done on gun sales at Amazon, which I think Jeff Bezos should do and he should do this week."
THE FACTS: Amazon doesn't sell guns such as those Dick's Sporting Goods restricted.
Dick's said it would no longer sell assault-style rifles at its Field & Stream stores or sell guns to anyone under 21. (The company stopped selling assault-style rifles at its more than 700 Dick's stores in 2012).
Amazon does sells accessories such as holsters, targets and gun racks, but the online retailer doesn't sell assault rifles, and it already prohibits sales of most other guns.
Company policy states the only guns that may be sold are items such as airsoft guns, century-old replicas that aren't capable of firing ammunition, some BB, pellet and paintball guns and toy guns — though those sales are subject to geographic restrictions.
Chicago is bidding for Amazon's second headquarters and is among 20 cities that made the first cut.
___
J.B. PRITZKER: Asked what he'd do to make schools safer in the wake of the Florida shooting, Pritzker took a jab at the state's crime record under Rauner's administration. "Take note that during the three years of Bruce Rauner's leadership of the state that the number of violent crimes on the street has gone up substantially, particularly violence with guns."
THE FACTS: It is mostly true that the violent crime rate has gone up statewide in recent years. But it is questionable how much impact a governor can have on crime in a short period, especially when most of the crime is in Chicago, where city officials hold more sway.
Pritzker's campaign said he was basing his claim on FBI crime statistics showing Illinois' violent crime rate rose between 2014 and 2016, the most recent year for which data are available. Illinois reported 370.9 violent crimes per 100,000 people in 2014, according to the FBI. The rate was 387.5 in 2015 and 436.3 in 2016.
But Rauner didn't take office until 2015, so the year 2014 should not have been used.
The FBI hasn't released statewide 2017 data yet. But FBI data for the first half of 2017 from Illinois cities with population over 100,000 shows a slight uptick, with most of that accounted for by Chicago.
Criminologists caution that changes in the crime rate — up or down — are the result of many factors. Rauner's tenure in Illinois has been a difficult time for state government though. He deadlocked with Democrats in the Legislature and the state went without a budget for more than two years. That brought sharp cuts to social services, mental health and after-school programs. Rauner also froze state funding in 2015 for CeaseFire, which deployed former gang members and felons to intervene in feuds and try to prevent shootings.
___
STATE SEN. DANIEL BISS: "Our financial sector has grown and grown and grown and the rest of the economy has shrunk and the rest of us are being overtaxed because we haven't figured out how to tax the financial sector," Biss said. "To say that we can't tax the financial sector is to say that we will continue overtaxing middle-class families and that I will never accept."
THE FACTS: Taxing financial transactions would be difficult to enforce in Chicago, the world's biggest center of trading in agricultural and financial futures and options.
Biss wants to impose a new tax on the buying and selling of commodities and financial contracts traded on the Chicago Mercantile Exchange and other exchanges, which he says could generate $10 billion to $12 billion annually. Kennedy and Pritzker say it isn't feasible.
Trading experts say imposing it would drive the hyper-competitive markets out of Illinois, something traders could do easily because most of the transactions are done electronically and the markets are global.
That point is underscored by what happened in 2011, when the CME Group Inc., which operates the Chicago Mercantile Exchange and other businesses, threatened to move from Illinois and got a tax break from the Legislature. Biss voted for the tax break as a state representative, which was estimated to have saved the exchanges about $85 million a year.
Biss says he supported the measure because, as part of the deal, the Legislature that same day approved a second measure that provided about $110 million in tax breaks for families, including an increase in Illinois' earned income tax credit.
___
Find AP Fact Checks at https://apnews.com/tag/APFactCheck
Follow @APFactCheck on Twitter: https://twitter.com/APFactCheck