AP Explains: How Spain-Catalonia standoff has evolved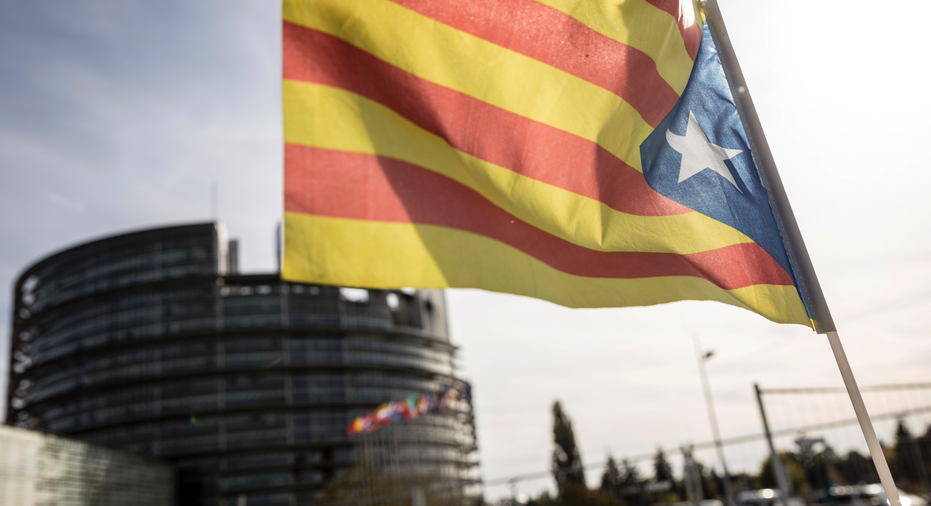 The prosperous and powerful northeastern regional Catalan government says it plans to declare independence from Spain, creating Spain's gravest constitutional crisis in decades.
Here's a look at how the standoff is evolving:
____
A BLOODIED REFERENDUM
The conflict over a self-determination vote has been dragging on for six years but Catalan separatists staged an independence referendum on Oct. 1 despite Spain's insistence it was illegal. Spanish police, following orders from a judge to prevent the referendum, clashed with voters and supporters and Catalan officials said over 900 people were injured. Videos of police pulling voters out by their hair and kicking them on stairs flashed around the world. An Interior Ministry official later apologized for the injuries but laid the blame on the Catalan government for having encouraged people to vote. Massive protests and a strike Tuesday in Catalonia were held to protest the police violence.
_____
A QUESTIONABLE RESULT
The way the independence referendum was held has raised a host of complaints about its legality and validity. As Spanish police started seizing ballot boxes, Catalan officials allowed voters to cast ballots wherever they liked. Catalan officials say the final numbers show 90 percent of votes in favor of independence by the 2.28 million who voted — 43 percent of the region's eligible voters. The 'No' side received some 8 percent of the ballots. Regional President Carles Puigdemont proclaimed a victory, saying the vote entitled Catalonia to be recognized. Spain cried foul and most governments backed it.
___
A NEW EUROPEAN STATE?
Spain — one of Europe's oldest countries — has existed with more or less the same borders for some 500 years. Catalonia has been a part of Spain since the 1497 marriage of Queen Isabel of Castille and King Ferdinand of neighboring Aragon. But that could change Tuesday if Puigdemont and his supporters have their way. The regional leader has pledged independence will be declared within days. No one, however, seems keen to recognize Catalonia, including the European Union.
__
SHIVERS AMONG BUSINESSES
Many companies are deciding to move their official base out of Catalonia for fear they may no longer be covered by Spanish and European Union laws and rights if Catalonia manages to secede. Companies such as Caixabank, Spain's third-largest bank by global assets, Banco Sabadell, Spain's fifth-largest bank, Gas Natural energy giant, textiles maker Dogi, reprographics company Service Point Solutions, telecommunications provider Eurona and biotech firm Oryzon Genomics have already switched their headquarters. The moves so far do not affect jobs or investments but don't send a message of confidence in the Puigdemont government.
____
WHAT HAPPENS NEXT?
It's anybody's guess what might happen if the wealthy and industrial Catalonia does actually try to secede. Key issues include borders with the rest of Spain and France, its defense and foreign affairs, tax collection and management of key infrastructure such as airports, ports, rail transport and nuclear stations, most of which are controlled by Spain. The European Union has already said Catalonia would be expelled from the bloc and its shared currency, the euro, if it declared independence and would have to reapply to rejoin, a lengthy, uncertain process.
____
REINING IN THE REBELS
On paper, Spain seems to have the upper hand. By law, it's entitled to take control of any of its regions and suspend their self-governing powers if they disobey their obligations to the state. The national parliament could declare a state of emergency in Catalonia, suspend civil rights and even impose martial law. Dialogue is a another option — which EU officials and other bodies have urged — but Spain has said Catalonia has to drop the independence idea first.
___
WHY DOES CATALONIA WANT DIVORCE NOW?
Many Catalans have long highlighted the region's differences from the rest of Spain but the latest surge for independence really began in 2010, when Spain's top court struck down key parts of a charter that would have granted Catalonia greater autonomy and recognized it as a nation within Spain. Since then, hundreds of thousands of residents come out onto the streets every Sept. 11, a Catalan holiday, to demand independence. Spain's 2008-2013 financial crisis and the harsh austerity measures that followed generated more support for secession. Catalans also complain they contribute more in taxes to the Spanish coffer than they get back.