Another Year, Another Recall Mess for Polaris Industries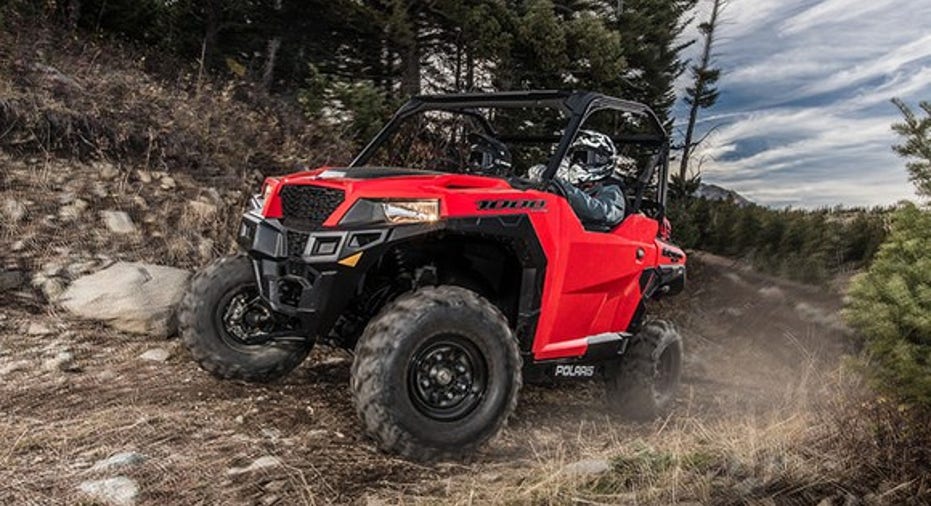 Recalls apparently never get old for Polaris Industries (NYSE: PII). Just this month it announced two more recalls for itsrecreational off-highway vehicles (ROVs), one involving an ATV that has already been recalled at least two other times, and the other a new model, which means the problem continues to spread throughout its product lineup and it will need to deal with it for a second year.
Because Polaris is having these problems over and over again, despite devoting significant resources to fixing them at a substantial cost to the business, it means the manufacturing defects are not a thing of the past, as management has suggested.
Image source: Polaris Industries.
Burned out
The Consumer Product Safety Commission announced at the start of the month that Polaris Industries was recalling 13,500 RZR 900, 1000, Turbo, and General 1000 off-road vehicles for model years 2016 and 2017. It says the engines can misfire, causing exhaust temperatures to get too hot, leading nearby components to melt. The ROVs might also suffer from a contaminated brake master cylinder that could cause unintended brake drag, posing burn and fire hazards.
The RZR 900 and 1000 ROVs were previously recalled in October 2015 and then again last April for fire hazards. In the earlier recall, some 53,000 vehicles were found defective because they could catch fire due to a misrouted fuel line that could be pinched, while in the second a fire hazard could erupt just from the vehicle being ridden..
The Turbos were recalled this past September and the prior December for engine overheating hazards and oil drain line leaks, both of which posed the risk of fire.
Image source: Polaris Industries.
And in the latest recall announced last week, Polaris is warning that some 19,200 Sportsman 850 and 1000 ATVs from 2015 and 2016 pose a fire hazard because of faulty heat shields that can melt as well as potential exhaust leaks that could cause a fire.
Recalls across the board
While this looks like the first recall for the General 1000 utility vehicle, Polaris has also previously seen its three-wheeled Slingshot motorcycle subject to several recalls, as well as its popular Indian motorcycles. That these problems extend across virtually all of its power-sports vehicle lines (even its snowmobiles have been recalled for problems) suggests a breakdown in the manufacturing process somewhere.
The conga line of recalls has cost Polaris Industries more than $120 million in warranty and legal costs so far. Now having announced three recalls in three months -- at the very end of Decemberit recalled its Sportsman 570 Touring and X2 all-terrain vehicles -- the drag these expenses will incur will be hurting performance for longer than management has intimated, despite them appointing personnel to take responsibility for the problemand changing processes to eliminate it altogether.
Exacting a price
The recalls are having a practical effect, as ROV sales were down over $300 million year over year on top of reduced shipments because of the recalls, but Polaris also lost market share.
It also reported the recalls cost it over $132 million in warranty claims, up 87% from 2015, while more than doubling the amount to set aside for warranty reserves to $195 million from $73.7 million the year before. Not surprisingly, it anticipates operating cash flows will be down significantly in 2017.
While the focus on getting a handle on the problem allows Polaris to more quickly identify problems when they arise, and may even lead to more recalls, it's still not good for its business or reputation that these issues still plague the power-sports vehicle maker, particularly when it has to recall the same vehicles repeatedly.
Polaris Industries' stock might not be as damaged from the recalls as you would expect (it's down only 13% over the past year), but all the energy the powersports vehicle maker has expended to supposedly correct these problemsrepresents a lot of wasted time, effort, and money, and the latest bout of fire hazard-related recalls suggests this won't change anytime soon.
10 stocks we like better than Polaris IndustriesWhen investing geniuses David and Tom Gardner have a stock tip, it can pay to listen. After all, the newsletter they have run for over a decade, Motley Fool Stock Advisor, has tripled the market.*
David and Tom just revealed what they believe are the 10 best stocks for investors to buy right now... and Polaris Industries wasn't one of them! That's right -- they think these 10 stocks are even better buys.
Click here to learn about these picks!
*Stock Advisor returns as of February 6, 2017
Rich Duprey has no position in any stocks mentioned. The Motley Fool owns shares of and recommends Polaris Industries. The Motley Fool has a disclosure policy.