Another Bearish Call on Gold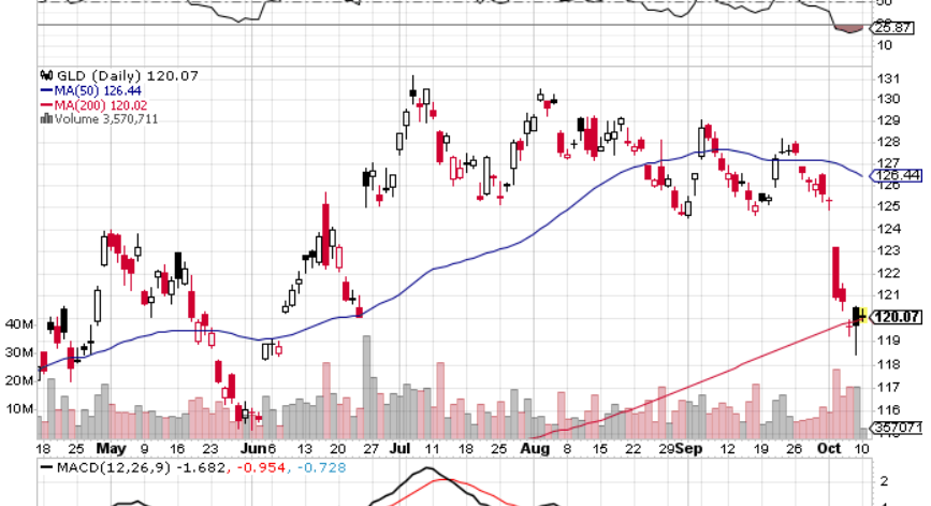 The SPDR Gold Shares (NYSEArca: GLD), iShares Gold Trust (NYSEArca: IAU) and ETFS Physical Swiss Gold Shares (NYSEArca: SGOL) and other gold-related exchange traded products have recently been under pressure.
Gold's slide has, not surprisingly, stoked debated among analysts and market participants regarding the yellow metal's near-term prospects. While some remain supportive of more upside for gold and bullion-backed ETFs, other see more downside in store for the once hot precious metal.
Related: Demand Supports Gold ETFs
Gold has enjoyed greater demand in a low interest-rate environment as the hard asset becomes more attractive to investors compared to yield-bearing assets. However, traders lose interest in gold when rates rise since the bullion does not produce a yield.
"Is the $60 drop in gold prices the beginning of a deeper dive? Our answer is yes, it may very well be," said John LaForge, the head of real asset strategy at Wells Fargo, in a note out Friday, reports CNBC. "The history of gold, and commodity super-cycles, says that gold may very well lose another $200/oz., testing the $1,050 level, before it is time to buy again."
ETF flows into gold have expanded at their fastest pace since 2009. Physically backed gold ETF holdings are still one-third below the December 2012 peak, which suggest that prices can hold at about $1,200 per ounce.
SEE MORE: 31 Gold ETFs Investors Should Size Up
Investment in gold jumped to 448 metric tons in the second quarter, or more than double the figure of the same period year-over-year, largely due to a year-over-year increase in ETF investment to 236.8 metric tons, compared to a 23 metric ton outflow the year prior.
Higher interest rates weigh on gold and other hard assets as the commodity pays investors nothing and struggles to compete with yield-generating assets when borrowing costs increase.
"Turning to gold specifically, LaForge explains that enough gold has now been mined that were all the above-ground gold distributed equally among the earth's human inhabitants, each would receive 0.8 ounces of the precious metal — one of the highest such amounts since 1950," according to CNBC.
SPDR Gold Shares
Tom Lydon's clients own shares of GLD.
This article was provided by our partners at ETFTrends.