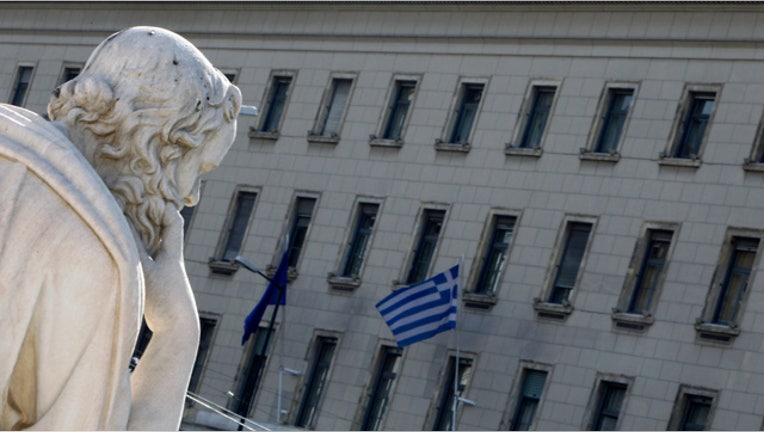 If history is any indicator, European fiscal leaders will negotiate some type of agreement with Greece before Greece either defaults or is forced out of the Eurozone.
The Greek debt crisis, brought on by years of profligate spending – much of it on generous public pensions -- and shrinking tax revenues in the wake of the 2008 global recession, is well into its fifth year with no end in sight.
And that's sort of the point, analysts say. Greece is deeply mired in debt, Eurozone leaders don't really know what to do about it, but they'll figure something out at the last minute to keep Greece from defaulting on its debt and setting off the long-feared contagion and Greece will remain in the Eurozone.
That's how this scene has played out again and again since Greece's shaky financial status first reared its ugly head in 2009.
"We still believe that a deal, although difficult, is not impossible," said Diego Iscaro, a senior economist with IHS Global Insight, while acknowledging the seriousness of the latest Greek flare-up.
Iscaro added that even if Greece doesn't technically default on its debt, "not paying the IMF would inevitably send shockwaves, not only in Greece, but also across the Eurozone."
On Friday the European Central Bank, responding to the latest emergency, increased the amount that Greek banks can borrow under an emergency lending program, the Wall Street Journal reported, as daily deposit outflows picked up to almost one billion euros.
Friday's decision by the ECB came after a request by the Greek central bank for additional emergency loans to buffer deposit outflows. On Wednesday, the ECB raised the amount available from the ELA program to €84.1 billion euros from €83 billion.
The short-term lift for Greek banks came as Greek government officials are set to meet with Eurozone leaders on Monday to try and hammer out a deal under which Greece can repay its sizable debts without doubling down on austerity measures that have angered slashed government services, reduced pensions and angered millions of Greek citizens.
Bank of America Merrill Lynch Europe economists Gilles Moec and Ruben Segura-Cayuela said even if a deal is not reach at Monday's summit, some form of compromise is likely that will keep Greece in the Eurozone.
"As far as the relationship with Greece is concerned, if no deal is found we think that the Europeans would seek to create a "grey territory" situation, in which a default would not necessarily morph into a Grexit," the analysts wrote. "This would in any case be a very fragile equilibrium and would generate lots of volatility, but avoiding any 'irreversibility' would in our view be at the centre of the Europeans' priorities."
Meanwhile, on Friday, German magazine Spiegel reported that German Chancellor Angela Merkel supports keeping Greece in Eurozone. "Not necessarily at any cost, but she's prepared to pay a high price," according to the influential publication.
Few voices in Europe hold more sway than Merkel's, and her current public support for Greece is especially significant given Germany's strong position in recent years that southern European countries burdened by huge debt loads dig themselves out of debt through austerity and fiscal responsibility rather than by simply accept bailouts from their healthier neighbors to the north – such as Germany.