Analyst: "Superhuman" Safety to Spur Demand for Model 3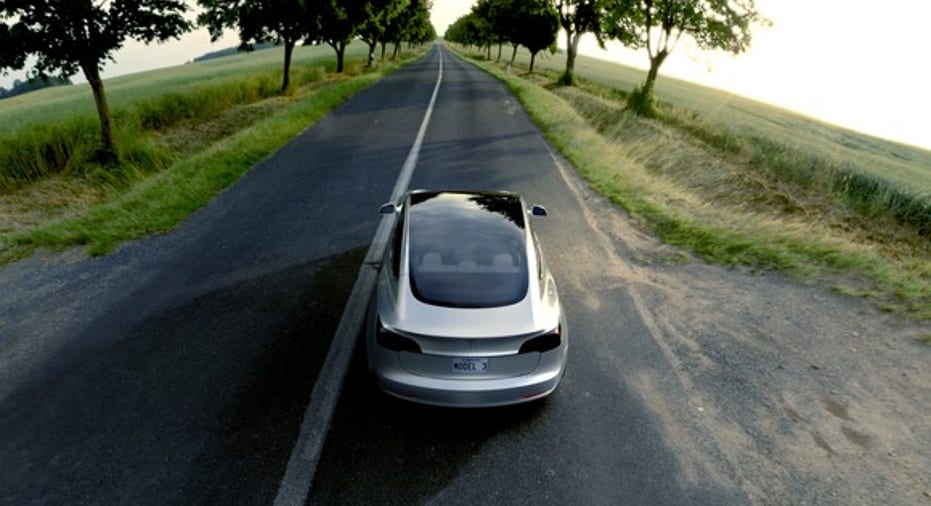 Accordingto one analyst's note to investors this week, Tesla's (NASDAQ: TSLA) upcoming lower-cost Model 3 will have one huge thing going in its favor: safety. The analyst, who is bullish on Tesla stock and has a $305 price target for shares, says driver-assist hardware and software included in the Model 3 will make the $35,000 car 10 times safer than the average car.
If Tesla's latest assertions about its plans for the driver-assist technology set to be included in the Model 3 prove to be true, this analyst may be onto something.
Model 3. Image source: Tesla
Model 3 safety
The fact that Tesla's Model 3 is expected to be one of the world's safest cars isn't news. The Model S sedan has already scored a higher safety rating than any other vehicle ever tested in the National Highway Traffic Safety Administration's (NHTSA) crash tests. Furthermore, when Tesla first unveiled the Model 3 last March, CEO Elon Musk said the Model 3 would achieve five stars in every category of NHTSA's crash test ratings.
In addition, while Tesla charges customers a fee to activate convenience driver-assist features in its vehicle, key driver-assist safety features come standard. These standard driver-assist features include active safety technologies, such as collision avoidance and automatic emergency braking.
But both Tesla and NHTSA assert that safety is also higher when Autopilot is activated. So, Model 3 customers who upgrade to the full Enhanced Autopilot, which includes automatic lane changes, steering, and parking, the ability to "summon" the vehicle short distances, and more, will likely benefit from even a higher level safety -- and this seems to be the safety Morgan Stanley analyst Adam Jonas is referring to in his note to investors (via Electrek):
Of course, as Jonas notes, as this technology is refined and as Tesla releases more features through over-the-air software updates, the benefits should equally carry over to Model S and Model X as well.
Model S. Image source: Tesla
Notably, Tesla's driver-assist features for vehicles in October 2016 or later include more sensors and computer computing power than in driver-assist systems typically found in vehicles made by other manufacturers. All new Tesla vehicles now include eight surround cameras with 360-degree visibility and up to 250 meters of range and 12 improved ultrasonic sensors. In addition, Tesla recently released an important and unprecedented update for its forward-facing radar sensor, enabling it to serve as a primary control sensor alongside the company's vision system -- a move Tesla believes will result in "a dramatic improvement in the safety of the vehicle."
Reducing car crashes by 90%
According to a recent analysis by NHTSA, Tesla is already making substantial progress in safety. The safety organization concluded Tesla Autopilot-equipped vehicles saw crash rates drop by 40% compared to vehicles without the technology. And this was notably a study of vehicles produced before Tesla started rolling out its updated Autopilot hardware in October last year.
Shortly after NHTSA released these figures, Musk said on Twitter that Tesla is targeting a 90% reduction in crashes for vehicles with the company's updated Autopilot hardware.
With safety serving as an important decision factor in car purchases, Tesla's aggressiveness in rolling out software updates to improve safety could help differentiate Model 3 when it launches later this year.
10 stocks we like better than TeslaWhen investing geniuses David and Tom Gardner have a stock tip, it can pay to listen. After all, the newsletter they have run for over a decade, Motley Fool Stock Advisor, has tripled the market.*
David and Tom just revealed what they believe are the 10 best stocks for investors to buy right now... and Tesla wasn't one of them! That's right -- they think these 10 stocks are even better buys.
Click here to learn about these picks!
*Stock Advisor returns as of February 6, 2017
Daniel Sparks owns shares of Tesla. The Motley Fool owns shares of and recommends Tesla and Twitter. The Motley Fool has a disclosure policy.